by Ismayil Fataliyev, Local Correspondent from Azerbaijan.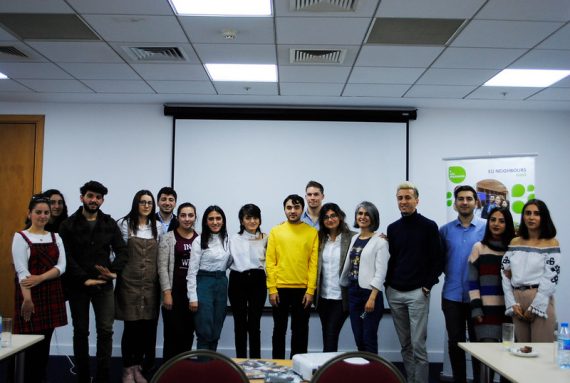 Azerbaijan is well-ahead of many predominantly Muslim-populated countries in terms of gender equality. The first secular school for girls was opened in Baku in 1901. After 17 years, women received the right to elect and be elected to the parliament. Such a breakthrough was not in place even in the UK and Germany at that time. Almost 30 years ago, Azerbaijani independence was restored, but it was impossible to get rid of conservative outdated stereotypes about gender altogether.
According to the global database on violence against women, 14 percent of ever-partnered women aged 15-49 in Azerbaijan experienced lifetime physical and/or sexual intimate partner violence. At the same time, the number of women forced to get married at an early age is 11 %. However, this needs to be put into context. In the gender inequality index and global gender gap index, Azerbaijan ranks 68 and 86 out of almost 200 countries. (The first index reflects inequality between sexes in terms of the labor market, empowerment and reproductive health while the second benchmarks national gender gaps on economic, political, education and health criteria.) Source.
Adding some families` will to deprive girls of education or support when they want to choose their own path the situation gets even worse. All these add up to the global pandemic called gender-based violence or violence against women and girls one out of three women worldwide in their lives becomes a victim. Source.
So, a challenging question comes out "How can you help prevent gender-based violence in your community/society?
A group of Young European Ambassadors (YEAs) has organized an informative event within the international campaign 16 Days against gender-based violence.
Every step counts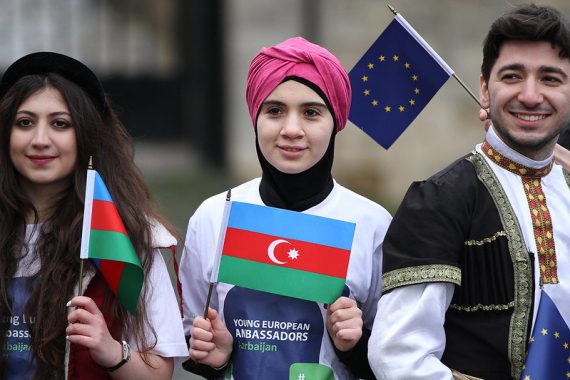 Abdul Mustafazadeh, 22, is a YEA a bit more than a year. He graduated from the Baku Engineer University where he learned international relations and translation skills. He acknowledges that by becoming a YEA and carrying out various events he aims at gaining some professional background in his sphere.
He says in Azerbaijan people tend to think that gender is only about women. There is an urgent need to work on awareness-raising. Abdul is sure that by promoting gender issues in society especially in rural areas the country can become a more powerful nation.
"Every step counts. We did this event just to raise awareness. We would like participants to contribute to it. One can go to a public place, hang out with his friends and can say, spread these ideas among them. This will be a great tool to explain what gender and gender equality is", – he says.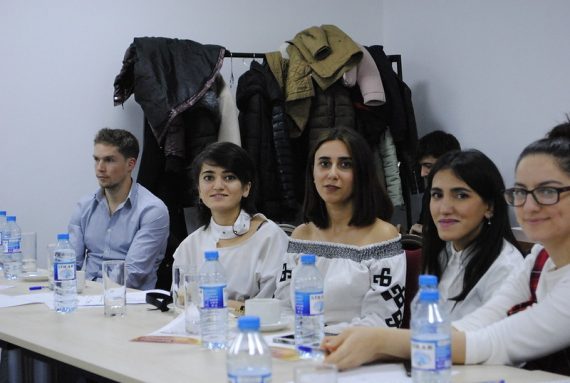 Sevil Suleymanova, 24, and Gunel Salayeva, 25, are also among organizers of the event. Both ladies graduated from the Azerbaijan University of Foreign Languages and became YEA very recently. Sevil thinks almost every woman in Azerbaijan has a personal story concerning gender-based violence, domestic violence, and these kinds of events are crucial for talking about them.
Gunel adds that by doing it, they try to empower young people in their societies, communities, and neighborhoods to spread the word.
"Once I was talking with my father about an acquaintance of mine, a boy who went to study abroad. I told my dad how wonderful must it be to have that feeling. But he replied "the guy can go there because he is a boy, you are a girl and you have to stay home", – Gunel recalls.
People have to hear and listen to various points of view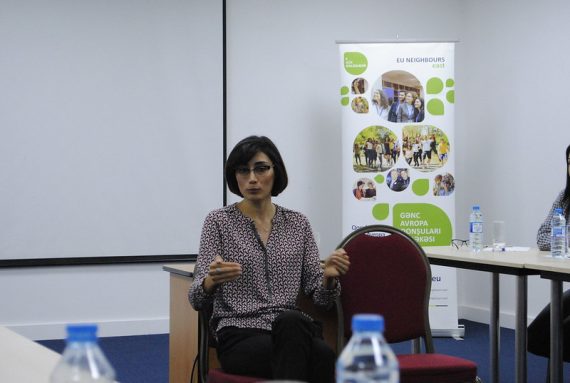 Up to 20 young participants had a chance to participate in a workshop on gender inequality conducted by prominent experts in the field such as Vafa Ali, a famous blogger, Zumrud Jalilova program specialist at Counterpart International (USAID funded Women's Participation Program); Vafa Rustam, a graduate of the law faculty at Baku Slavic University.
Vafa Ali says there are so many stereotypes on gender among people that they even do not know about them. She adds that the main advantage of such events is that participants could act as a multiplier in their communities and make others to gradually learn to listen to other contradicting points of view.
"People have to hear and listen to various points of view, get to know the current state of affairs. I am in favor of adopting the Istanbul convention but before that our legislation has enough laws which provide women with chances. But our women do not benefit from them", – she says.
The aim of the one-day event was to educate young members of communities and prevent future violence by using informal methods and sharing real-life experiences.
The participants also learned how to express and prevent gender-based violence in the society they live, also discussed future perspectives for youth.
This article was produced by Ismayil Fataliyev, the Project's local correspondent and EaP Civil Society Fellow from Azerbaijan in the framework of the EU-funded 'Eastern Partnership Civil Society Facility – Regional Actions' Project. Its contents are the sole responsibility of Ismayil Fataliyev and do not necessarily reflect the views of the European Union or the Project. Photos are provided by the local correspondent.
Read more about our local correspondents here.