by Ismayil Fataliyev, Local Correspondent from Azerbaijan.
Traditionally, people with disabilities (PwDs) in Azerbaijan have remained out of public attention, in the shadow of society. Lack of available and adopted space for self-development, insufficient both government and NGO-led initiatives have pushed them to stay home all day long reducing number of interlocutors to family members only. Societal perception of their total dependence on state and family assistance has contributed for marginalisation of this category of the population.
Meanwhile, there are more than 620,000 PwDs in Azerbaijan according to the Ministry of Labor and Social Protection. PwDs make up about a third of citizens receiving pensions and benefits from the state.
From time to time International organizations launch various initiatives about PwDs` employment and education with the goal to increase disability-inclusive development.
It is worth to note the following ones such as UNDP-initiated Self-employment Programme for helping some 500 PwDs to start up their own businesses by the beginning of 2020. Or, "Enhancing Quality Inclusive Education for Children with Disabilities in Azerbaijan", the project implemented by UNICEF with funding from the EU and support from the Ministry of Education of Azerbaijan. Until the projects ends in summer of 2020 within 2,5 years up to 10000 primary school teachers in secondary schools in 7 regions of Azerbaijan – Baku, Sumgait, Guba, Ganja, Sheki, Gazakh and Agjabadi will have been trained.
Along with mentioned initiatives, public-driven ones are aimed at bringing talented persons with disabilities out of the shade. It is believed these people should play as a driving force to encourage other PwDs and become a society with 100 % inclusion level.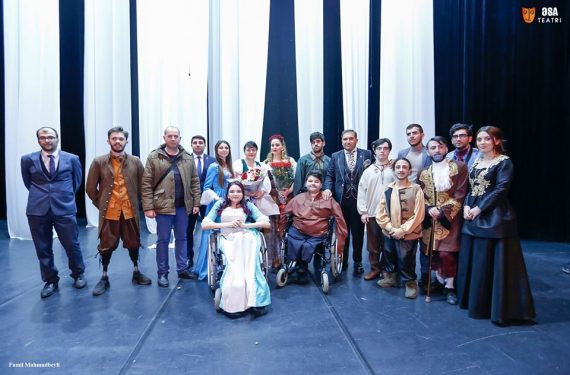 One of such successful initiatives was the ƏSA, the first inclusive theatre in the South Caucasus inaugurated on September 3, 2016. The majority of actors and workers here are PwDs. The ƏSA aims to accelerate social integration of the PwDs, ensure joint activities of persons with and without disabilities, to raise their social and public welfare, to promote their participation in theatric and other artistic activities.
If you are happy with your field of activity then you can work there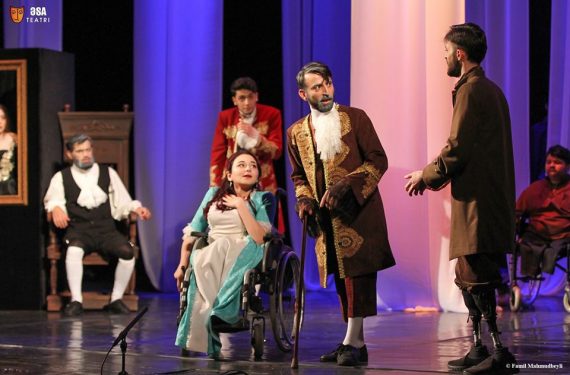 Orkhan Aliyev, 31, was born prematurely with a birth trauma that caused difficulties walking, but this never caused any problem for him, he admits,  when communicating with his peers at school and university. Before he joined the ƏSA he implemented raising awareness projects about PwDs, tried sports journalism, participated in journalism-related projects, worked as a TV producer and anchor on talk-shows dedicated to PwDs on national TV broadcasters. He told stories of ordinary PwDs and paralympic athletes. Orkhan joined ESA only in 2018 because he wanted to try various fields of activities.
He has played the Spirit of the Fire in the "Blue Bird" by Belgian Maurice Maeterlinck, Mr Anselm in "the Miser" by Jean Batiste Molier, the Darvish in the "The Botanist Monsieur Jordan and the Celebrated Sorcerer, Dervish Mastali Shah" by famous Azerbaijani playwright Mirza Fathali Akhundov, etc.
"Since my childhood, the theatre was always interesting for me. I was always curious how actors memorize, not forget their words on the stage. Only when playing by myself I got to know that the actors could substitute one word to another one. The spectators have no idea whether it was exactly the same word as in the book. Only those who read the book do know,"- says Orkhan.
He admits the ƏSA theatre holds an important part in his life as a lot of changes happened to him. He says people in the street started to recognise him thanks to his performances and he will keep playing.
This theatre has brought enormous change in my life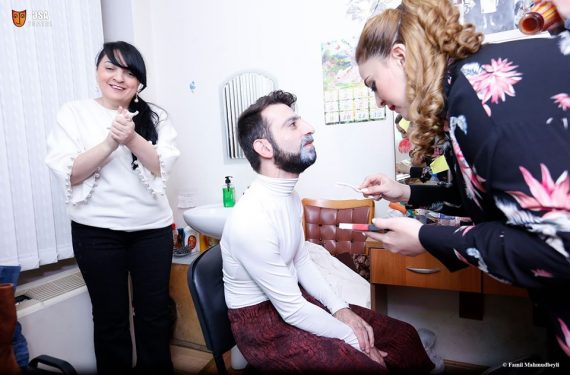 Gunay Mammadova, 41, holds degrees in Law and Medicine. The mother to a 15 years old girl has been experiencing serious difficulties in eye vision for quite a long time. It was ten years ago when her left eye went blind. Five years later, in 2015, she became completely blind. When she heard of the ƏSA for the first time, she asked her cousin to get in touch with its director on her behalf.
She admits she would have never imagined performing on the stage due to her disability but instead wanted to apply her lawyer's skills in the theatre. By inviting her for an interview, Gunay was sure the theatre management did not want to seem impolite to refuse her on the phone. To her grand surprise, she was offered to play Aunt Clara in "Of mice and men" by John Steinbeck.
"This theatre is a completely different world. It opened different doors to me. Theatre, stage, get-throughs. I was always thinking I was blind and what I would do? How would I act on the stage? Thanks to the trainings and director's detailed explanations, everything was great."
Later on, she played Khanperi in Akhundov`s play mentioned above, Simona in the "Blue Bird", and other roles. According to Gunay, acting became another goal like many others she wanted to reach so desperately throughout her life.
If the society has an inclusive theatre, it is doomed to develop and prosper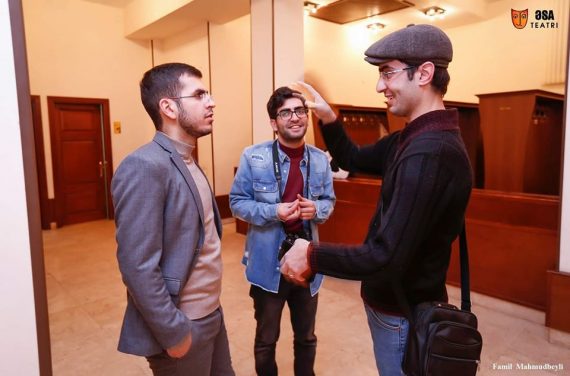 Consisting of about 20 members with two-third of them being PwDs the ƏSA Theatre is the only troupe which operates professionally in the region. Nihat Gulamzade, a 23 years old founder and director, says performers want to propose decisions to social problems and challenges PwDs face "via the cultural level". The theatre's name itself is ambiguous. On one hand in Azerbaijani language ƏSA means a walking stick i.e. a thing which directly correlates to PwDs, on the other – as an acronym it stands for encouraging words with Ə as Əngəlsiz (hurdleless), S as Sərhədsiz (borderless), and A as Azad (free).
So far more than hundred PwDs have made their way through the theatre. Nihat Gulamzade says each and every performer gets paid a honorarium or salary for performances. But it is not only about the money.
"Some do not wish to perform on the stage but regard the theatre ambiance, theatrical activities as a remedy. For this reason, we use drama therapy activities for his/her cure. Their communication, speaker's skills improve, they get rid of complexes and fear. Thanks to family atmosphere here, they earn friends," he says.
But he admits the theatre lacks resources and focuses mainly on activities related to staging performances. The ƏSA needs bigger premises for run-throughs and other troupe`s activities. The current one although being central, is not spacy.
The troupe has prepared six plays until now and performed them more than 20 times both in the capital, Baku and regions. When doing so, they have managed to bring in innovative elements in theatrical activities i.e. simultaneous Sign Language Translation on the stage, flashbacks, movie effects, etc.
Moreover, the ƏSA Theatre is a trendsetter by introducing and carrying out successful social marketing, social networking model, and other organisational issues. The rest of privately-run as well as some state-run theatres follow ƏSA`s suit.
Despite having no disability, he calls himself a potential PwD. Nihat says he has been always interested in the way how PwDs be it the ones with cerebral paralysis or Down syndrome could handle with different situations and approaches on the stage. Their vision, feelings, behaviour triggered his attention. Azerbaijani theatrical stage has never had such experience before.
"When you imagine something like this then you feel continuation follows. Then you put some music on it, illumination, effects. I found myself in that dream, imagination. I decided that it would be really interesting, and spectators would watch our plays with huge interest e.g. an actor in a wheelchair plays Hamlet," – he says.
According to him, it was the ƏSA which drew public attention to challenges and problems of PwDs and contributed to awareness raising of inclusiveness issue in Azerbaijan. But a lot needs to be done, he believes.
"Spectators come to watch plays not because actors/actresses are PwDs," says the founder. "They really find our plays interesting, share feedbacks with us by saying which play was not good enough or which one we should perform again," – he concludes.
This article was produced by Ismayil Fataliyev, the Project's local correspondent and EaP Civil Society Fellow from Azerbaijan in the framework of the EU-funded 'Eastern Partnership Civil Society Facility – Regional Actions' Project. Its contents are the sole responsibility of Ismayil Fataliyev and do not necessarily reflect the views of the European Union or the Project.
Photos  by Famil Mahmudbeyli.
Read more about our local correspondents here.