by Ismayil Fataliyev, Local Correspondent from Azerbaijan.
Social entrepreneurship (SE) in Azerbaijan is rather a new concept. Despite the numerous challenges, the potential for the Azerbaijani SE sector is huge. Mostly these are NGOs, small and medium enterprises, and young individuals that are the 'drivers' of SE in the country.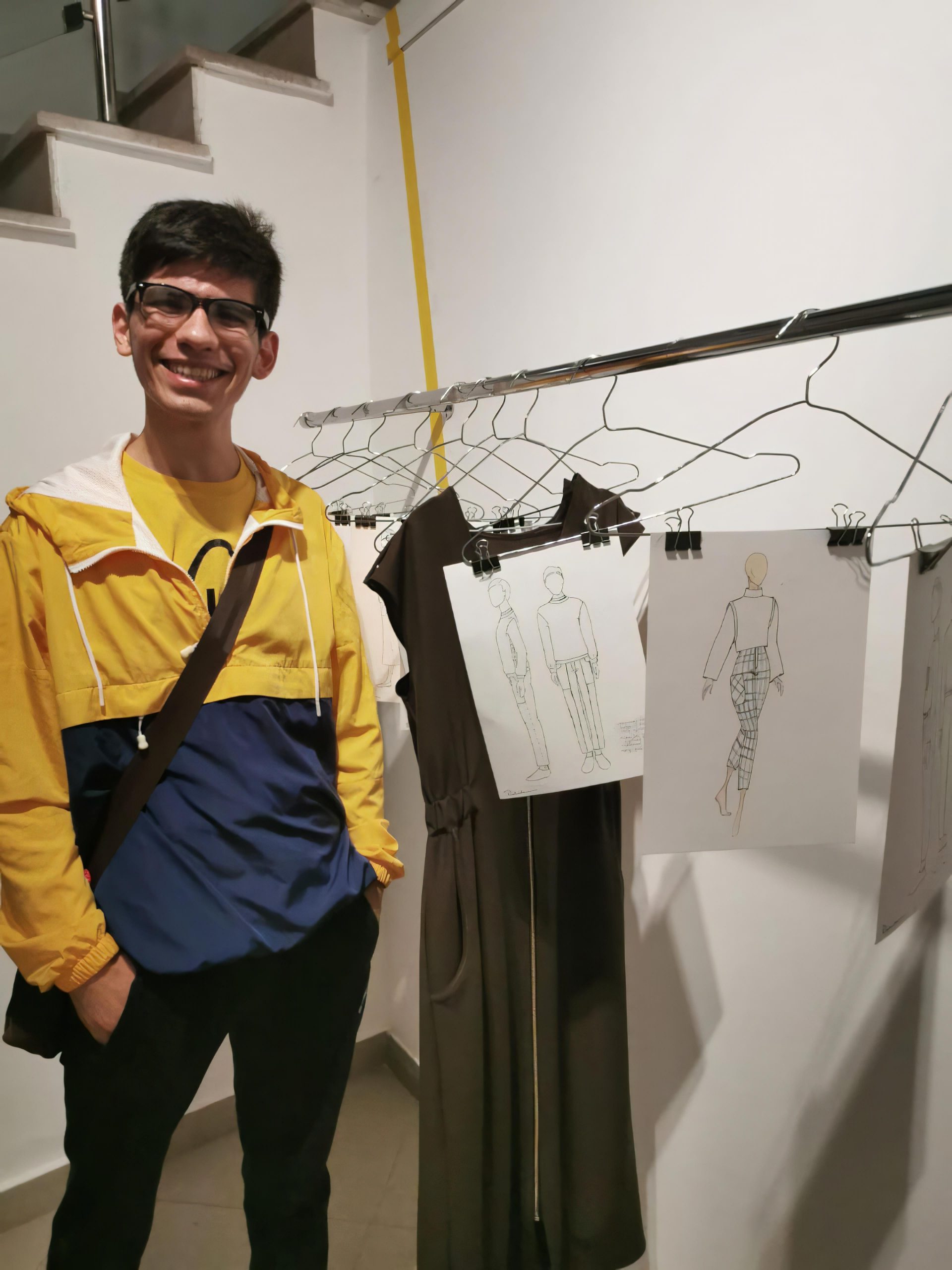 "My grandmother has been disabled ever since I was born. She had a visual disability. I knew a lot about what she needed and what her challenges were like. Dressing up was a huge issue. Every morning my mom would spend lots of time and energy to help her get dressed," – recalls a 19 years old Mahammad Kekalov.
When Mahammad studied in the United States, he was exposed to the disabled community there as well. By taking sign language lessons and volunteering at a local disability resource office he observed the hardship and challenges disabled persons encountered regardless their geographic locations. Now a third-year student at the Azerbaijan State University of Economics (UNEC) majoring Business Administration, Mahammad has decided to help tackle "often overlooked and disregarded" clothing issues of disabled persons (DPs). So, he started Kekalove Adaptive Fashion.
Being an adaptive fashion brand, the team of four designs and produces clothing for disabled persons.
"Traditional-styled pants require a lot of legwork to be worn but a wheelchair user can't do that. Up to 190 million of DPs have severe difficulties functioning i.e. up to 190 million people have problems with putting on their clothing. It is 19 times more than the Azerbaijan's population. So, how do they wear pants? It usually falls on the caregiver and is a tiring process. When we design, we take all of these things into account. Our products are helping them,"- Mahammad says.
We're solving a pressing problem.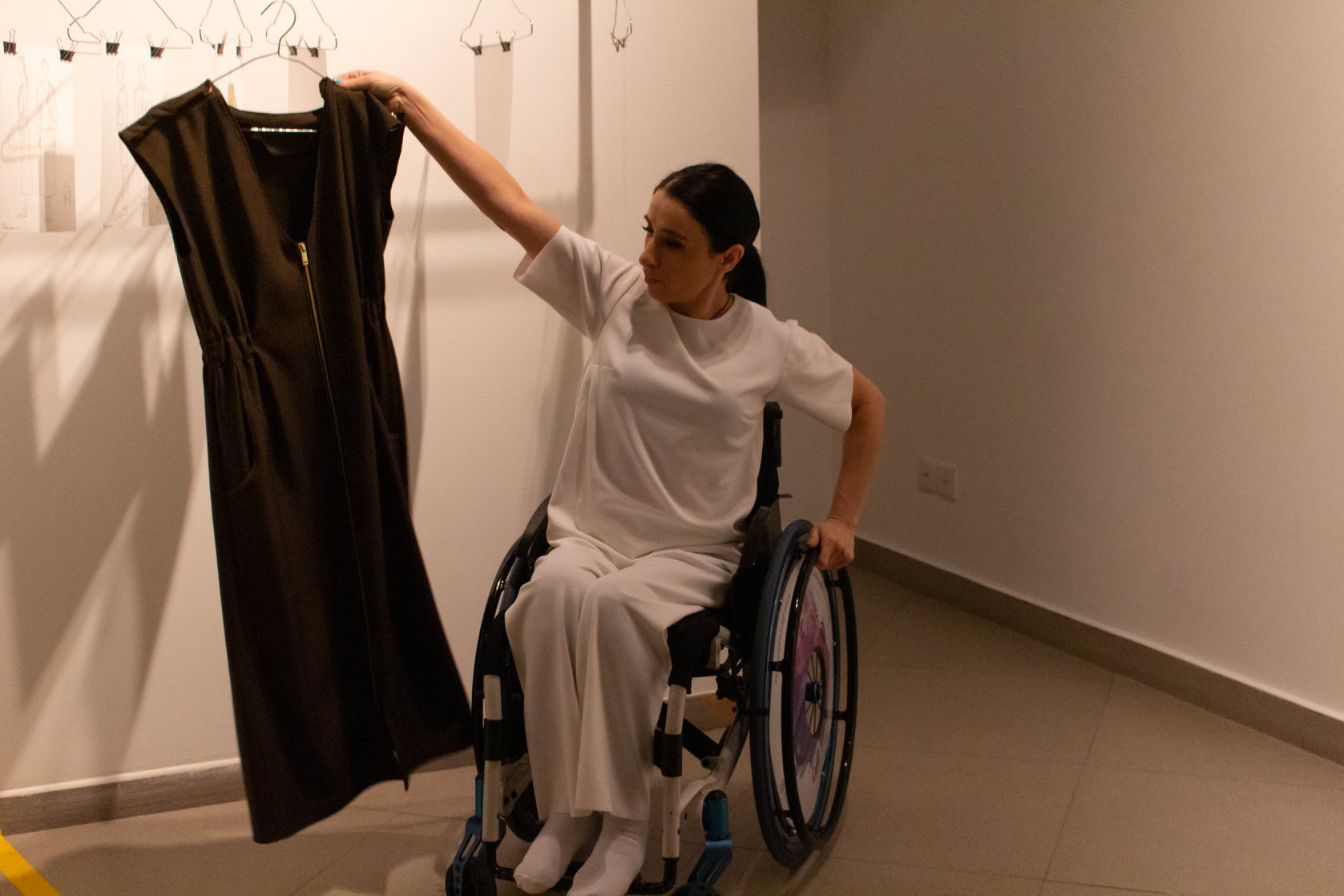 Along with a biological need to stay warm, he says, a clothing is "a way of making a statement, (outlining) a hobby, an interest" and DPs should not be deprived of this either. His team makes simple and small changes to designs like adding magnets and velcros, changing closures and etc. By making designs better accommodate DPs, the latter get empowered, inspired and involved especially in places like Azerbaijan. Together with the founder who is responsible for business and growth opportunities, the Kekalove includes Mahammadali Rzayev, an IT specialist responsible for website maintenance and other IT-related technical stuff, as well as Rashida Ali and Sabina Sahib, two young fashion designers.
"We sell the clothing we produce. Our work process requires a lot of prototyping, research and development, fit testing and focus groups directly with the disabled to make sure what we create will really help our customers. We're now about to introduce a new collection in a few months. It's also going to be available for sales. We're also going to do a crowdfunding campaign to be able to mass produce our designs,"- he says.
Mahammad acknowledges that there are some other social enterprises working with DPs in Azerbaijan. But, they cast as partners rather than rivals by supporting each other.
Majority of SEs in Azerbaijan are in very early phase of their development.
Based on the EU definition of social enterprises (SEs), there are currently no more than a few dozen active SEs in Azerbaijan. Organizations and entities with SE elements in Azerbaijan are mostly active in the field of health, social care, education, tourism, youth and support to small and medium enterprises. The authors of an EU-funded 2018 report about social entrepreneurship in Azerbaijan say nearly all interviewed stakeholders had difficulty in identifying themselves as SE due to a lack of a definition in the national legislation. Simply put, the existing legislation doesn't recognize SEs and any targeted public policies are yet to be adopted.
Yet, it is worth mentioning that the basis for social economy in Azerbaijan dates back to 1995 when the constitution of independent Azerbaijan was adopted. Its article 15 says 'the Azerbaijani state creates conditions for development of a socially oriented economy'. While Article 59 guarantees the right to business activity, according to which 'everyone may, using his/her possibilities, abilities and property […] carry out business activity or other kinds of economic activity not prohibited by the law'.
Moreover, different aspects on how to establish and run business are regulated in the Civil Code, Tax Code, Labour Code, Migration Code, Law on entrepreneur activity, Law on state support to small businesses, and other normative-legal documents including some state programs and Presidential Decrees.
SEs in Azerbaijan can operate under several legal forms: associations and foundations under the Law on NGOs, companies under the Civil Code, public legal entities under "Law on Public Legal Entities", cooperatives under "Law on Agricultural Cooperatives", family farm associations under "Law On Family Farming", individual entrepreneurs under the Civil Code. The experts in the field say the Law on NGOs allows the organizations to demonstrate all features of SEs in line with the EU definition. Subhan Hasanli, a 25 year old lawyer, believes this law safeguards the social and governance criteria of SEs and allows CSOs to engage in economic activities in line with their mission as long as income generated is not distributed among the founders or members.
"The main drivers of social entrepreneurship in Azerbaijan have been the NGOs since the legislation does not specifically recognize SE. Due to easy registration, low tax and simplified reporting they set up social businesses as commercial entities,"- he adds.
Current advantages and disadvantages
There are a number of state programs and national action plans that target the development of small and medium entrepreneurs, as well as creating new workplaces. We have about ten business incubators in Azerbaijan operated by various state bodies (Ministry of Economy, Academy of Sciences, etc.) or even private business (for example, by mobile operator Azercell). Moreover, individual initiatives contributed in spreading the word about SE. In 2017, a group of enthusiast launched the Baku Idea Lab, a community aiming to create a better environment for people making positive social change in Azerbaijan. They offer membership including co-working space, community events and training to drive social change through entrepreneurs in the Baku and regions. All of the incubators are commercially oriented as they do not have social impact as part of their agenda. Still, the progress in this respect has been made. For example, in the World Economic Forum's annual Inclusive Development Index (IDI) Azerbaijan was third among top-10 emerging economies in 2018.
But as usual, there is another side of the coin. Being a new, emerging and developing sector, the existing SEs in Azerbaijan have not yet gained proper awareness and trust from would-be partners i.e. banking sector, microfinance institutions. Banks in Azerbaijan slowly start recognizing social businesses as a viable market. As a result, they do not tend to offer any tailor-made loan schemes for social businesses. Instead, they consider them as a part of small and medium businesses. Microfinance institutions also do not provide any preferential terms for socially-oriented startups.
Moreover, according to the above mentioned EU-sponsored report, like in other Eastern Neighborhood countries, there are no SE networks be it local or national in Azerbaijan to provide an exchange of ideas and best practice learning. This might be the reason of potential stakeholders' low awareness on SEs, their needs. As there is no separate legal form for social businesses they are not specifically targeted in numerous state programs. Red tapes both on the local and central levels; the requirements for NGOs to register the income from foreign sources are among other challenges social businesses come across in Azerbaijan. So, SEs contribute very few to GDP. The share of non-commercial SEOs declined almost threefold from 2014 onwards because of this legislation.
Lack of tax exemptions and incentives for donors and beneficiaries of social businesses neither encourages commercial entities to become SEs, nor support them actively as such contributions are subject to taxation. Huge cash flow can embrace SEs and has defining role in their development. In response, SEs can provide businesses with future talents and developed business partners.
Social entrepreneurship in Europe
In the EU itself, the SEs hold an important part of the economy. One in four enterprises in the Union is a social business. More than 11 mlns of Europeans i.e. 4.5% percent of the active EU population are occupied in this sector. Tamara Puhovski, a Croat researcher and professor with 20 year experience in innovating, managing and measuring positive social impact across all sectors, says although awareness about SEs in the EU differs from state to state, more businesses become socially-oriented.
"There are those who are far ahead and have legislation in place, networks of social entrepreneurship, good practices and financing tools, as well as middle ground members who have the strategy of SEs but not a lot of people understand and know what this is, no official definition with different institutions, donors using different definitions. But, this is growing. If you look, you will see lots of SEs popping up. SE is an important way forward after the COVID crisis as this is an economy which is fairer and more beneficial to all,"- she says.
She says when starting or running a SE one needs to consider how s/he is going to make money since finance will initially come not from market activities but project funding and donations. A future social entrepreneur should be aware of who provides funds and what their role is, should look at his/her business plan, market activities and contemplate on the income to be generated. These all will lead to an eventual idea of how to legally register his/her company, organization.
"There are two different important things to define a SE. On one hand, how it is organized. On the other hand, what does it do? What is the positive social change you want to reach? You have to generate 25 % of the income, the rest 75 % of the profit should be sent to have positive social change. The way on how you run the company, organize shareholders voting, decision making has to reflect your values as a SE,"-she concludes.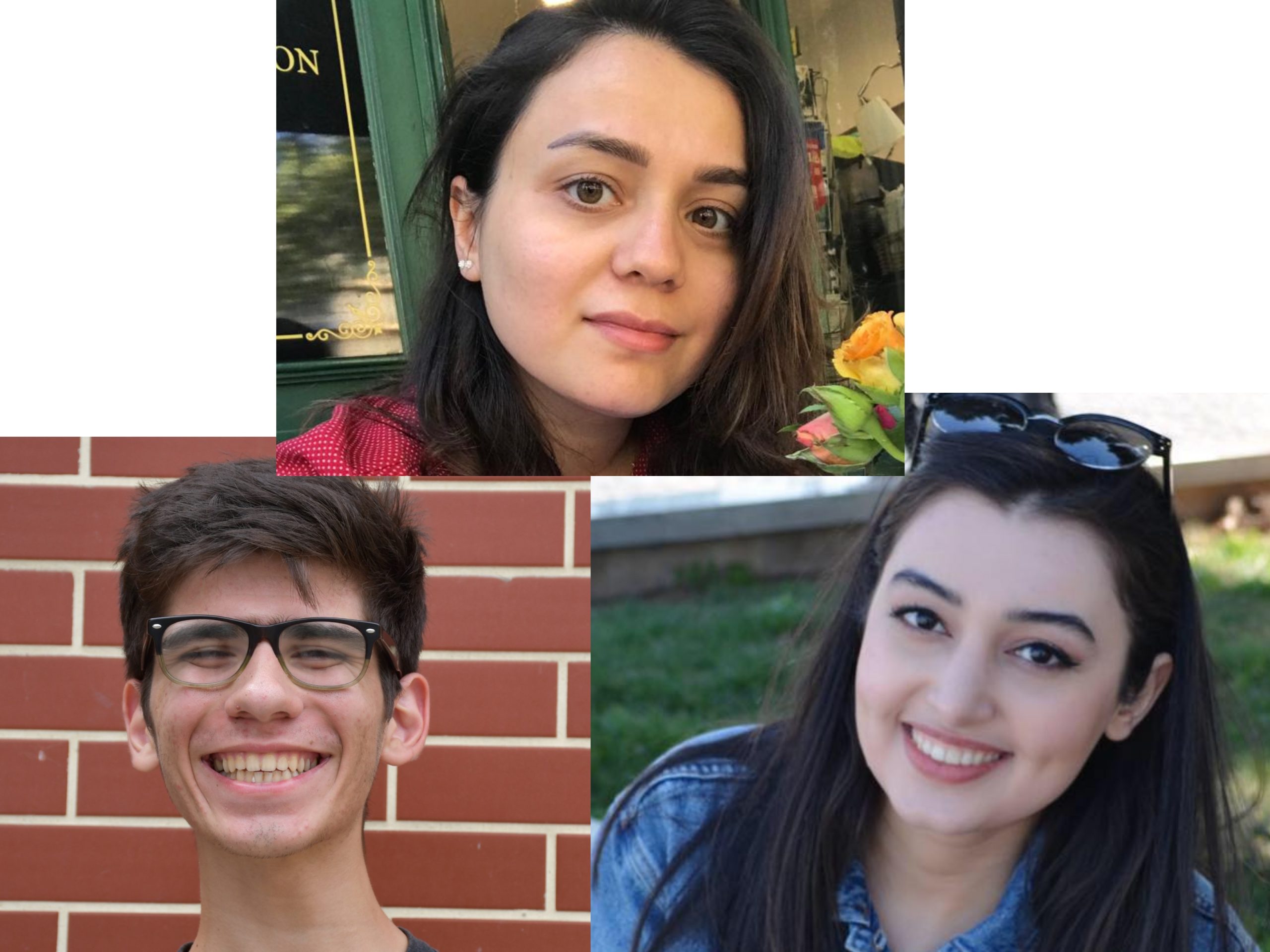 Social entrepreneurship in Azerbaijan still has a long way to go as it needs both legislative reforms and institutional support. In case of private and public sectors cast political, financial and technical assistance, this can help to boost and stimulate the development of the sector. According to Mahammad, following them on Instagram and Facebook to stay up-to-date on what they are doing at Kekalove, is another form of support as well. Thanks to such support, the young social entrepreneur has become the national champion in "Creative Spark", a competition held by the British Council with the support of the United Kingdom.
"We're slightly behind the schedule for campaign because of the whole Covid-19 situation but when we do manage to run it, people can pre-order clothing from us and we'll deliver. As life goes on, we are going to increase our impact and achieve our vision to be a leading adaptive fashion brand in the world,"- he concludes.
This article was produced by Ismayil Fataliyev, the Project's local correspondent and EaP Civil Society Fellow from Azerbaijan in the framework of the EU-funded 'Eastern Partnership Civil Society Facility – Regional Actions' Project. Its contents are the sole responsibility of Ismayil Fataliyev and do not necessarily reflect the views of the European Union or the Project.
Read more about our local correspondents here.