by Ismayil Fataliyev, Local Correspondent from Azerbaijan.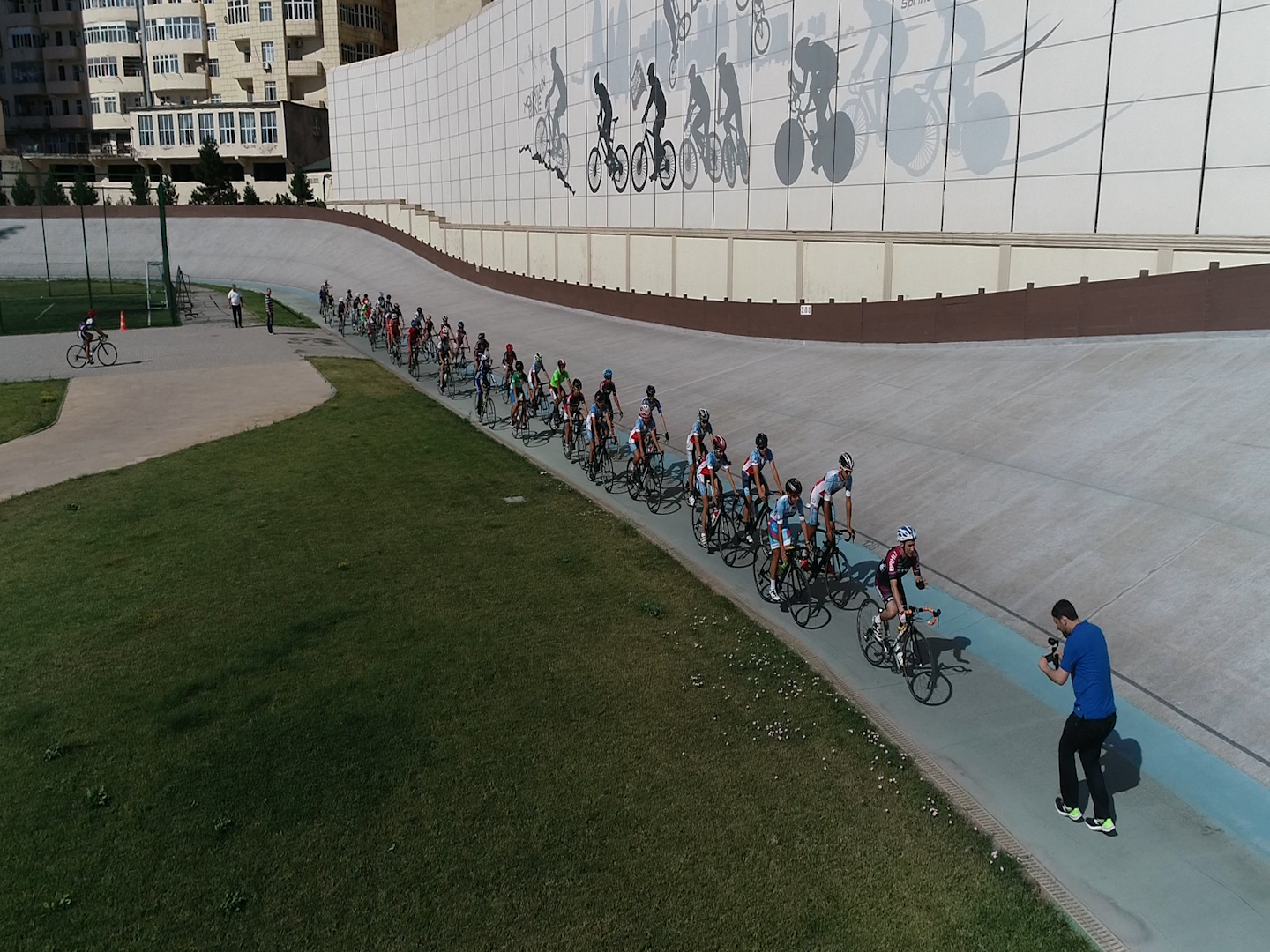 The number of cyclists, especially in the capital, has gone up for last years.But it is still risky to bike to work and other places. Statistically, there are 1.4 mln. cars for the population of 10 mln. Three out of four cars are driven in the capital, Baku. Naturally, numbers of accidents and fatalities went up with 1870 accidents in 2019, a 2.9 percent rise, compared to 2018. Sadly, 2523 people suffered, an increase by 3.7 percent compared to 2018. Unfortunately, 821 people died as a result. Cyclists are not exceptions in this regard. Another reason is the lack of proper cycling infrastructure such as bike roads, lanes, parking slots. Baku Transportation Agency (BTA) claims it tries to expand the cycling infrastructure. Last April the BTA announced its plans to pave 18 km bike lanes, roads designed for the city downtown in compliance with the relevant 2019-2023 state program. More than a year has passed, but cyclists can enjoy a 100 m long pilot path on the Pushkin Street beside the seaside boulevard. Once safe and proper infrastructure is introduced, it will encourage city residents to use bikes and cycling will gain its momentum. Until then, it is young enthusiasts and civil activists who promote and advocate for cycling.
Nurlan Alimammadov, 29, is a passionate cyclist. A cameraman on one of the national TV stations, he usually bikes to work a 15 km round trip distance. He used to do this when in school and university. His boss appreciated his enthusiasm and installed a parking slot for Nurlan`s bike beside the main entrance of the broadcaster.
"The bicycle is the only vehicle that helps to make friends. Cyclists look for one another. Their team is getting bigger. This fact inspired me to start advocating for cycling. My goal was to attract young people to use bicycles," – says Nurlan.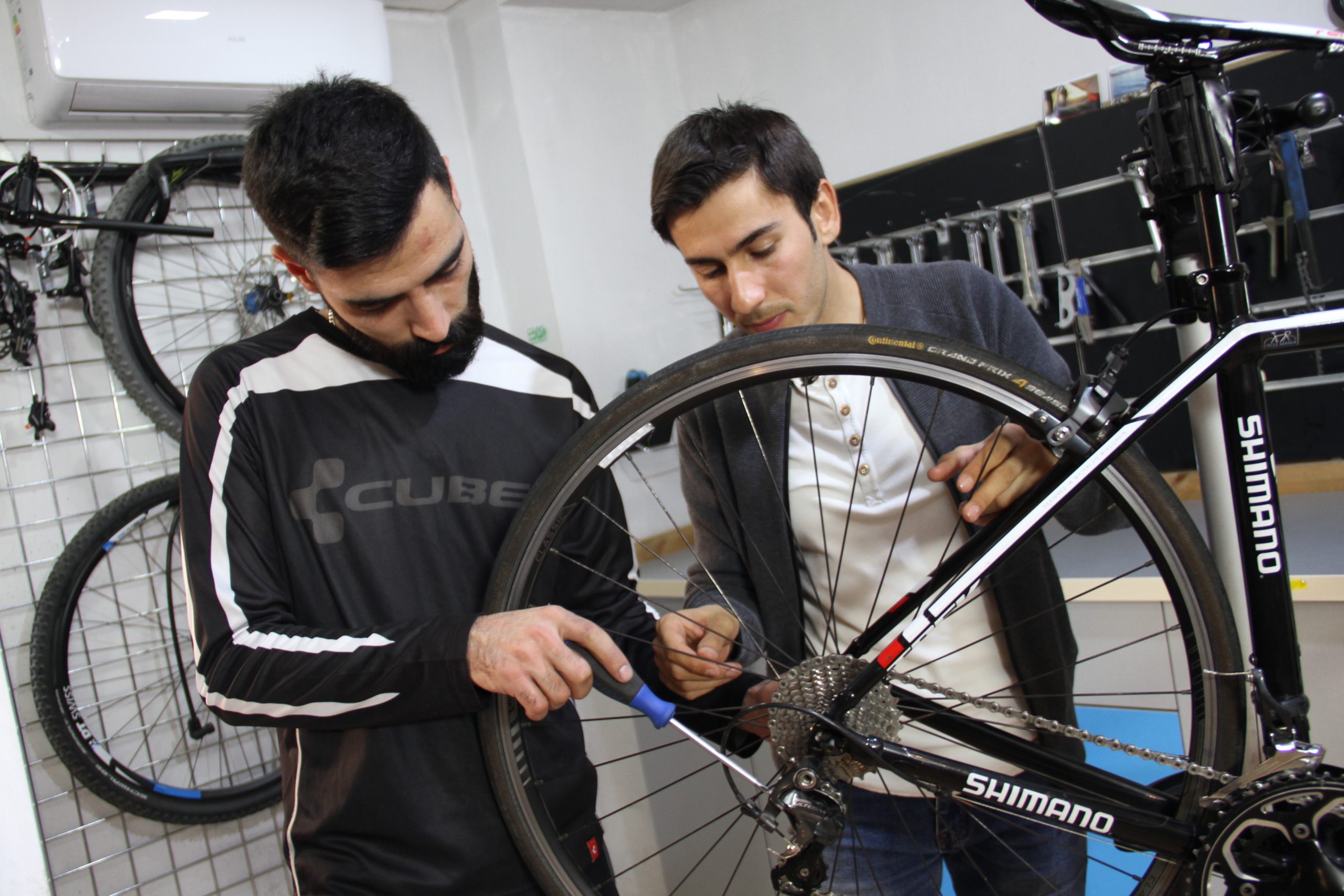 In 2019 he started a YouTube channel, called VELONA, where he shares self-made videos on various cycling-related topics: bicycle as a vehicle, how cycling helps you stay fit or dangerous roads for cycling in Baku, etc. He admits although at the beginning there were people who were telling him he is wasting his time, now the number of subscribers' is growing. "They ask for tips on how to bike to their workplace, what challenges I face when I ride a bike, or if the police stop me or not, etc. Yes, sometimes it is a hard task. But when I see the final result, I am happy that I have made it. If you set a goal for yourself, you can reach it for sure. Just never look back," – he adds.
Individual medium-distance bike travels are another means of encouraging others to start cycling. Nurlan has carried out round trip bike travels to the regions of Shamakhy, Guba, Ismayilli, etc. around 100 km one-way distance to the north/north-west from the capital.
He dreams about huge numbers of cyclists on the roads of the Azerbaijani cities. It is doable if there are many bicycle lanes and permanent advocacy. His YouTube channel is a kind of contribution to make this dream come true.
28 years old Seher Mehman is an engineer. She is passionate about cycling since childhood too. First, it helped her keep fit and healthy, then it turned into her hobby. Yet, at the beginning of the road, she admits, it was not easy.
"When I started cycling, there were almost no women cyclists. Some males were pointing at me. It looked strange and concerning. It was unpleasant to feel annoying looks and hear certain words,"– she recalls.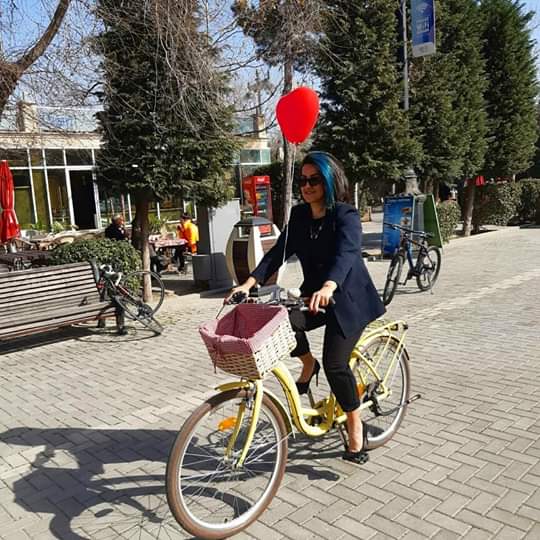 She set a target to further popularize cycling among women. Seher began to organize cycling trips but few came. The reason was women's general inability to ride a bike, she recalls, rather than reluctance to use it. So, in 2014 she began teaching them.  "Not everything that is healthy and useful can attract a person. For this, people must be informed of its advantages. When people see it, they become interested in it and want to try themselves. Compared to previous years, the number of female cyclists has increased. We influence and support each other in this respect,"– says Seher.
She says cycling has more advantages than any other means of transportation. It is  time-saving, environmentally friendly, makes a person feel more confident, positive and energetic, it positively impact on his/her health, brings a good mood, etc.  Seher does not remember the number of women she has taught cycling, but she is sure that each and every cycling woman in Baku knows her personally. Her trainees are different in terms of age, occupation and background. The majority of them are women who are over 30 years old. She has trainees in their 50s as well.  "Their first question to me from women is if they would get hurt or not. First, I try to help them overcome their fear, lack of confidence, complexes. Then, I switch to "believe in yourself" and "you can do it" phase,"- she adds.
Since 2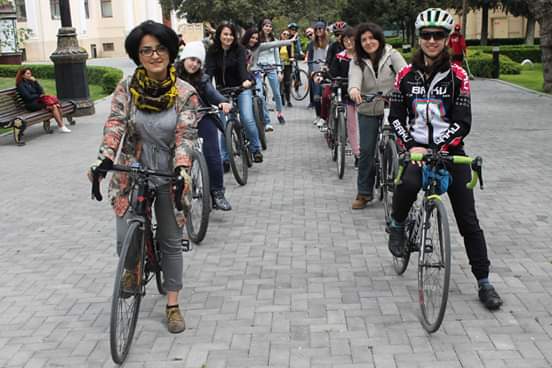 015, she has organized dozens of cycling tours in Baku and the regions dedicated to and held during public holidays or internationally significant dates such as International Day for the elimination of violence against women, International Cycling Day, New Year, Nowruz Holiday, World Car Free Day, International Women's Day, etc. Once, together with colleagues, Seher organized an international cycling tour to Turkey.
Traffic jams in Baku, increasing numbers of cars, lack of bike lanes discourage many, including women, to have a bicycle and reduces their interest in cycling. If city authorities introduce bike paths, she assures, many people will start using them. In her turn, she will put extra efforts in popularizing cycling in her native city. "Being a cycling coach has become a new page in my life. I have met more people as a coach, and my personal circle expanded. I would like to create a cycling culture in our country,"- she concludes.
This article was produced by Ismayil Fataliyev, the Project's local correspondent and EaP Civil Society Fellow from Azerbaijan in the framework of the EU-funded 'Eastern Partnership Civil Society Facility – Regional Actions' Project. Its contents are the sole responsibility of Ismayil Fataliyev and do not necessarily reflect the views of the European Union or the Project.
Read more about our local correspondents here.