by Ismayil Fataliyev, Local Correspondent from Azerbaijan.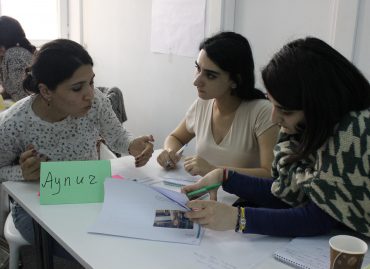 Traditionally, Azerbaijani society has always highly honored women for the proper fulfillment of "right" duties such as keeping hearth, raising children, looking after men. Slowly but surely the society with predominantly oriental mindset cedes before the wind of changes. Women start carrying out other "not right" activities as well e.g. entrepreneurial ones.  Yet slowly, only up to 20 percent of the total number of entrepreneurs in Azerbaijan are women and the majority of them live in Baku.
State and non-state actors: What is being done and still needs to be done? 
The government is taking steps in promoting women entrepreneurship. The initiation two years ago by the presidential decree of the Small and Medium Business (SMB) Development Agency is one of them.
Yet, as a famous Azerbaijani saying goes: "One hand will never produce noise" which implies a strong necessity of joint attempts – by non-state actors, civil society actors, ordinary people. And Social Business School (SBS), an initiative within the framework of the Finding Her Voice Program with the support of Conflict, Stability and Security Fund of the UK (CSSF), is one such "hand".
"Social entrepreneurship can back its sustainability"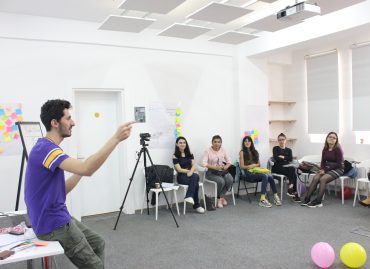 lyas Farhadli, 25, SBS coordinator used to run a social business. His digital hub, a dataset to support physically disabled people, unluckily failed. This failure pushed him to spread the word on social business skills and teaching.
"We have two targets: the first one is to strengthen civil society i.e. community benefits, the second – our girls will become financially independent, they will gain resources and raise self-confidence. We can produce a long-term contribution."
SBS aims to give about 100 young women, living in Baku and nearby city of Sumgait the practical skills on topics such as entrepreneurship, social business, a business model for social entrepreneurship, marketing strategies for social business, etc.
Stereotype breaking and helping others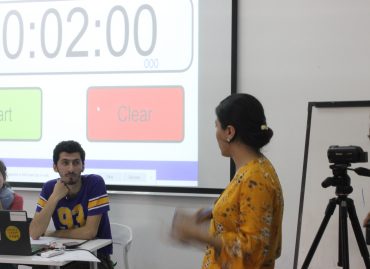 30 years old Aynur Jafarova works as a translator for an international company based in Baku. A mother to a 3 y.o. kid used to sell cosmetics goods online but her business failed. This time she wants to set up a catering company but lacks the necessary skills so far.
"I decided to attract up to 5 women who currently live in specialized shelters. Our company will practice tailored-made approaches towards each client. On the other hand, it will cast some hope for women in need", – she concludes.
So far Aynur learned to write a canvas business model, present it to others, how to work with stakeholders. Then her mentor will teach her how to manage finances, deal with her employees, etc. But above all by participating at the School she overcame a peculiar local stereotype: if one wants to succeed "then you need money and daidai (colloquial word for a protector)".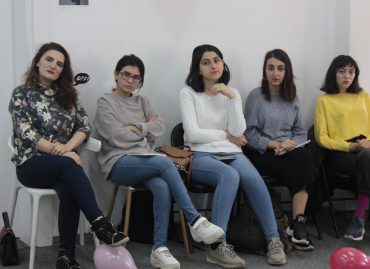 Nushabe Naghiyeva, 28, is a senior psychologist in a medical center. She wants her social business to help women to use their potential to the full extent. She thinks of an online and offline platform where women in need could get help, skills – be it business coaching, language skills, and handicrafts courses or get contacted with competent experts.
"I think of cooperation with organizations to keep supporting women continuously, make them meet relevant people so that they could self realize in the society, the community they live in. We create a platform to give them hard and soft skills. I am here to gain those skills as I need support to put this idea into practice. Most of them feel alone and it is difficult for them to start something. We can unite them."  
Advantages and prospects
The program will last until March 2020. During its first part participants will get to know about social business from A-Z, whom to create contacts with, what challenges social business owner could face; during the second – an appointed mentor supervise them so that they could make up a business plan and send it back to organizers. In the end, the latter will financially support 4-6 of them. Additional, the participants will have a unique chance to hold meetings with investment companies, centers for entrepreneurs` support such as Barama (https://barama.az), National Confederation of Entrepreneurs (http://ask.org.az/en/), etc.
This article was produced by Ismayil Fataliyev, the Project's local correspondent and EaP Civil Society Fellow from Azerbaijan in the framework of the EU-funded 'Eastern Partnership Civil Society Facility – Regional Actions' Project. Its contents are the sole responsibility of Ismayil Fataliyev and do not necessarily reflect the views of the European Union or the Project.
Read more about our local correspondents here.