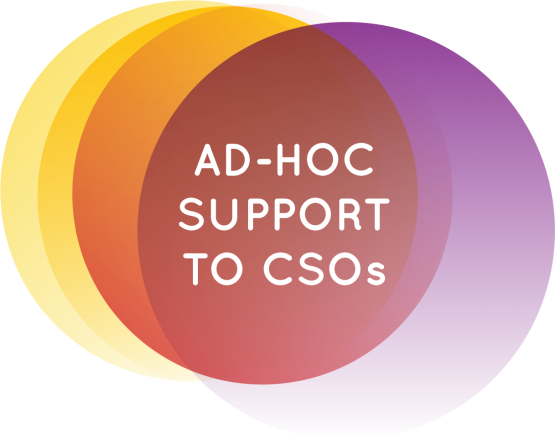 Our Project provides support to civil society organisations and civic activists in Eastern Partnership countries (Armenia, Azerbaijan, Belarus, Georgia, Moldova and Ukraine) in a variety of ways: we support young civil society leaders through our annual Civil Society Fellowship, we help CSOs develop digital tools through our Regional Hackathons, we produce tailor-made e-learning courses and webinars for civil society.
In addition to that, we also provide support to EU Grantees (CSOs implementing EU-funded projects) and representatives of civil society organisations from EaP countries implementing activities that involve several of the six EaP countries, include some longer-term strategic elements such as knowledge transfer within the region and in general help civil society better attain their goals.
Support to EU Grantees:
Whether your civil society organisation is implementing an EU-funded project in one of the Eastern Partnership countries or in several, our Project is now able to support you with a variety of webinars, as well as a helpdesk where you can ask any burning questions you might have! The aim is to provide you with targeted support on specific issues you may be facing while implementing your projects.  If you want to start using the helpdesk, please fill in this ONLINE FORM, so we can provide you with specific advice you may need during the implementation of your projects.
We also aim to organise around 12 webinars for civil society organisations from now until November 2020, so please keep an eye on our website and Facebook page for opportunities! Our webinars will most likely cover issues such as better reporting for the EU;  financial / contractual aspects in EU grant management; media relations and public outreach; new media technologies for organizational management; monitoring and evaluation of public policies; participation in legislative processes; advocacy, fundraising and funding opportunities for CSOs.
Please check the webinars that were held and recorded as well as other useful information from the webinars here:
For any additional information, please address your questions to: [email protected].
Support to Civil Society Organisations:
Whether you are a representative of a civil society organisation from the Eastern Partnership countries or an activist working on a project, we might be able to support you with expertise and some additional funding for activities such as trainings, visibility events or attending regional events.
Before submitting your request, please make sure that your request meets the following criteria:
The proposed activity contributes to strengthening and promoting civil society's role in reforms and democratic changes in the Eastern Partnership countries.
The proposed activity includes strategic elements, such as improving the capacities of other civil society organisations, ensuring knowledge transfer in the region, enhancing dialogue with public authorities, creating long-term partnerships, etc.,
The activity has a regional component, i.e. involves several Eastern Partnership countries.
The proposed activity is not part of other ongoing or planned projects.
The request for support is submitted at least 2 months before the activity is planned to start.
To apply for ad-hoc support please fill in this online application form. We aim to be flexible and respond to requests as soon as possible, but please keep in mind that we cannot accept requests that are submitted less than 2 months before the activity is planned to start.
You can see here the activities and events already supported by our Project.