Meet our team:

Olga Kennelly, Project Director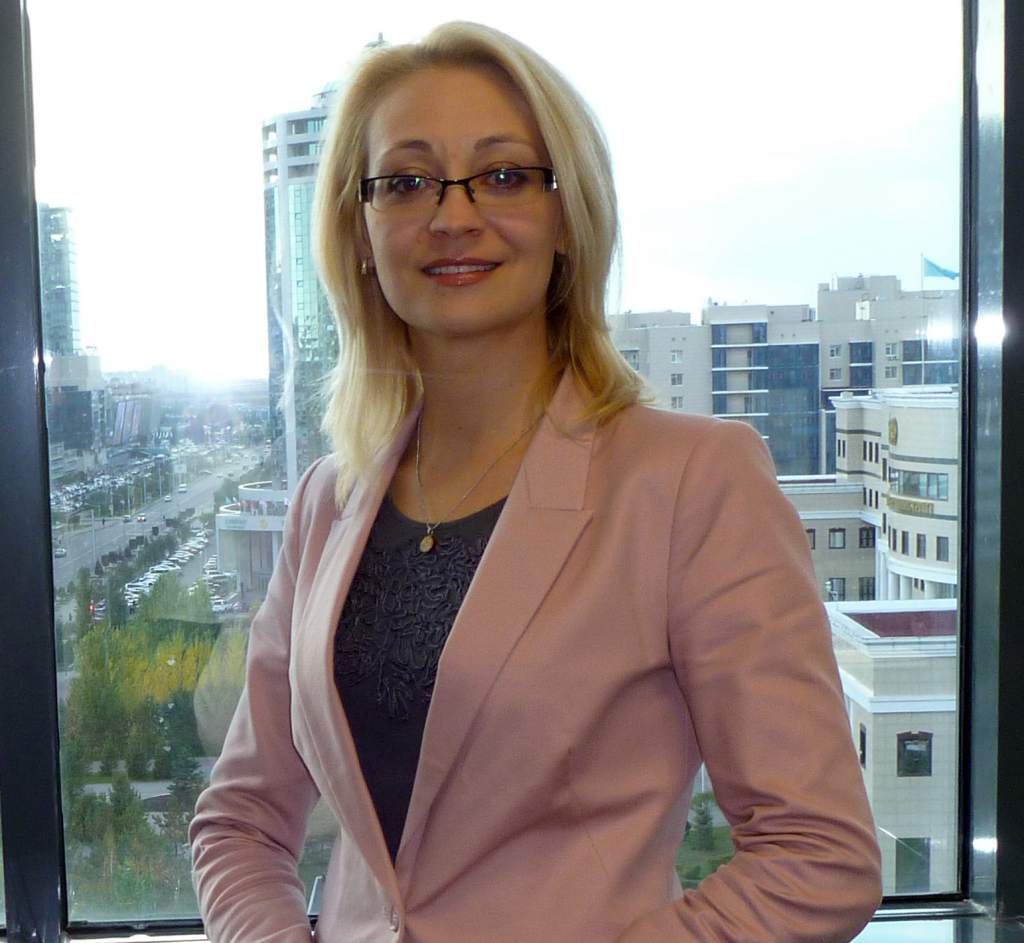 As a Director of GDSI, Olga has been responsible for the design and implementation of GDSI projects internationally for more than 15 years. She has many years of hands-on experience in carrying out long-term assignments in transition countries.
Olga has worked in the area of regional development, public administration reform, economic development programming, training and capacity building, organisational development, managerial leadership enhancement, quality assurance, project results dissemination, etc. A fluent Russian speaker and native of Kazakhstan, she is fully aware of all the key developments in economic and social policy in the Eastern Partnership member states that are likely to have an impact on the implementation of the current project. Olga is an experienced trainer having delivered over 50 specialised training programmes, both in organisational development areas and other fields, e.g. MIS for development projects, peer mentoring of young public officials, methodologies for recruitment of public servants and project planning.
Monica Bucurenciu, Team Leader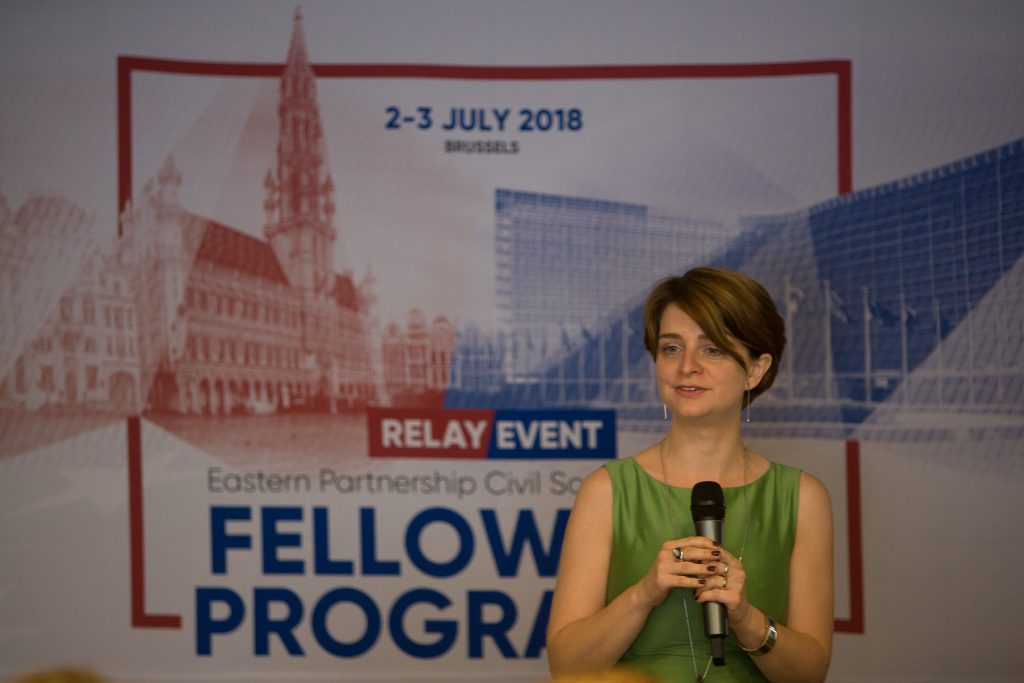 Monica started working with civil society organisations more than 15 years ago, and what started as a volunteer activity in Romania, continued in a different form while she was working for the European Commission in Brussels on multi-country projects supporting civil society in the Eastern Partnership region.
She has been covering the region since the Eastern Partnership initiative was launched: first at the European Commission, then at the European Bank for Reconstruction and Development, and now as the Team Leader of the "Eastern Partnership Civil Society Facility" Project.
She is a founding member of the Athens-based NGO Balkans beyond Borders and an alumna of the South-East Europe Leadership Development Programme. Monica holds a Master of Science degree from Oxford University and a BA degree from the University of Bucharest.
Simon Forrester, Capacity Building Coordinator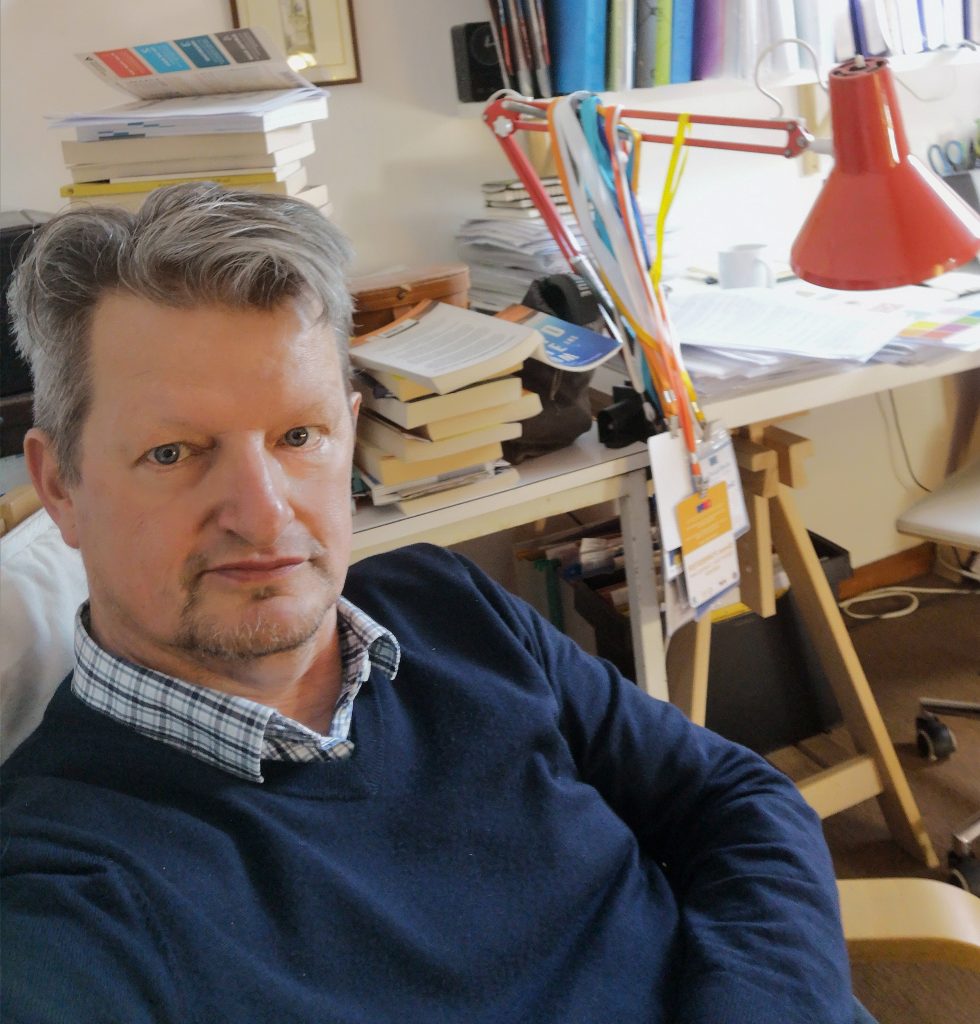 Simon has more than 25 years' experience in supporting the development of civil society in countries in transition.  In the 1990s he served as a UNDP Programme Officer in Kazakhstan and Nepal and then worked for 5 years with the UK's International NGO Training and Research Centre leading their civil society strengthening programme in Central Asia.
Since 2010 he has been a founding member of the Eurasia Social Change collective and has provided consultancy to a range of international organisations and national CSOs, including the British Council, the European Commission, Friends of the Earth, Macedonian Centre for International Cooperation, Partners for Development, Palestinian NGO Network, Swiss Development Cooperation, Sida, Ukraine Womens Fund, UNDP, UN Women, UNESCO, the World Bank Institute, and the Yunus Emre Institute.
Simon's professional focus is on organisation development, designing and delivering learning support for CSOs, and on promoting methodologies which assist organised civil society to empower the most vulnerable.  He has authored many handbooks and guides for CSOs, including the recent 'Practitioner's Guide for Community Mobilization for Empowerment in Ukraine', and 'CSOs and Citizen Participation' for organisations in the Balkans.
Iryna Velska, Expert on Developing New Digital Content and Organising Hackathons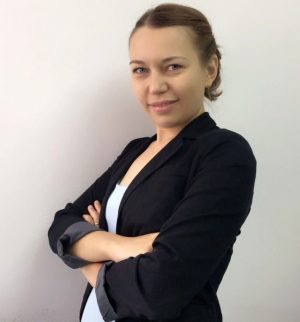 Iryna holds a Master's Degree in Journalism and Media Management. She has proven experience working as visibility expert for EU-funded projects: she has designed communication strategies, selected communication channels and developed online and offline tools for a number of projects.
She is proficient in developing and administrating websites built on open source and commercial platforms. Being a professional graphic artist, she supervised and directly participated in the development of more than 10 websites: blogging platforms, companies' and projects' web-pages, news portals, internal staff portals, online media, and online catalogues. Her special area of expertise is usability and user-friendliness of resources.
Iryna has worked as a reporter for Kazakh, Georgian and international mainstream and new media, and in media development organisations. Being a member of Panama Papers Project, she is an advanced user of online tools for structuring, sharing and visualizing information. As a coordinator of development projects, she took part in the implementation of projects focused on media and civil society in Central Asia, legislation analysis and protection of civil and political rights.
Elena Palivoda, Communication and Visibility Expert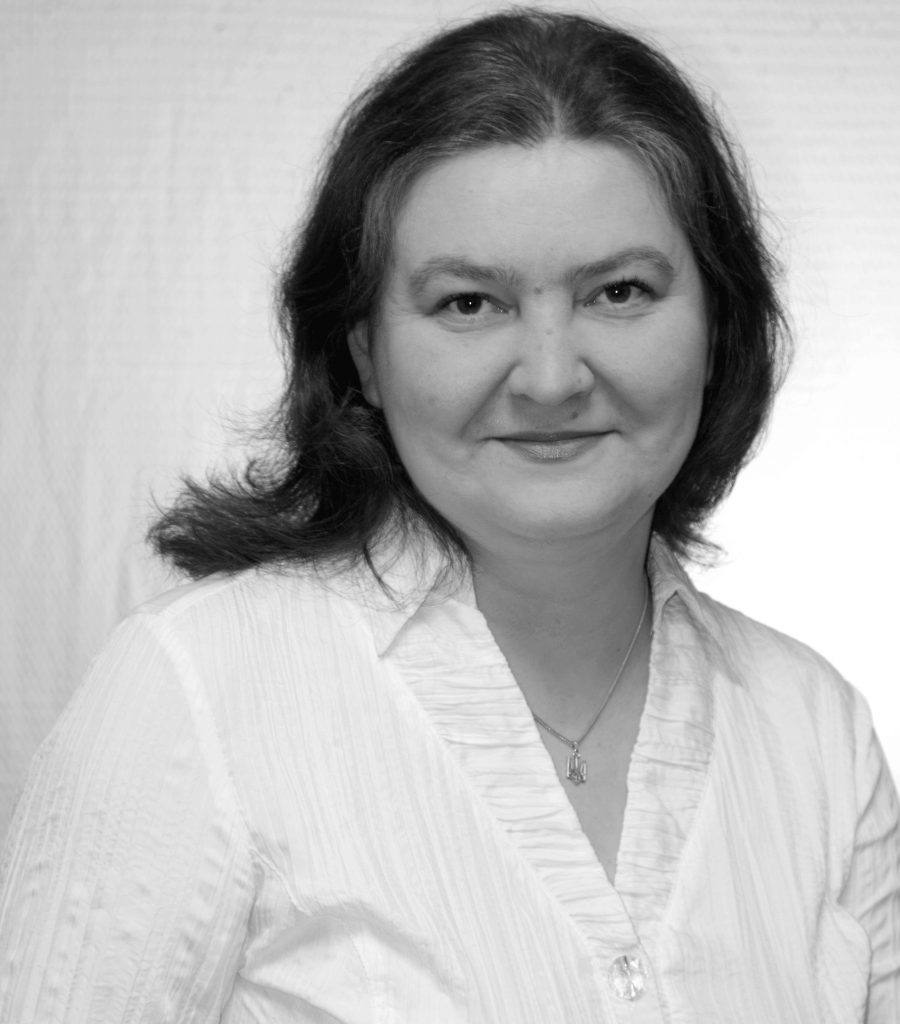 Elena is a communication and PR professional with over 20 years of experience in multicultural environment in EU-funded projects and private companies with a focus on public relations, communication, media activities. She holds a master's degree in philology and accomplished an Advanced Certificate in Public Relations from the Chartered Institute of Public Relation (UK).
From November 2011 to June 2015 Elena worked as a Key Communication Expert in the EU-funded project Eastern Partnership Culture Programme,  where she coordinated and implemented the communication strategies in six Eastern Partnership countries – Armenia, Azerbaijan, Belarus, Moldova, Georgia and Ukraine.
From 2005 – 2011 Elena was a Development and Marketing Director of FGL Energy, a private company specialised on marketing, media relations and event management in the energy sector. Dating back to 2002 she started to work on communication and PR issues with a focus on the energy sector as a promotional expert of the EU- funded INOGATE Project.
Bea Sanz-Corella, Monitoring & Evaluation Expert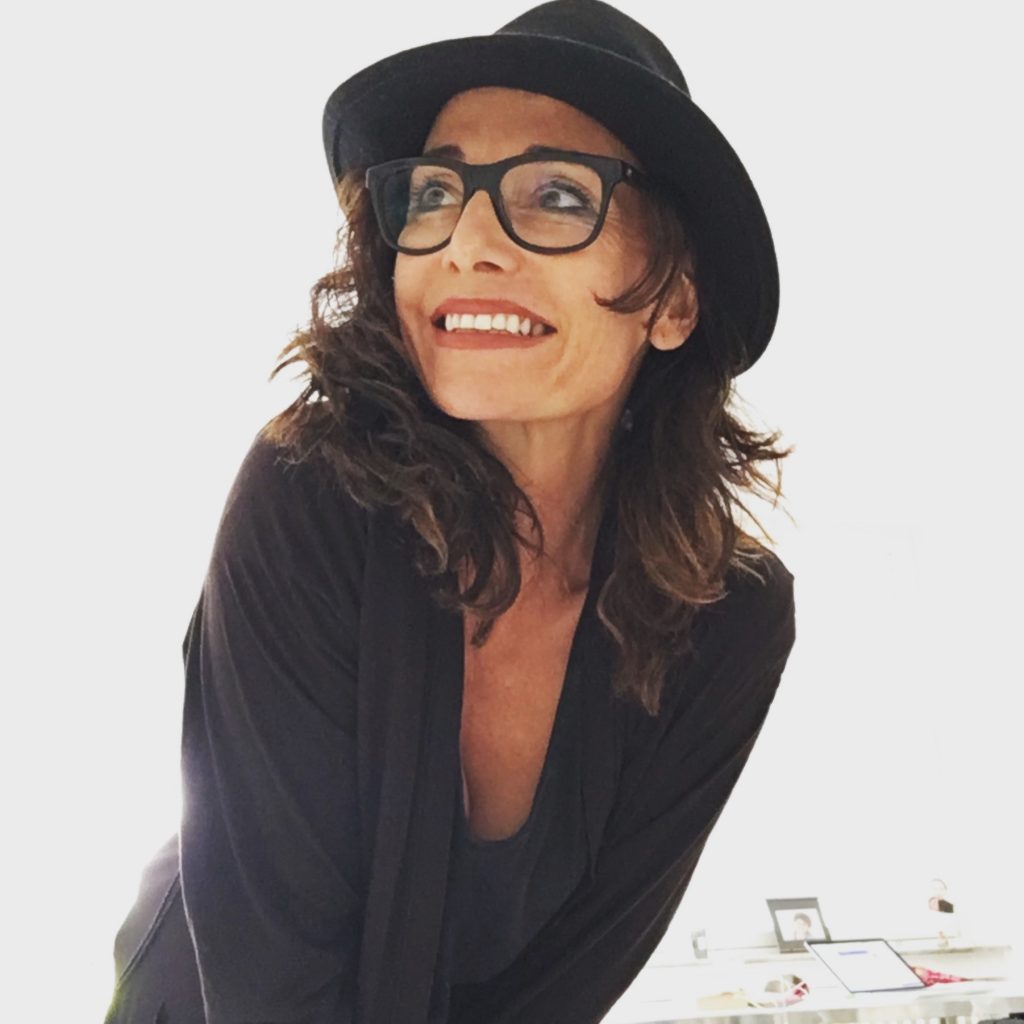 Bea Sanz-Corella is an independent senior advisor, with more than 25 years of worldwide experience in voice, accountability and governance. She has worked in more than 80 countries, providing  global and tailored country advice and support to a wide range of International Organizations, bilateral donors, philanthropy institutions, International NGOs, local and regional governments, community groups and the private sector. 
Some of the key initiatives Bea has been involved in include: Between 2009 and 2011, Bea led the team providing support to the EU throughout the most ambitious process of dialogue launched so far, known as the Structured Dialogue, involving more than 700 CSOs and Local authorities worldwide. Between 2011 and 2014 she led the team setting up the Policy Forum on Development, a permanent space for dialogue between the EU and CSOs and LAs. Bea is now the Head of Quality support for the Roadmap Facility and of the Operational Facility, supporting the implementation of the thematic programme CSO & LA. She is also involved in a number of research initiatives on civic engagement and is member of the team in charge of the strategic monitoring of the Programme Partnerships for Sustainable Cities.  Bea is multilingual and fully conversant with facilitation techniques, has been a lecturer & keynote speaker at a number of universities and public fora and has published several books, articles and manuals on civil society, decentralised cooperation and M&E
Agustín Moya-Colorado, Expert of the Helpdesk for Civil Society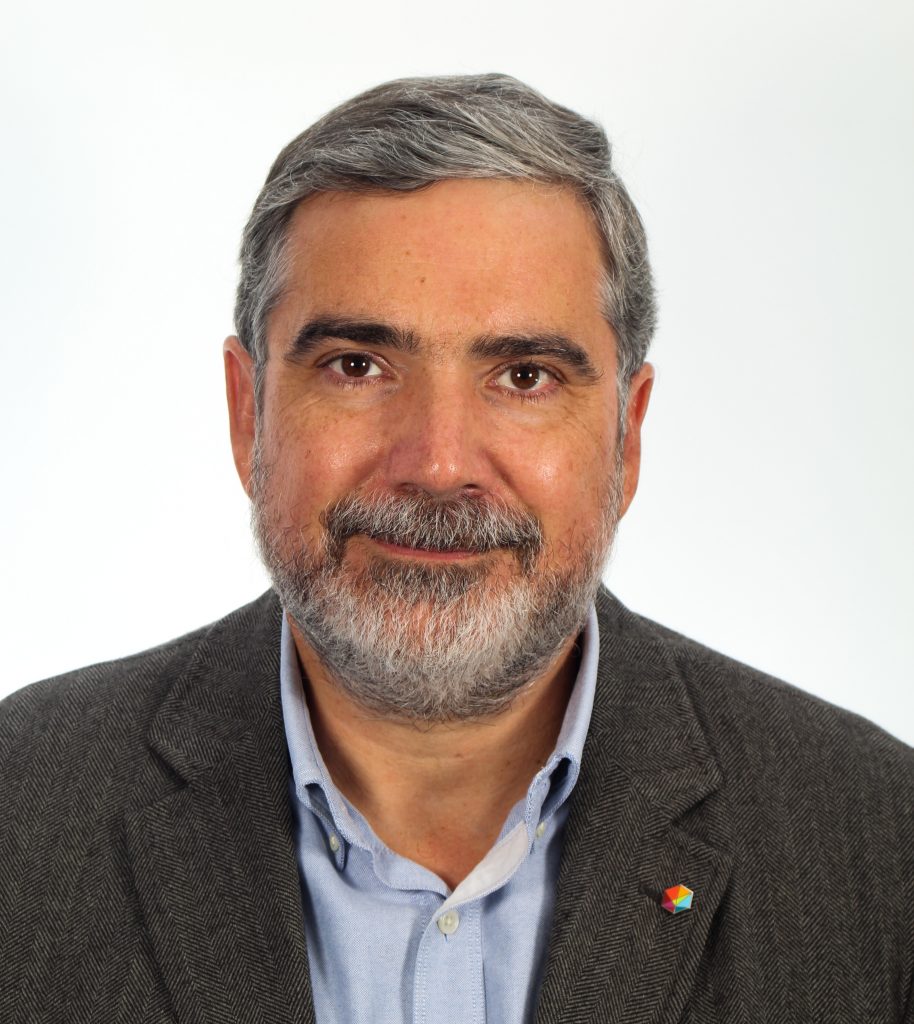 Agustín Moya-Colorado is an agricultural engineer by training with post-graduate studies in Project Cycle Management in Development Cooperation. In his over 20 years of professional experience, he has worked with civil society organizations, donors (mainly the EU), and companies; contributing to improve the living conditions of people in different contexts and countries.
He has a passion for project management and capacity building for civil society organizations, areas in which he is currently pursuing his PhD studies. He has participated in and led teams working in different fields such as rural development, civil society strengthening, WASH (Water, Sanitation and Hygiene), and peace and reconciliation. This blend of experience allows him to understand the perspectives, needs and constraints of the different stakeholders in development cooperation projects. With extensive experience and in-depth knowledge of the EU as well as civil society, Agustin is perfectly placed to support EU grantees via our Helpdesk.
Mariam Khuroshvili, Regional Liaison for the EaP Fellowship Programme (Armenia, Azerbaijan, Georgia)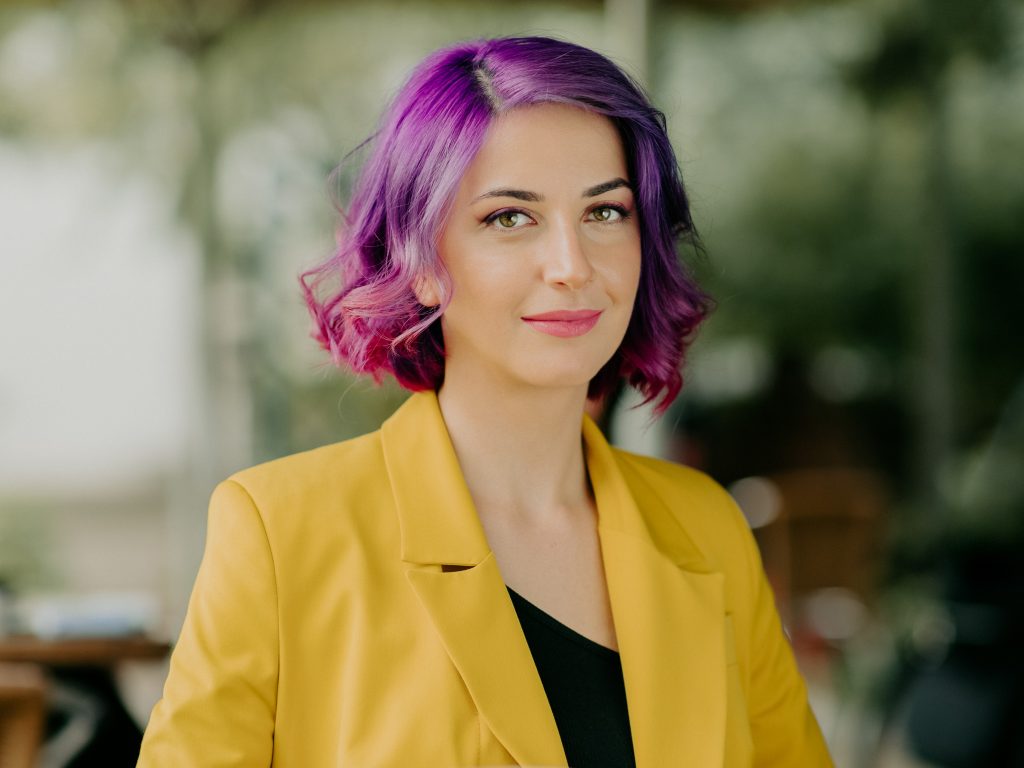 Skilled in project management, communication, and networking, Mariam is a Regional Liaison of the EaP Fellowship Programme in Armenia, Azerbaijan, and Georgia. Engaged among the first generation of the EaP Fellows back in 2017, Mariam produced a bilingual document researching the gender, youth, and environmental directions in the local agenda of the Tbilisi City Hall. Then, she acted as a coordinator of the Regional Action: "More Influence of Youth on the Local Environmental Agenda in Georgia and Ukraine" implemented by the EaP Fellows and delivered tangible results on the regional level.   
Passionate about visibility, content creation, digital marketing, events, and social media campaigns management, Mariam is a Communication and Visibility Mentor contributing to the different EU-funded programs (EU NEIGHBOURS East/Young European Ambassadors (YEAs) & Mercy Corps/EU4Youth SEAG Program). Also, she is an Author and Coach of the Visibility and Professional Development Online Masterclasses: Ready to Level-Up?!    
Being a dreamer, doer, and the believer in the power of creativity and transformation, Mariam is affiliated with the various international networks, including the United Nations Alliance of Civilizations Alumni Network & 100 #UNAOCYouth, Young European Ambassadors Initiative (YEAs), EU Alumni Network in Georgia, European Environmental Sciences Students Association (EURENSSA) and European Forum Alpbach (EFA) Academic Community. 
Olena Medvedenko, Regional Liaison for the EaP Fellowship Programme (Belarus, Moldova, Ukraine)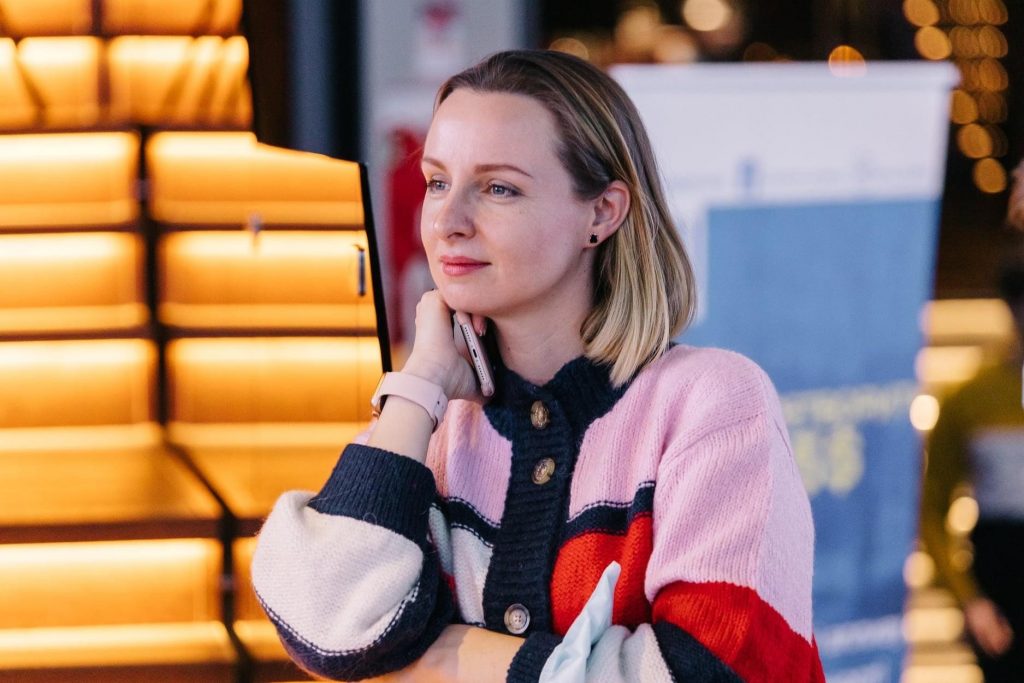 Olena is a Fellow of the EaP Civil Society Fellowship Programme who implemented the project on Advocacy of Better Implementation of Public Consultations in Ukraine.
She is engaged in civil society development since 2015 when she joined the local initiative Mykilska Slobidka that defends the right of Kyiv Left bank residents for access to the river banks, preserve the ecology and historical landscape of the Kyiv hills and the Dnipro river valley.
In her capacity as an expert at the Ukrainian think tank Center for Innovations Development (CID) she has been involved in implementation of e-Democracy tools such as public model of participation budget and e-petitions in Ukraine and the introduction of public consultations at the local level. In 2016-2017 Olena was a member of the Civic Commission on Kyiv Participatory Budget, authorised by CID. With team of change makers U.Sport, skilled in research and policy analysis, she is working towards good governance in sports and developing the direction of citizens physical activity as a driver of the economy and a key to health nation. She visited Strasburg within the Academy of Civil Participation as the part of Council of Europe project.