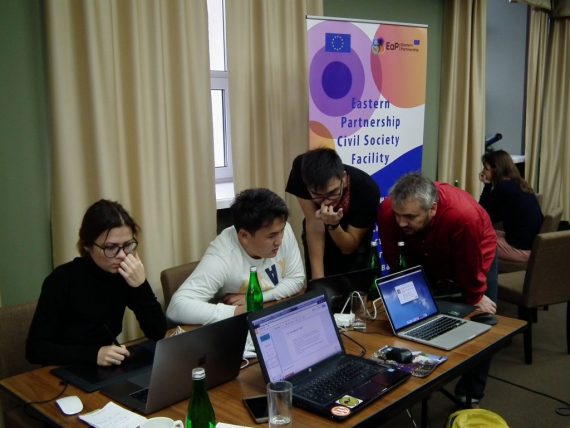 On 25-27 November 2017, our Project in cooperation with the Prague Civil Society Centre organised the first EaP Civil Society Hackathon –  CitizenLab 2017 Hackathon in Kyiv, Ukraine.
33 young civil society activists, designers and IT experts from 11 countries (6 EaP countries – Armenia, Azerbaijan, Belarus, Georgia, Moldova and Ukraine – plus Kazakhstan, Kyrgyzstan, Russia, Tajikistan and Uzbekistan) gathered in Kyiv for a three-day immersive exercise to develop their ideas of civic projects and create prototype tools and applications to empower digital participation of citizens in the decision-making process.
Check the videos with the presentations of our key mentors and trainers:
Three days of intensive international collaboration on research, data collection and design culminated in development of 11 prototypes of web interfaces, portals, interactive maps, bots and mobile applications on a wide range of topics including segregated waste collection and disposal, air pollution monitoring, development of public spaces, police monitoring, territorial planning and mapping, participatory budgets, sex education for teenagers etc.