Civil Society Fellowships 2019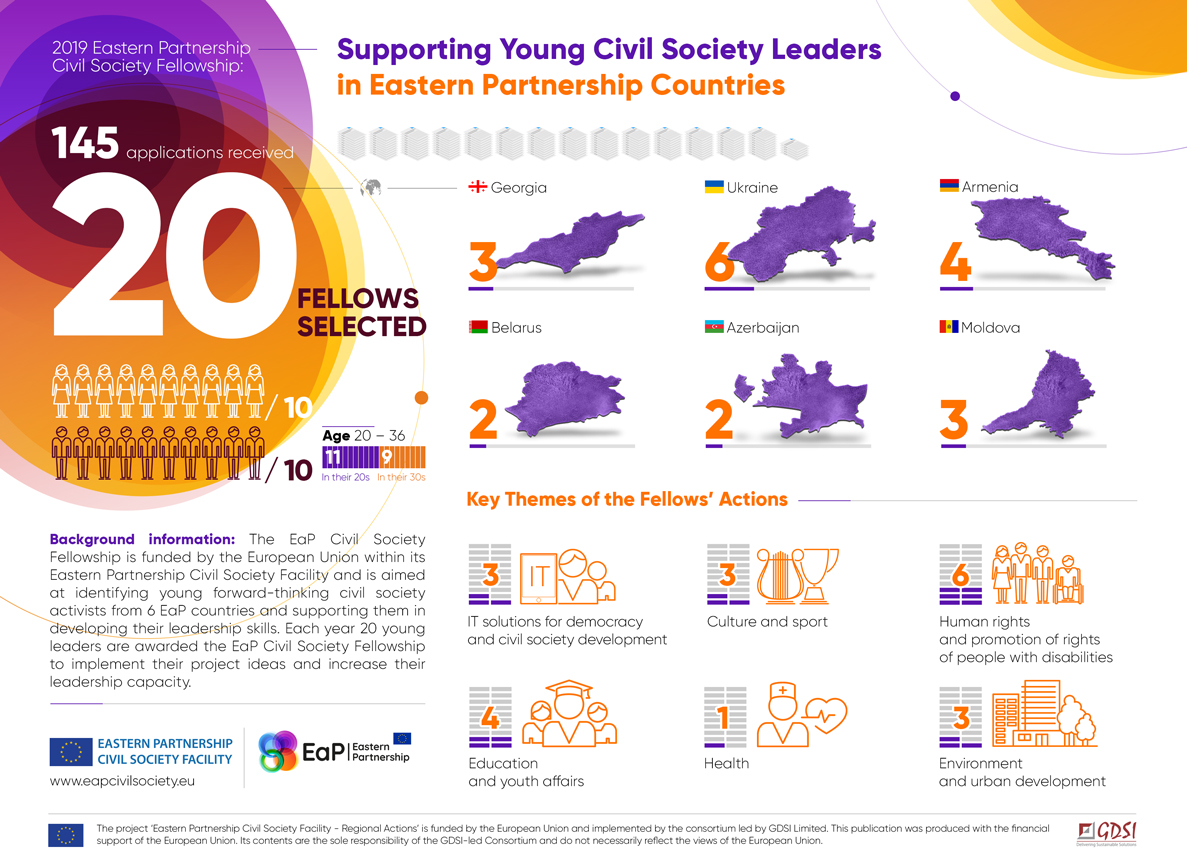 In 2019 we received 145 applications from 6 EaP countries and here are the Fellows selected for the Civil Society Fellowship 2019: 
Name
Country
Action
Khatia Antia
Georgia
Research project: Temporary Labour Migration and Left-behind Children – Effects of Labour Migration on Children in Rural Georgia

The Fellow will conduct a study to identify feasible, effective and acceptable strategies to address the needs of children affected by parental migration in rural Georgia, to mitigate and prevent the negative impacts of migratory separation on children.

Ulviyya Babayeva
Azerbaijan
Stronger hand by hand! Building up self – confidence of rural women and motivate them to participate in decision making process

The idea of the project is to enhance young women in Barda county of Azerbaijan to overcome gender stereotypes and to empower women standing for their rights. The Fellow will provide a series of trainings on various aspects including women's leadership skills, building up self-confidence of rural women and motivate them to participate in decision making process.

Alexandru Badarau
Moldova
Enhancing development capacity of aromatic plants Producers from Moldova

The action aims at increasing the capacities of the association of Lavender producers and raising awareness of the opportunities for working within the EU market. The Fellow plans to conduct a market research, gain knowledge and skills through an organised study trip to Germany, as well as organise networking meetings and a conference for relevant stakeholders.

Ismayil Fataliyev
Azerbaijan
Empowering women in IDP communities by learning them a bread earner`s skills

This project is aimed at empowering women in IDP communities through training and capacity building activities. These training includes presentation of "success stories", provision of information on micro-financing available in Azerbaijan and practical sessions on filling necessary documents/applications.

Beka Gabadadze
Georgia
Elephant in the Room. Improve campaigning skills for LGBT groups and organizations in Georgia

The proposed action is aimed to improve the campaigning skills for LGBT groups and organizations in Georgia. The Fellow will go to ILGA (Brussels) for an internship and will arrange a series of trainings for relevant organisations in Georgia on campaigning skills and raising awareness on anti- discrimination laws.

Narine Galstyan
Armenia
Lusashogh with public transport and Medical Worker

The action is aimed at resolving of two issues of Lusahsogh rural community: the  establishment of a public transport link that will allow the community to have a medical worker for the community, and minor renovations of the community centre that will allow to arrange a functioning medical facility.

Suren Galstyan
Armenia
Carrying out research for advocating the delivery of better quality obstetric care services for pregnant women

The research will explore the experience and satisfaction of pregnant women in maternal health care centres of Armenia, describe the identified obstacles to improving the quality of obstetric care. The action also aims to advocate for better quality care through the organisation of a workshop with the involvement of the Ministry of Health and sector organizations.

Victor Galusca
Moldova
Laying the first bricks for the Zaharia Foundation for Documentary Photography Research and Moldovan Cultural Heritage Preservation

This is a continuation of the action started by 2017 Fellow, Nadejda Cervinscaia. This action aims to formally establish the  Zaharia Foundation and carry out the full digitalisation of the photo archive that will be then made available to the general public.

Anna Gevorgyan
Armenia
Strengthening the CSOs' and Young Leaders' Fundraising capacities and promote the culture of philanthropy in Armenia

The project is aimed at fostering the development and growth of fundraising professionals and the profession. The Fellow will provide trainings to CSOs in Yerevan and Tavush regions on various aspects of fundraising campaigns. She also plans to develop and publish a Fundraising Guide for CSOs.

Victoria Isac
Moldova
Stop bullying/ cyberbullying  and violence among youth in the educational system

The action aims at raising awareness of  bullying/ cyberbullying and violence in selected schools. The Fellow will undertake a course in Italy after which she will implement a number of trainings for teachers and school management  in her district schools in order to reduce or eliminate the problem.

Vladislav Kyrylyuk
Ukraine
Involving young people to physical culture and sports in small cities of Ukraine 

The action aims to develop with the help of sport sector workers of small settlements a clear mechanism of action for involving young people in physical education and sports.  The Fellow will analyse the situation, draw public attention to the problem through videos and interviews and also conduct workshops.

Stefania Marshalenko
Ukraine
Art project PAINT THEIR LIFE

The main idea of the project to inspire youth, give them opportunity (children homes, hospitals) to try themselves in art through involvement in Art Project Paint Their Life. The Fellow will make an open call for 5 establishments where they don't have sources to paint mural for children in public space. With a team of painters we will go to each of them and together with children create a masterpiece on the wall.

Vahan Martirosyan
Armenia
Developing the culture of Waste Management

The action is aimed at raising awareness about waste management opportunities in Armenia and contribute to better waste management in the country. The Fellow will arrange trainings for relevant CSOs, youth groups, community volunteers and a seminar with Student Council representatives in Yerevan. The action will cover four regions (Tavush, Shirak, Gegharkunik and Yerevan).

Maksym Mazypchuk
Ukraine
Increasing the digital capacities of civil society

The idea of the project is to create an innovative series of webinars aimed at increasing the digital capacity of CSOs. CSOs will learn how to use specialized software that will help them to become more efficient and will increase the quality of services provided to their constituency.

Yaroslav Minkin
Ukraine
Educational program for strengthening the role of new generation in decision making process

The goal of the action is to strengthen the role of new generation in decision-making process via preparation of comprehensive educational program for youth with less opportunities and pilot it with 4 groups of young people from opposite parts of Ukraine. The Fellow will study good practices and effective methods of youth empowerment in one of the EU state, create an educational program and educate the first group of 40 youngsters in 2 Ukrainian youth centres and 2 youth NGOs from Donbass and Ivano-Frankivsk regions.

Liliia Ovcharova
Ukraine
Supporting Young Professionals in Ukraine

The purpose of the action is to help young professionals who came back to Ukraine after studies or traineeships abroad, to adapt to challenging work environment, to make a conscious choice on their future career and life, and to build a successful strategy for achieving their life goals.

Yuliia Rohozna
Ukraine
Protect your_info (safe Internet and media literacy)

The project is aimed at increasing the level of knowledge of students about personal security in the Internet, developing critical thinking and media literacy skills by creating and implementing a program, developing an information booklet and an interactive quest game for the dissemination and promotion among schools in the city of Kyiv.

Tea Turashvili
Georgia
Foster To Create New Possibilities for Better E-participation in Georgia

The main purpose of the project is to foster better e-Participation in Georgia. The Fellow will analyse barriers and challenges which  citizens currently face; develop recommendations and solutions  connected to the  identified challenges and barriers and raise awareness within the governmental and non-governmental organizations and other stakeholders.
Check the results from other years here.