Civil Society is YOU: Communication Campaign in UKRAINE, 2020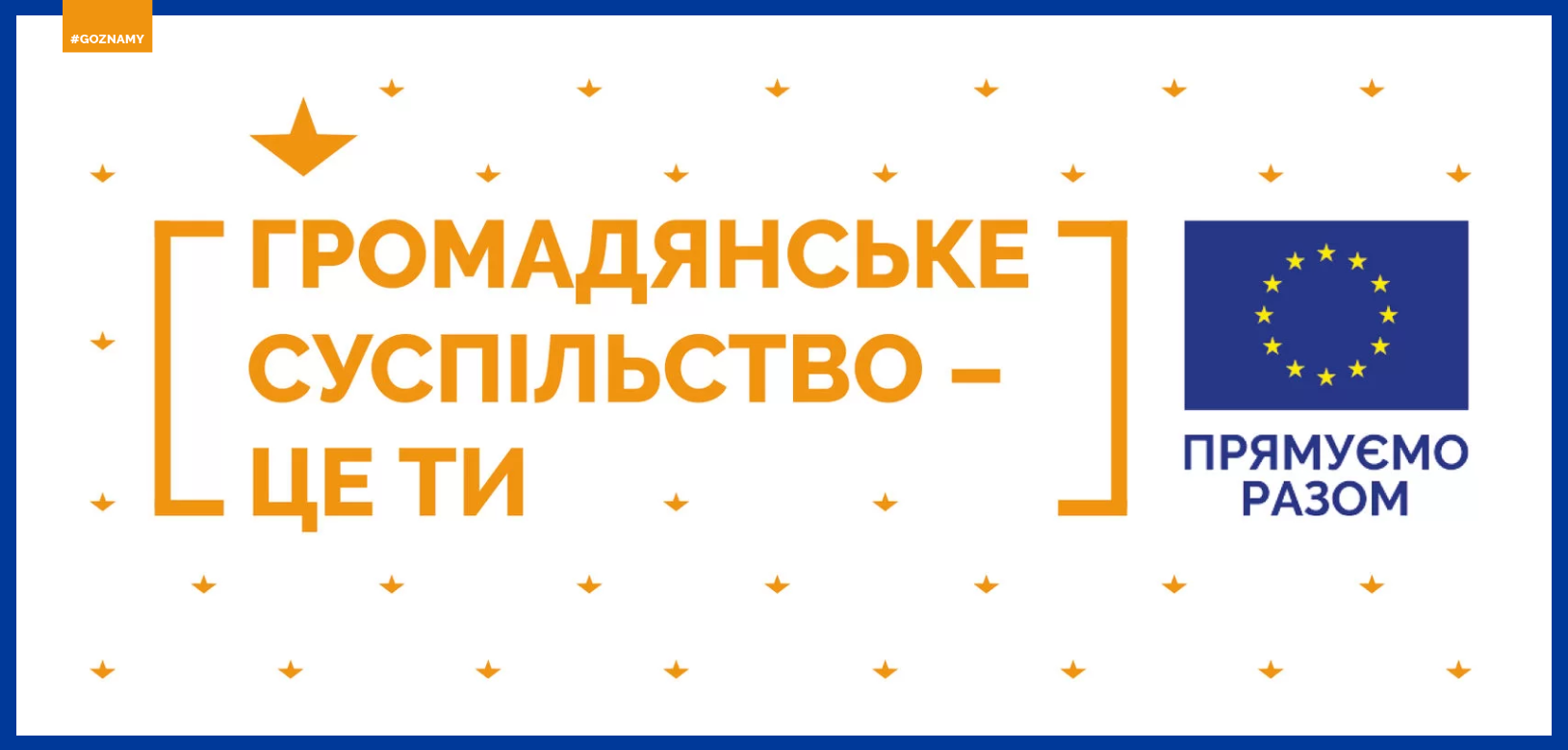 The European Union believes in the power of civil society to change things for the better. In 2020 we launched a Communication Campaign 'Civil Society is YOU' in UKRAINE to help you learn about your neighbours, friends and colleagues who already are making a difference and bringing positive results to their communities now.
Read and watch some stories about how very unusual "usual" people from all over Ukraine join their forces to change the lives of those in need – and are doing so today and right now.
You will hear about the stories of five girls who work together to help lonely elderly people; a group of volunteers who create audio books for children with visual impairments; human rights activists and documentary filmmakers who promote fundamental freedoms and values; and many other Ukrainians finding extraordinary ways to resolve ordinary problems.
Check the stories of people who change the world around them. You can do it too! #GOZNAMY!
#CivilSocietyisYOU: Starenki
"Make old age truly golden" – that's exactly what five Ukrainian girls had in mind when they started their project called #Starenki six years ago in Kyiv.  During this time, a lot has been done: volunteers collected over 6,000 food packages for single elderly people, UAH 3 million. assistance, a charitable foundation was established. The geography of social initiative has also expanded. If earlier pensioners from four Kyiv districts received help, now elderly residents of Lviv and Dnipro are also under the volunteer wing. Much has been done,  but the activists are far from satisfied: they are now looking for like-minded people all over Ukraine to engage them in looking after the elderly.
#CivilSocietyisYOU: Books That Talk
Meet the #BooksThatTalk project, a bunch of enthusiasts volunteering to do books voiceovers for children with eyesight problems in Ukraine. What do you do if you have a child with visual impairments and Braille versions of schoolbooks are not available? This is exactly what Olena Oliynyk asked herself one Christmas Eve when, together with friends, she had the idea of recording a couple of books as presents for children who were facing this challenge. "We have long known there aren't enough Ukrainian audiobooks for kids in this situation and yet could not really understand how we could help until we had the idea of voiceovers. We took the idea to social media – and were surprised to receive over 3,500 applications from all over Ukraine from those who wanted to help us!", says Olena, the project initiator.
#CivilSocietyisYOU: 12 Guardians
"You only need a dream and a strong desire to make it come true" – that was the thought that became the starting point of the 12 Guardians, a social project aimed at saving Ukrainian castles. "I remember how I had no clue where to begin: saving castles requires a fortune", recalls Lala Tarapkina, the project founder. "At the first glance, it was completely out of reach. But it was also obvious to me those historical landmarks were powerful magnets that could pull in tourists and thus impact the livelihood of a whole micro region".
#CivilSocietyisYOU: Docudays UA
Meet Docudays UA, International Human Rights Documentary Film Festival. Within its 17 years of existence, Docudays UA has gone from a small event for professionals to the TOP 3 largest festivals in Ukraine. "The highest value for us is human dignity," believes the Docudays team, who create opportunities for every person in Ukraine to watch good-quality and relevant human rights documentary films from all over the world and raise awareness about human rights abuses and issues in different countries. In 2019, the Festival screened 76 films from 38 countries to almost 25,000 participants in Kyiv and further travelled around 195 cities in 22 regions of Ukraine.
#CivilSocietyisYOU: STAN Youth Organisation
The STAN Youth Organisation is a non-governmental organisation which utilises grassroots methods of informal education, emphasizing local initiatives and active citizenship, with a particular focus on vulnerable and marginalised groups. Driven by the core values of freedom, respect for human dignity, mutual assistance, and diversity of cultures and mindsets, the team of STAN strives to build up a creative civil society in Ukraine. "This work is only possible when there is democratic governance and a societal culture of promoting human rights" – believe the activists.