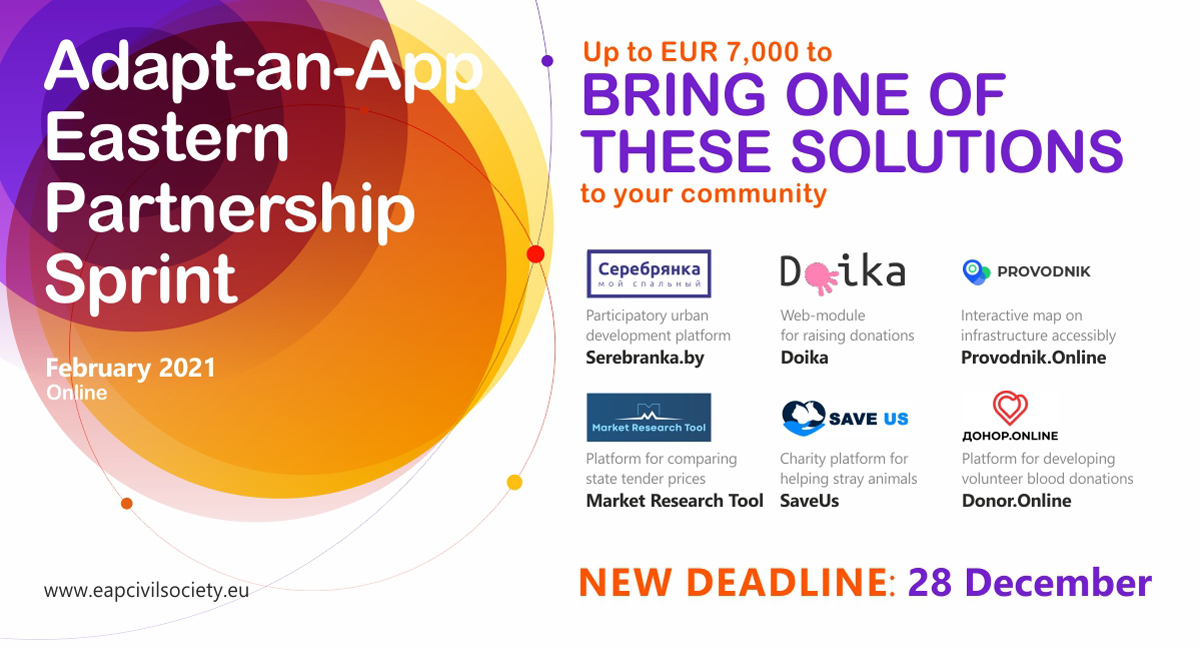 We are launching the Call for Applications for our Adapt-an-App Eastern Partnership Sprint and are offering CSOs and activist groups from EaP countries Armenia, Azerbaijan, Belarus, Georgia, Moldova and Ukraine) the chance to get up to 7,000 EUR for adapting and launching one of the selected digital solutions developed during our previous hackathons for civil society.
NEW Deadline for applications: Monday, December 28, 2020 at 23.00 (CET).
Adapt-an-App EaP Sprint is a 4-week intense online development sprint to be held on 1-28 February 2021. where teams of civil society representatives and IT experts will work to adjust to their needs and launch selected digital solutions born within our Hackathons. The teams will be supported by mentors and by the authors of the original digital solutions.
Up to 6 organisations / groups (applicants) will be selected to participate in the Adapt-an-App EaP Sprint.
Check the Call for Applications in English or in Russian to learn about the application/selection process and the solutions offered for replication.
Download the  Replication Sprint Guidelines in English or in Russian for all the details and eligibility criteria.
Choose one of the 6 digital solutions proposed for replication (in the Call for Applications) and analyse the chosen solution;
Fill in the online application form and submit it before 23.00 (CET) on Monday, December 28, 2020.