In response to the war in Ukraine, on the 8th of April 2022, our Project launched a call for Ukrainian civil society organisations and activists to propose initiatives which could respond to the diverse needs triggered by the war. Support was made available as ad-hoc support for civil society projects, fellowships as well as referrals to other organisations.
Through our ad-hoc mechanism we directly supported 14 initiatives, covering a wide range of topics; as well as 13 smaller scale initiatives were supported through the EaP Civil Society Fellowship programme. 
Check #StandWithUkraine Call Results here and learn more about the supported initiatives below: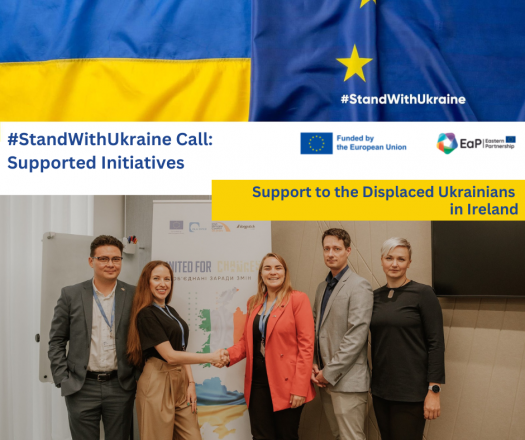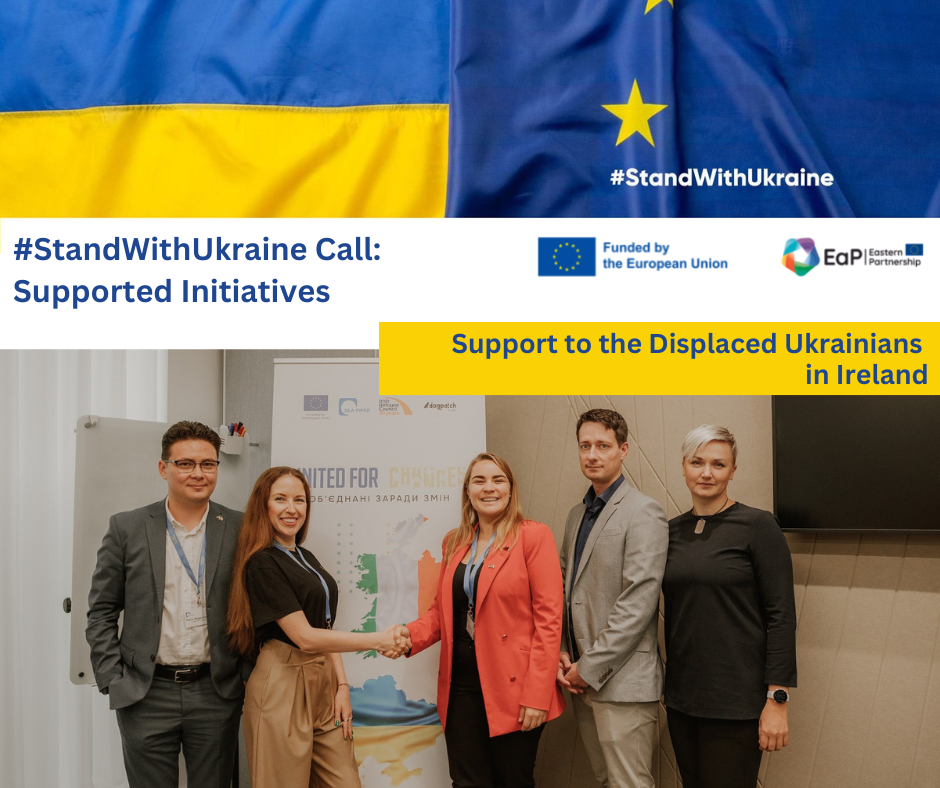 EU Fosters the Integration of Displaced Ukrainians into the Irish Society
Since 24 February 2022, nearly 7.9 million Ukrainians have been forced to leave Ukraine to seek shelter in other countries. As of November 29, more than 64,000 displaced Ukrainians arrived in Ireland (increasing the population by more than 1%) and became beneficiaries of temporary protection. Many fled their home country with just a few belongings and even less understanding of what living abroad would be like with little to no English language in an unknown social environment.
The United for Changes Initiative, established with the European Union's support within its #StandWithUkraine initiative, helped many Ukrainian refugees to settle in Ireland and get integrated into the local society by informing them about available  services and opportunities…. Continue reading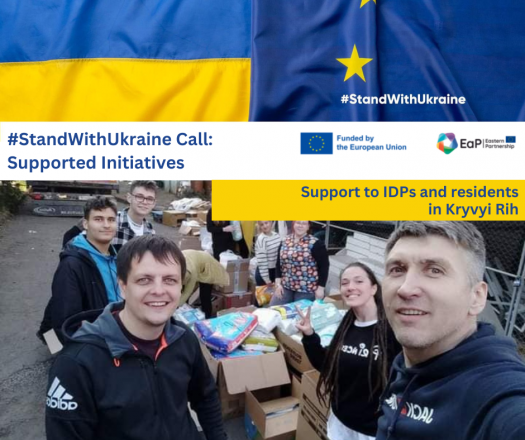 The European Union Stands with Residents of Kryvyi Rih
Over 70,000 internally displaced Ukrainians (IDPs) found their temporary homes in Kryvyi Rih and nearby towns and villages. Many of those came from Donbas, Luhansk and Kherson oblasts. They all dream of the end of the war, peace in Ukraine and coming back to their homes. Unfortunately, some of them lost their home, as shelling and bombing fully destroyed or badly damaged their houses.
Anastasiia is from the front-line town of Krasnohorivka in the Donetsk oblast. The town is controlled by Ukraine, but it has been under the non-stop shelling from the start of the war. Two residents in Anastasiia's house were killed in a shelling, and the upper floors were destroyed. "I lost my home, I can neither return nor sell it, and I have nothing here," explained Anastasiia at the consultation for IDPs and residents of Kryvyi Rih organized in August 2022…. Continue reading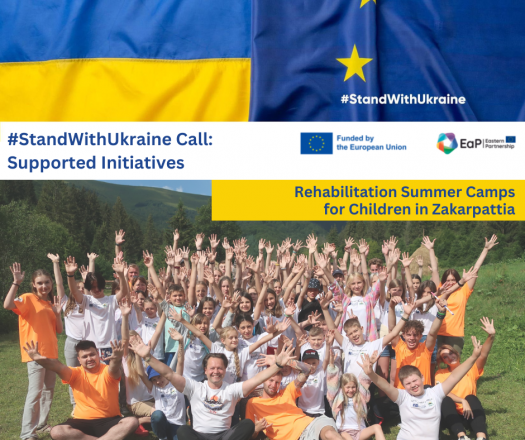 EU Supported Rehabilitation Summer Camps for Children in Ukraine
By September 2022, at least 60% of Ukrainian children had been forced to leave their homes due to the war. Many kids lost their homes, families, were under shellfire and fled the occupied cities.
In summer 2022 Nebokray Club organized a series of rehabilitation summer camps in Zakarpattia for children from the war-affected territories of Ukraine to facilitate their physical and psychological recovery through immersion and contact with nature, active leisure, outdoor sports and regular meetings with psychologists. These camps also gave the opportunity to parents and legal guardians to deal with different urgent needs and improve their children's living conditions…. Continue reading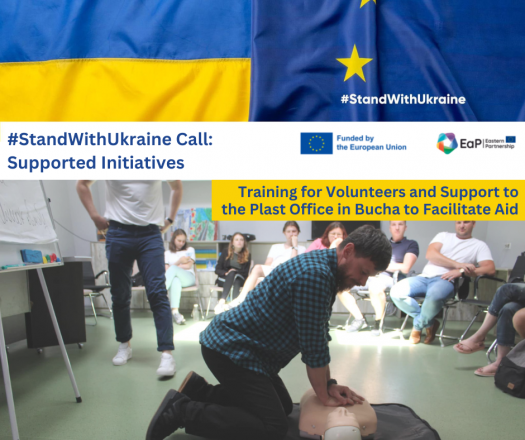 Supporting Bucha Plast Educational Centre: Training Volunteers and Facilitating Aid Delivery
The story of the Russian occupation of a small town Bucha in Kyiv oblast, Ukraine, in February and March 2022 has become known in quite literally every part of the world. However, what happened after the Russian army's retreat and how the local community tried to get back to life is less known. Plast Educational Centre for children and youth in Bucha was among those local organisations that worked hard on rebuilding the town and helping the residents in times of little or no access to utility services, social care and financial support…. Continue reading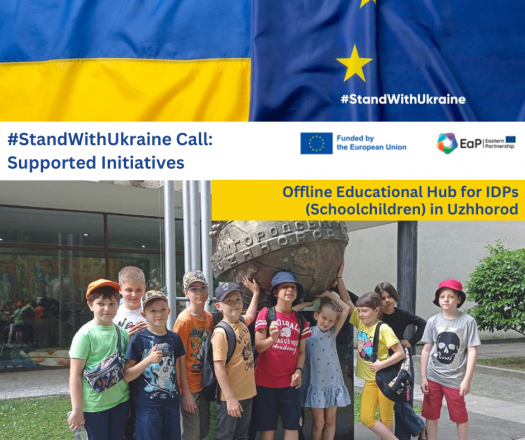 Educational Hub for IDP Children in Uzhhorod: Inspiring to Learn and Live
"For me it was a new way of learning. Studying here [at the Hub] was very interesting. I had good teachers and found many new friends here. When I was at the Hub, I felt at home. Thanks to it, I found friends from other parts of Ukraine. Thank you!" says Vlad, an 8th grade student of the Inspiration Cafe offline educational hub for internally displaced children in Uzhhorod, Zakarpatska oblast. 
The Hub was established by Kyiv-based school Educator Lyceum with financial support from the European Union, among other donors…. Continue reading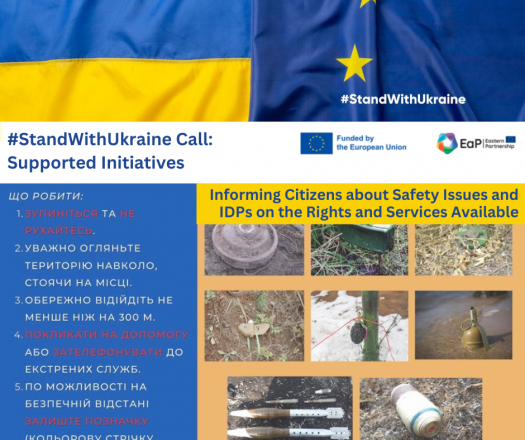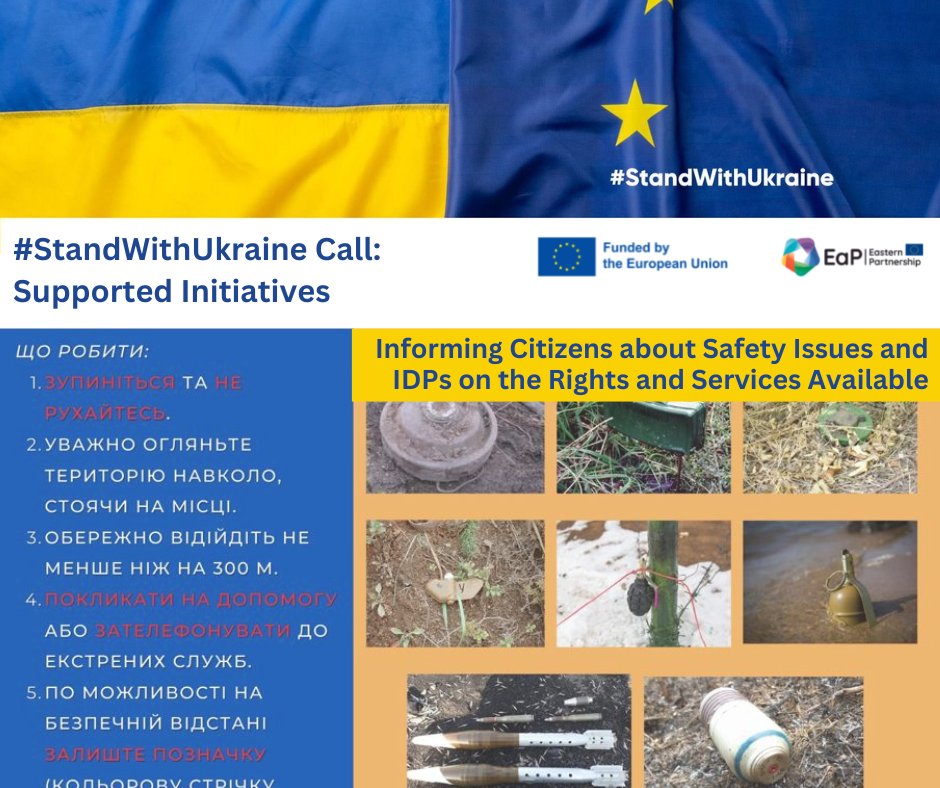 Keeping Ukrainians Informed: Safety, Rights, Public Services
The Russian invasion leaves Ukrainian territories in ruins and mined. Next to humanitarian assistance, Ukrainians need information on how to stay safe in the war-affected territories and what help is available. The action implemented by the Ukrainian civil society organisation Agromegapolis in May-August 2022 with the European Union's support has become a part of multiple stakeholders' effort to address these two issues, having informed 300,000+ Ukrainians on their rights and support available, and the threat of landmines, ammunition and explosive remnants of war (ERW).
In April 2022 Ukraine was recognized as one of the most mined countries in the world. The National State Emergency Service (SSES) estimates that almost half of the country's territory could be contaminated with mines and ammunition…. Continue reading