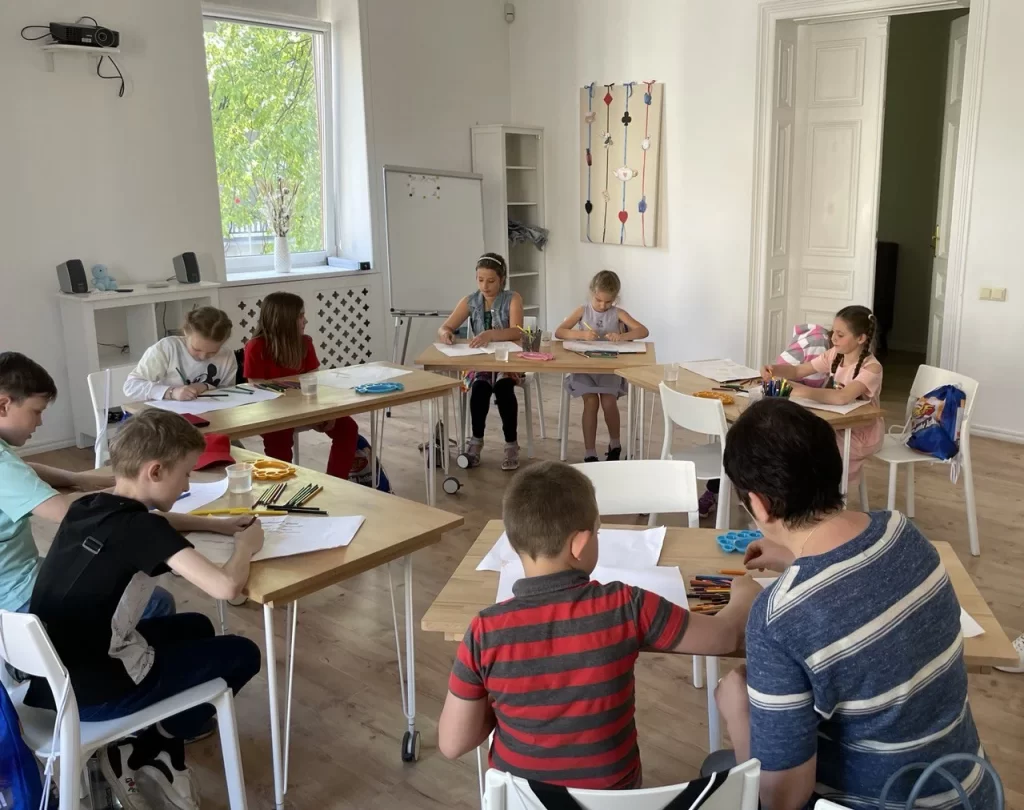 Officially in August 2022 every eighth resident of the city of Ivano-Frankivsk in the Western Ukraine was an IDP: the city with a population of around 240,000 hosts almost 33,000 Ukrainians who had to flee their homes after the Russian invasion. Many of them are women: girls, young women, mothers with children, grandmothers with grandchildren.
The team of Mamy Prykarpattia NGO and its partners in Ivano-Frankivsk community understand the difficulties these women are facing now. This is why the team decided to unite several organisations and activists known in the local community for their professional or volunteer work, to help IDPs and locals with the recovery, so they can continue supporting the Ukrainian economy and military efforts.
Uliana Sydor, 2020 EaP Civil Society Fellow, was among the activists who wanted to support Mamy Prykarpattia in their work with IDPs through the affiliated Center for Psychology and Development "RazOM". Together with her colleagues, Uliana designed an action to support internally displaced women in Ivano-Frankivsk. In a short period of time, the team delivered a dozen of trainings, psychological group therapy, individual and group consultations for IDPs, organised activities for families and art-therapy for kids.
Mamy Prykarpattia and RazOM Centre focused their work on specific areas, and according to the team members and the psychologists involved, the many months of work have already had a positive impact on the beneficiaries. For instance, psychological sessions participants became more capable of coping with stress, and learned how to support a child in a crisis situation. The women found support and resources to adapt to new living conditions, including by reviving and adapting their professional life. At group therapy sessions, children made new friends, relieved tension with the help of physical exercises, learned about emotions and ways to overcome stress.
Inna, participant of the psychological course, "Now I feel I have the resources to work and earn again and I gained self-confidence. The course was very accessible, and I found answers to many of the questions I had".
In addition to the trainings, the team supported the IDPs in re-gaining their economic stability and independence: offering free mini kindergartens, summer camps and leisure activities for children allowed almost 350 parents to find and/ or return to work. The team also collected and shared the relevant and actual job openings and opportunities with the beneficiaries, and helped over 1,200 persons with their requests for information, services, aid, etc.
The IDPs' needs as collected and analysed by the team became the basis for strengthening cooperation with exiting partners and establishing new partnerships in Ivano-Frankivsk and beyond, including with local authorities, civil society and communities. 10 projects to address the needs of IDPs were designed with local partner CSOs; three of them were already implemented in 2022, benefiting at least 1,000 IDPs in Ivano-Frankivsk. Another project to support those IDPs that were re-located from shelters operating in Ivano-Frankivsk school buildings was designed together with Executive Committee of the Ivano-Frankivsk City Council; the project will cover the social needs of at least 300 persons.
Background information:
The project "Providing Psychological Support to IDPs in Ukraine" is one of the initiatives supported by the European Union through our 'Eastern Partnership Civil Society Facility project within the #StandWithUkraine Call launched on the 8th of April 2022, in response to the war in Ukraine. Through this Call we directly supported 14 initiatives, covering a wide range of topics: support to pregnant women during the war, support to IDPs in specific regions, first aid and safety trainings for volunteers and citizens, educational programmes for children, as well as support to preparatory work for economic recovery. In addition, 13 smaller scale initiatives were supported through the EaP Civil Society Fellowship programme. Find more about the results of the Call here and read the stories about other supported initiatives here.