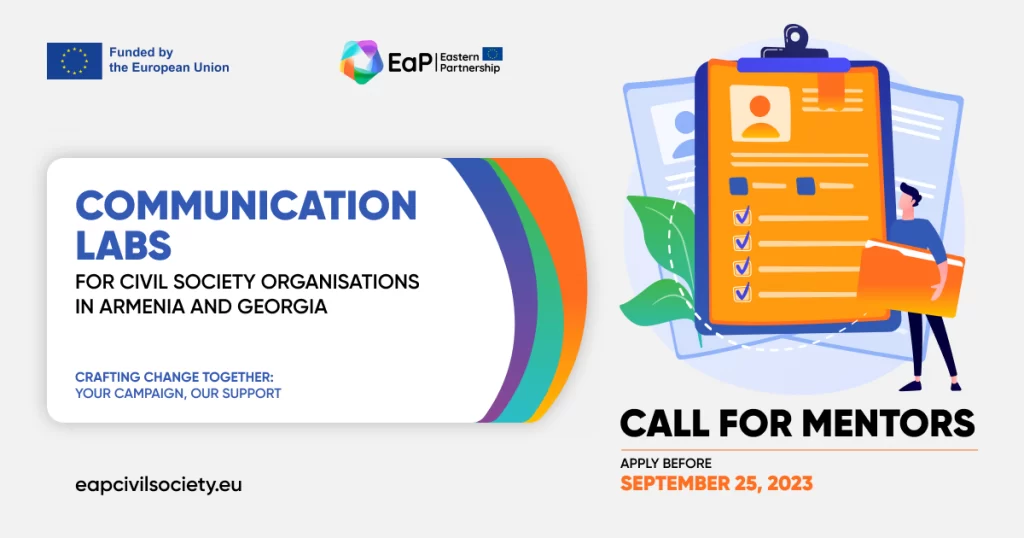 Our EU-funded 'Eastern Partnership Civil Society Facility' project invites experienced professionals in communications, journalism, public relations, and related fields to apply for the role of Mentor for our Communication Labs in Armenia and Georgia. This is your opportunity to share your expertise, shape innovative communication campaigns, and empower civil society organizations (CSOs) in Armenia and Georgia.
About the Communication Labs: The Communication Labs are dedicated capacity-building programs designed to equip Armenian and Georgian CSOs with essential skills, resources, and mentorship needed to develop and implement impactful communication campaigns. You can read more about the Communication Labs here.
Up to 5 mentors for each country (Armenia and Georgia) will be selected to provide guidance, knowledge, and support to Communication Lab participants. Each mentor will work closely with selected CSOs to guide and mentor participants through all steps of developing successful communication campaigns. The mentors will be also delivering capacity building sessions and webinars.
Note: The Call for Mentors is concurrent with the Call for Participation in the Communication Labs. Mentor selection will be based on the expertise required for the campaign proposals submitted by CSOs.
Key Responsibilities (please consult the relevant ToR for more details):
Mentor participating CSOs, offering guidance and support throughout the campaign development process.
Facilitate capacity-building sessions and deliver webinars to enhance the skills of CSO participants.
Review and provide feedback on campaign proposals and strategies.
Collaborate with CSO teams to refine campaign concepts, messaging, and implementation plans.
Assist in budgeting, media engagement, and campaign evaluation.
Track and report on the progress of CSO teams.
Contribute to collective mentoring and knowledge-sharing sessions.
Required Qualifications and Skills: please consult the relevant ToR for details.
The ToRs are available here:
CV submission deadline: September 25, 2023
How to Apply: If interested, please send your CV to [email protected].
Preselected applicants will be invited for short interviews with the Project team.
The intended start date is October 15, 2023, and the period of implementation of the contract will be 4 months up to February 2024.