Speakers of the Final Conference "Reassess & Reboot – Civil Society's Quest for Better Reforms in the Eastern Partnership" / March 22, 2021 (11.30 – 15.45 CET time).
If you wish to attend the Conference, please fill in this short registration form.
Panel discussion 'New Leaders in Turbulent Time': Recent developments in the region and what they mean for civil society.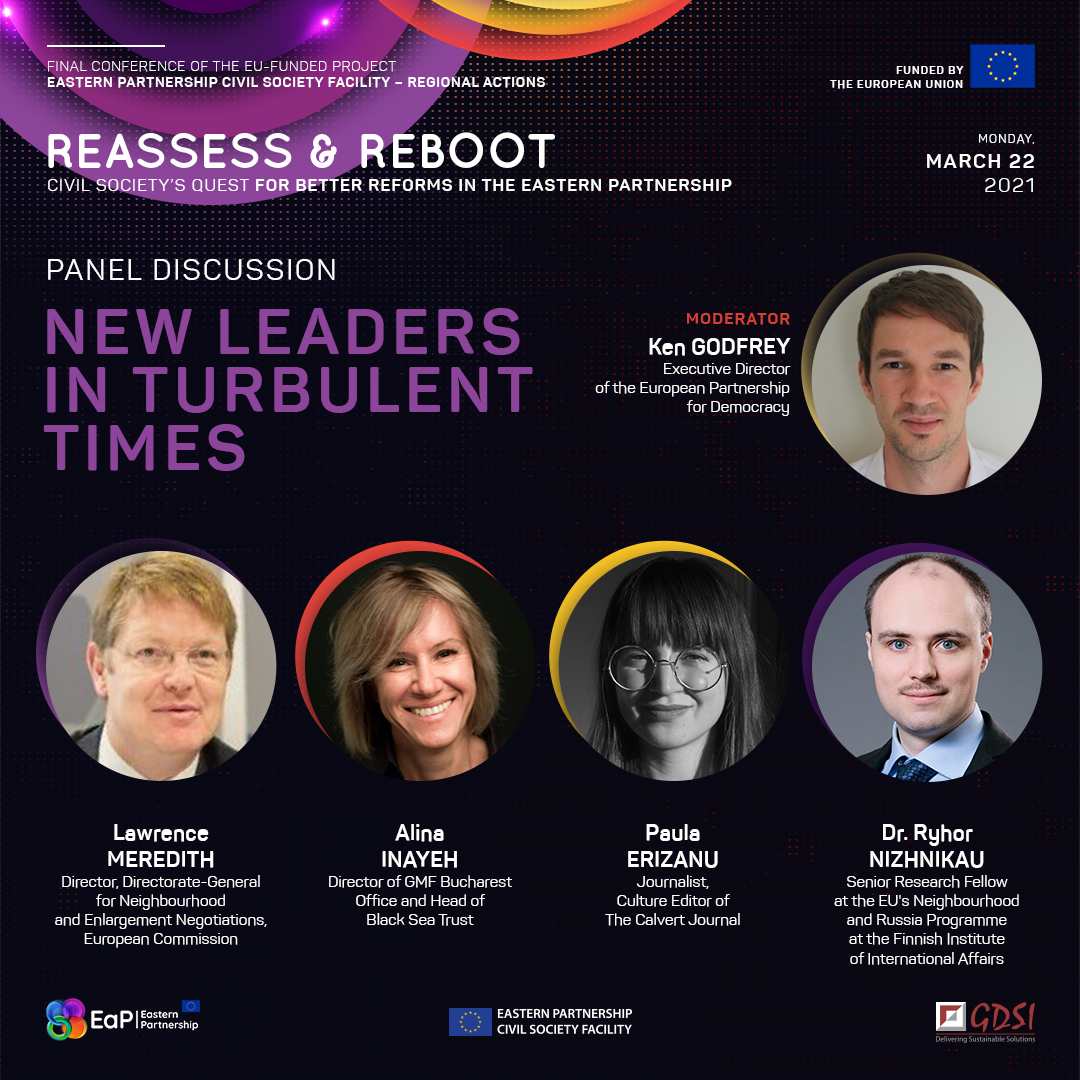 Moderator: Ken Godfrey, Executive Director of the European Partnership for Democracy. Prior to joining EPD, Mr. Godfrey worked as an Electoral Advisor for the UN Integrated Mission in Timor-Leste. He has also worked for the European Union Police Mission in Afghanistan, at the European Parliament and as an external consultant for the European Commission. He graduated from the London School of Economics with a Master's Degree in Comparative Democratisation, focusing research on the links between climate change and representative democracy.
SPEAKERS:
Lawrence Meredith, Director, Directorate-General for Neighbourhood and Enlargement Negotiations, European Commission. Mr Meredith has been Director for Neighbourhood  East in DG NEAR in the European Commission since 1 December 2015. In 2015, he was Head of Strategy in DG NEAR, and led work on the European Neighbourhood Policy Review. Previously, he has worked for 10 years on Enlargement Policy, both as Head of Strategy and Head of the Kosovo Issues Unit. He worked in the Cabinet of Commissioner Louis Michel on Southern Africa & the Pacific. Mr Meredith studied Russian & French at Oxford University.
Alina Inayeh, Director of GMF Bucharest Office and Head of Black Sea Trust. Alina Inayeh joined GMF in 2007 as the director of the Black Sea Trust for Regional Cooperation, a project dedicated to strengthening cooperation and fostering development in the Black Sea region. She is an active practitioner in the field of international development and democratization, having run the Freedom House office in Ukraine in 2004 and the NDI office in Russia in 2000-2003, with a focus on civic education and political processes. She has trained NGOs throughout Central and Eastern Europe and the former Soviet Union on issues related to NGO development and democratization. She was a leading civic activist in the 1990s in Romania and an active promoter of the NGO sector in the country.
Paula Erizanu, Journalist, Culture Editor of The Calvert Journal. Paula Erizanu is a Moldovan journalist based in London. She's written on Eastern European politics, arts and culture for The Guardian, LRB, CNN, Aeon, Dazed, The Architectural Review and other publications, and she is the Culture Editor of The Calvert Journal. Erizanu did her BA in History with English and History of Art at the New College of the Humanities in London, and her MA in Magazine Journalism at City University London. She published a book on the 2009 protests in Moldova, This is my first revolution. Steal It (Cartier, 2010), a poetry collection, Take Care (Charmides, 2015), and has coordinated the anthology A Century of Romanian Poetry Written by Women (Cartier, 2019, 2020 — two volumes have already been published, and another one is forthcoming), together with Alina Purcaru. In 2019, she was nominated for the Words by Women award as UK's culture journalist of the year.
Ryhor Nizhnikau, Senior Research Fellow at the EU's Eastern Neighbourhood and Russia programme at Finnish Institute of International Affairs. Dr Ryhor Nizhnikau focuses on Russia's and EU's policies in post-soviet space as well as domestic developments in the region. His publications include EU Induced Institutional Change in Post-Soviet Space: Promoting Reforms in Moldova and Ukraine (London: Routledge) and "Love the tender: Prozorro and anti-corruption reforms after the Euromaidan Revolution" (Problems of Post-Communism).
Panel discussion 'Ethical Limits of Civil Society Practices in Using New Technologies': Should Civil Society Organisations Use Personal Data to Influence Behaviour?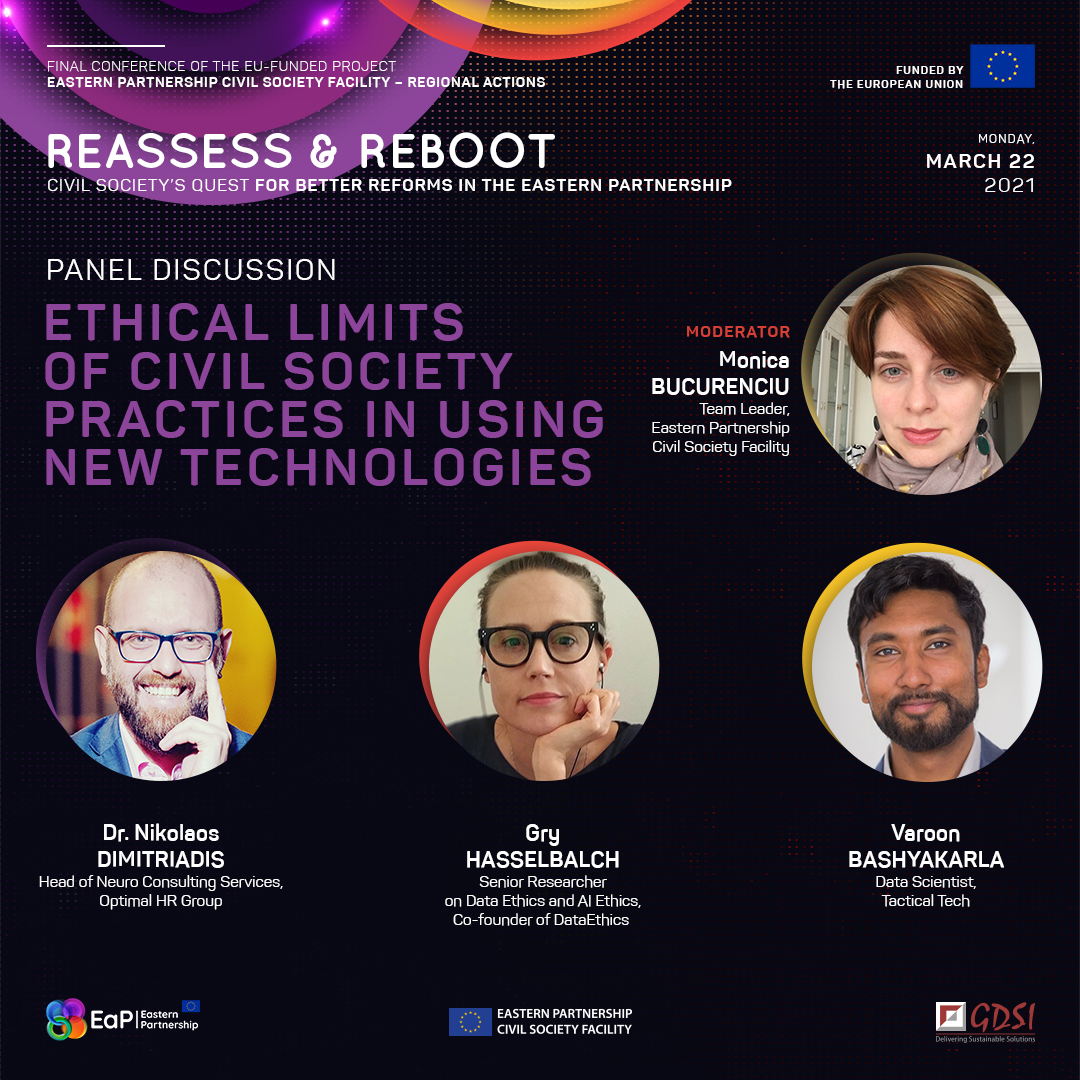 Moderator: Monica Bucurenciu, Team Leader, Eastern Partnership Civil Society Facility. Monica started working with civil society organisations more than 13 years ago, and what started as a volunteer activity in Romania, continued in a different form while she was working for the European Commission in Brussels on multi-country projects supporting civil society in the Eastern Partnership region. She has been covering the region since the Eastern Partnership initiative was launched: first at the European Commission, then at the European Bank for Reconstruction and Development, and since June 2018 as the Team Leader of the "Eastern Partnership Civil Society Facility – Regional Actions" Project.
SPEAKERS:
Dr. Nikolaos Dimitriadis, Head of Neuro Consulting Services, Optimal HR Group. Dr. Nikolaos Dimitriadis is an award-winning communications professional, book author, educator and consultant. He spoke at TEDx for the urgent need for Brain-Based Communication and he contributed to the NeuroMarketing Manager Program at Hamburg Media School. Dr. Dimitriadis has scanned more than 5,500 brains from 25 countries globally for Neuromarketing, NeuroHR and academic purposes. He has worked with international brands such as IKEA, IBM, JTI, Nestle, Johnson&Johnson, AstraZeneca, CISCO, SAP, Pierre Fabre, Coca Cola, T-Mobile, Dixons, Banca Intesa Sanpaolo, Societe Generale, Unicredit, Microsoft, VMware, Raiffeisen Bank, SAP, DELL, USAID and others. He is the Head of Neuro Consulting Services at Optimal HR Group, Athens (Greece), offering cutting-edge Neuromarketing and NeuroHR research and consulting. He has received his PhD and MBA from The University of Sheffield (UK), and is a certified Neuromarketer. He teaches regularly in various MBAs and other university and corporate programs around the world.
Gry Hasselbalch, Senior Researcher on Data Ethics and AI Ethics, Co-founder of DataEthics. Gry Hasselbalch is an independent senior researcher on data ethics and power.  She is co-founder of DataEthics – a thinkdotank that has provided knowledge and collaboration on data ethics since 2015 and co-author of the influential book Data Ethics- The New Competitive Advantage (2016). Gry was a member of the European Commission's EU High Level Expert Group on AI that developed EU's AI ethics guidelines, a member of the Danish government's first data ethics committee and Vice Chair of IEEE's P7006 standard working group. Previously she worked for 10 years with child online protection and empowerment in the global internet governance field managing a national Awareness Centre in the pan-European network Insafe.
Varoon Bashyakarla, Data Scientist, Tactical Tech. Varoon Bashyakarla is a data scientist at Tactical Tech, a Berlin-based NGO that works at the intersection of activism and technology. He explores how personal data is becoming a political asset for influence in elections and referenda, and his team has partnered with researchers and journalists in over 30 countries in the process. Before moving to Berlin, Varoon worked as a data scientist in Silicon Valley. Varoon was also a Fellow at the Eric and Wendy Schmidt Data Science for Social Good Fellowship, a Transatlantic Digital Debates Fellow, and an awardee of the McCloy Fellowship on Global Trends from the American Council on Germany. Varoon received his bachelor's degree in statistics and economics from Yale University.
Panel discussion 'Dark Side of Civic Tech': Can Tech for Good Ever be Bad? Does Civic Tech Make a Difference?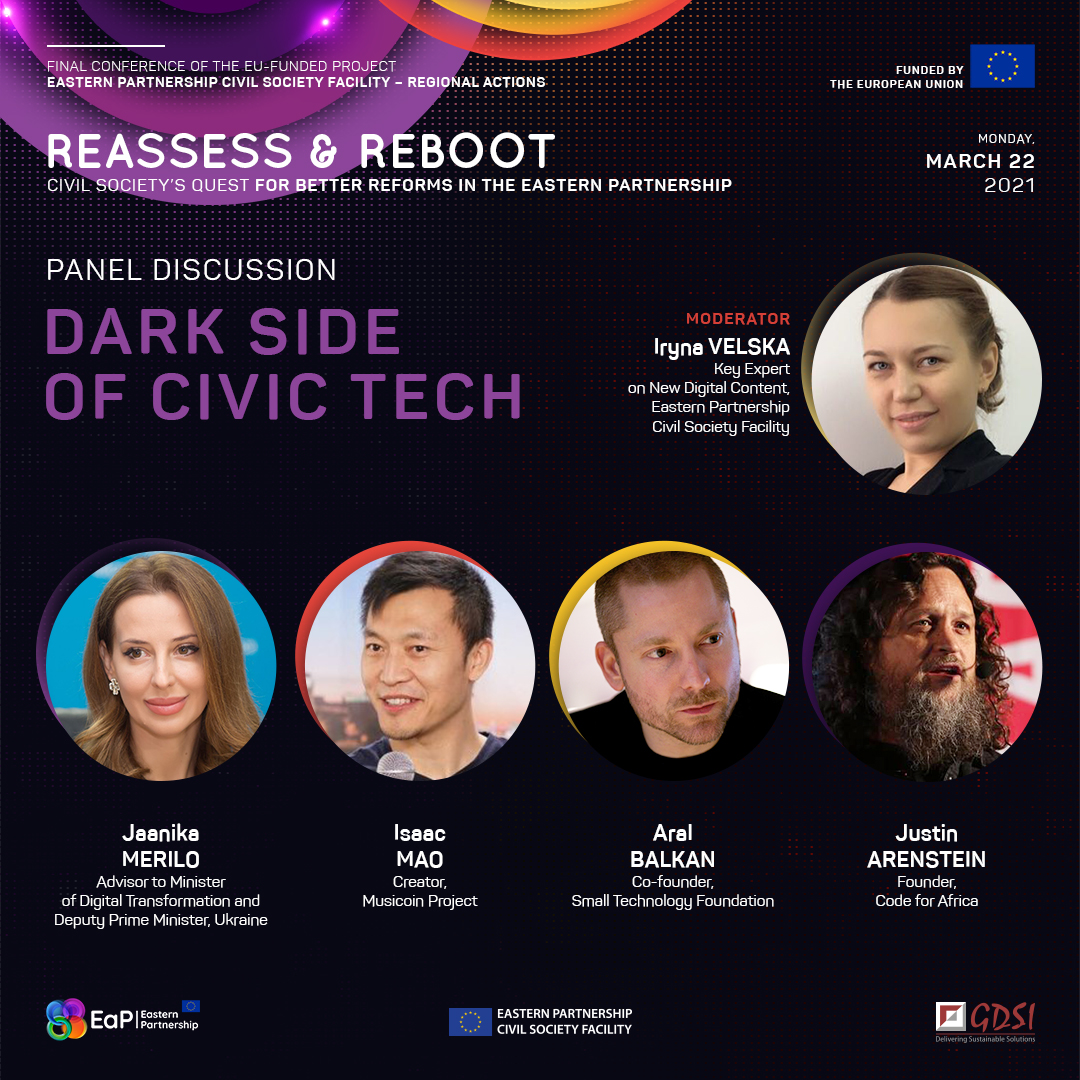 Moderator: Iryna Velska, Key expert on New Digital Content, Eastern Partnership Civil Society Facility. Iryna is Key Expert on New Digital Content of the EU-funded EaP Civil Society Facility project and behind its 2017-2020 EaP Civil Society Hackathons. She has been working with online media since 2005, and says she 'has done everything except for coding'. Being a professional graphic designer and a journalist, she supervised and directly participated in the development of more than 10 online resources (and managed some of them): web applications, blogging platforms, companies' and projects' web-pages, news portals, internal staff portals, online media, and online catalogues. She tends to become a faddist when it comes to user-friendly design and product targeting.
Jaanika Merilo, Advisor to Minister of Digital Transformation and Deputy Prime Minister, Ukraine. Jaanika Merilo has 20 years of experience in IT and 15 years in TMT investment management. During these years she participated in creating Estonian government, backed Estonian Development fund, dedicated to financing high export potential innovative projects, was Managing Director of Investment fund US Invest, and since Maidan has dedicated her work and time to create the good business and investment environment in Ukraine by implementing e-government solutions from e-democracy to open budgets and procurements. Jaanika is considered as one of the main drivers of Ukrainan Digital Revolution and was nominated in 2015 by Google and Financial Times to top NE100 of "Innovators whose innovations change the world for better".
Isaac Mao, Creator, Musicoin Project. Isaac Mao is a software architect, entrepreneur and investor, and learning and social technology researcher. Isaac divides his time between research, social works, business and technology. He is now directing/advising some non-profit programs and several for-profit businesses in China. Isaac has a long history in developing both business and consumer software. He worked as a Chief Architect in Intel HomeCD project and Tangram BackSchool suite. He applied many HCI methodologies into software design process and improved the usability of software so much. He turns to Social Computing research and organized the first Social Software Forum in China. Isaac was one of the earliest bloggers in the Chinese community, and now he is advisor to Global Voices Online. Isaac's latest project – Musicoin – leverages the power of blockchain technology in empowering musicians to take full ownership of their content and finances.
Aral Balkan, Co-founder, Small Technology Foundation. Aral is a cyborg rights activist, designer, and developer at Small Technology Foundation, a independent two-person not-for-profit based in Ireland that advocates for and builds small technology to protect personhood and democracy in the digital network age. Aral's working on building the Small Web, an ethical alternative to the Big Web where you can own you own place (instead of renting it in exchange for your privacy from the likes of Facebook and Google).
Justin Arenstein, Founder, Code for Africa. Justin Arenstein is an award winning journalist and civic tech strategist who works with partners across Africa to help strengthen investigative reporting while also helping media owners adopt new technologies and build more robust business models. He manages the continent's largest civic technology network, Code for Africa, and Africa's largest investigative technology lab, ANCIR, along with a series of Sandbox Funds for digital experiments in newsrooms or social justice organisations. Among others, Justin supported the development of 10+ citizen-driven solutions, including the GotToVote toolkit that has already been used in Kenya, Malawi and Zimbabwe, and the actNOW and askAFRICA projects in Ghana and South Africa. Justin also advises Google on data-driven journalism and digital newsroom strategies in Africa. Since 2018, he is based in Tbilisi (Georgia) and works with local civic tech initiatives.
If you wish to attend the Conference, please fill in this short registration form.
All registered participants will receive the agenda of the Conference and the connection details.