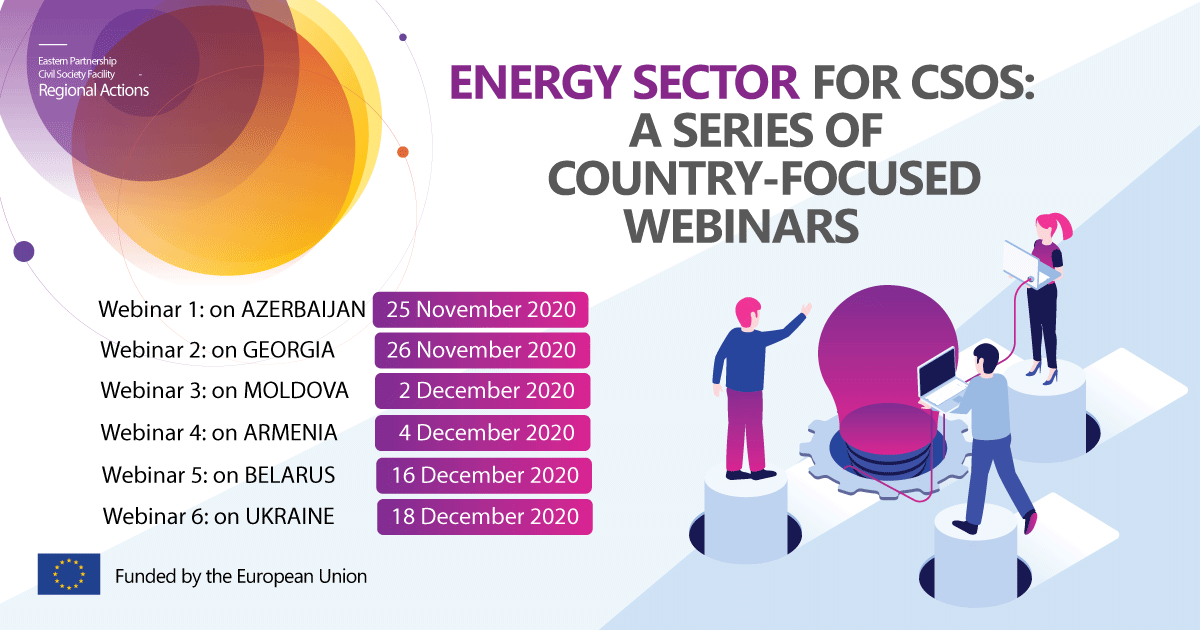 We invite civil society organisations from the Eastern Partnership region (Armenia, Azerbaijan, Belarus, Georgia, Moldova and Ukraine) to explore the energy sector and environmental topics in the six EaP countries together with our national experts. To do so we organise a series of country-focused webinars as a part of our online course on Sectoral Accountability in the Energy Sector. The webinars will provide a deep-dive into different topics relevant for the EaP countries. Each country webinar will be adapted to the energy market and framework of the respective country and will focus on country-specific issues.
All in all, six webinars will be organised in the period of 25 November – 18 December 2020. All webinars will start at 09:00 AM Brussels time (please check your local time!). The webinars will be held in English with the Russian interpretation.
WEBINAR 1: on AZERBAIJAN (25 November 2020)
Topics: Extraction Industry Transparency Initiative (EITI) and governance in the gas sector.
Speaker: Prof. Ingilab Ahmadov, Doctor of Science in Economics from the Saint-Petersburg State University. Prof. Ahmadov has research collaborations with and is a visiting professor of leading universities such as Kiel Institute for the World Economy, Reading, Dundee and Stanford Universities. His research interests include the management of oil revenues and the impact of oil revenues on economy, Caspian energy resources, the Economic bases of oil contracts.
WEBINAR 2: on GEORGIA (26 November 2020)
Topics: Energy poverty and corruption in the energy sector.
Speaker: Murman Margvelashvili, energy sector specialist with experience in regulation and governance, tariff setting, operation of distribution companies, feasibility studies and project assessment, privatization, energy sector planning, project management, training, and related fields.
Mr. Margvelashvili is a member of international and Georgian Associations of Energy Engineers (AEE, GAEE), and Associate Member of the Georgian Energy Academy (GEA) as of 2006.
WEBINAR 3: on MOLDOVA (02 December 2020)
Topics: Interconnections and integration in the EU energy market.
Speaker: Denis Cenusa, Research Assistant at the Institut für Politikwiesenschaft, Justus-Liebig Universität, and aspiring PhD student. His particular research interest lies in European affairs, EU law and political economics (external trade), the European Neighbourhood Policy, Eurasian integration processes, migration and energy security.
WEBINAR 4: on ARMENIA (04 December 2020)
Topics: Renewable energy and post-2020 deliverables (to be confirmed).
Speaker: Artashes Sargsyan, Director of the NGO EcoTeam, Armenia. Skilled in Sustainable Development, Business Planning, International Relations, and Market Research. Strong business development professional with a PhD (1988) focused in CO2 Lasers and laser spectroscopy from Institute of Spectroscopy RAS.
WEBINAR 5: on BELARUS (16 December 2020)
Topics: Reform of the energy sector.
Speakers: Irina Sukhy, expert in the environmental and energy field, Project Manager of the CSO Ecohome based in Minsk. She has over 20 years of experience in managing and leading international environmental projects, & Pavel Harbunou, energy analyst, Ecohome.
WEBINAR 6: on UKRAINE (18 December 2020)
Topics: Reform of the gas market, renewables support schemes, policy-making in the energy sector
Speaker: Roman Nitsovych, Research Director of the Kyiv-based think-tank DiXi Group. He has a Master Degree in political science from the National University of "Kyiv-Mohyla Academy" and Friedrich Schiller University (Germany), from which he graduated in 2010.
How to participate in the webinar:
You can participate in any of the webinars or in all of them. Please fill in this registration form, if you would like to attend.