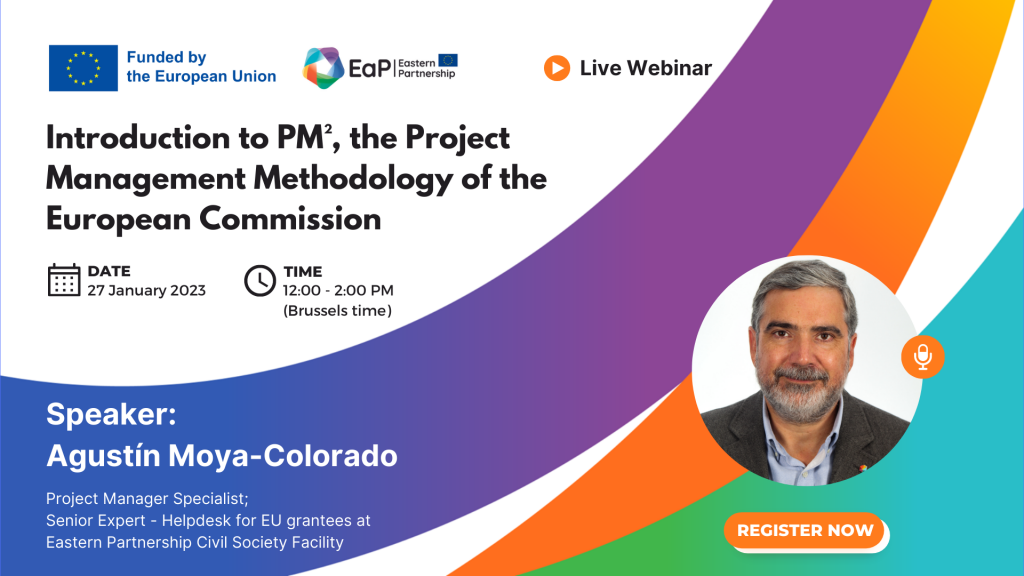 We invite civil society organizations from the Eastern Partnership countries (Armenia, Azerbaijan, Belarus, Georgia, Moldova and Ukraine) to participate in our Webinar "Introduction to PM², the Project Management Methodology of the European Commission" on Friday, January 27, 2023.
The webinar will address Project Management as a professional discipline that has developed a solid base of knowledge and skills that are registered under several international standards and recognised principles and good practices.
The webinar will introduce PM², which is the Project Management Methodology that has been developed by the European Commission to provide a common Project Management framework across Europe and incorporates elements from such international standards.
EU-funded grant projects are managed by Civil Society Organizations following the Project Cycle Management (PCM) approach with a strong focus on the Logical Framework Approach. PM² can complement these approaches and provide project managers and teams with additional elements to improve their performance and the impact of their projects.
The webinar will cover the following topics:
• What are the priorities in Project Management?
• How are they addressed in EU-funded grant projects?
• What is PM²?
• How can it help Civil Society Organizations?
Registration for the webinar is open!
Details:
What: Introduction to PM² Project Management Methodology WEBINAR
When: Friday, January 27, 2023 /  12:00 pm Brussels time 
Duration: 2 hours
Where: Online in Zoom
Speaker: 
Agustín Moya Colorado / 

Project Manager Specialist & Senior Expert – Helpdesk for EU grantees

at

Eastern Partnership Civil Society Facility

Agustín is an agricultural engineer by training with post-graduate studies in Project Cycle Management in Development Cooperation and is certified in PM² for Project Management by the EC and the PM²Alliance. In his over 20 years of professional experience, he has worked with civil society organizations and donors (mainly the EC) in numerous projects in different contexts and countries. He has a passion for project management and capacity building. This passion has taken him to work in Central America (Nicaragua, Guatemala, El Salvador); in Africa (Namibia, Mozambique) and in Europe (northern part of Cyprus). He has participated in and led teams working in different fields such as rural development, civil society strengthening, WASH (Water, Sanitation and Hygiene), and peace and reconciliation. This blend of experience allows him to understand the perspectives, needs and constraints of the different stakeholders in designing, planning, and implementing projects.