Dear Friends!
We are glad to invite you to the second EaP Civil Society Hackathon to be held in Minsk (Belarus) on 1-3 June 2018! The registration for the event opens on Monday, 9 April 2018!
2018 EaP Civil Society Hackathon will bring together civil society activists, IT professionals and designers from Armenia, Azerbaijan, Belarus, Georgia, Moldova and Ukraine to work on ICT tools and software projects that would enable civil society to contribute to reforms and democratic changes in their home countries.
For three days the participants will work together on IT solutions that would enable civil society organisations and activists better serve the needs of their communities, and would help citizens participate in decision making. The best ICT tool idea developed within the Hackathon will get support to be fully developed and launched.
How to Apply:
To apply for participation in the Hackathon please register here. Registration starts on Monday, 9 April 2018. The deadline for submission of applications is 30 April 2018 for civil society activists and 14 May 2018 for IT professionals and graphic designers.
Who Can Apply:
Participation in 2018 EaP Civil Society Hackathon is open to all citizens of EaP countries (Armenia, Azerbaijan, Belarus, Georgia, Moldova and Ukraine) with a strong civil position and real experience of civic work, regardless of their experience of working for a CSO.
Applications from grassroots activists and young IT professionals from across the region are encouraged. More details.
What ICT Tools are Eligible:
2018 EaP Civil Society Hackathon accepts ideas of ICT tools that empower digital participation of civil society, improve transparency of public institutions and enable broader citizen involvement in decision making processes. This includes such areas as e-Participation, e-Transparency, open data, citizens mobilisation, citizen-to-citizens services, and CSO transparency & accountability. Possible topics may include public monitoring of budget execution, election monitoring, citizens reporting, crime mapping, interactive mapping, citizen journalism, and many others. More details.
Check our Infographics below and read the Guidelines for Applicants for more details.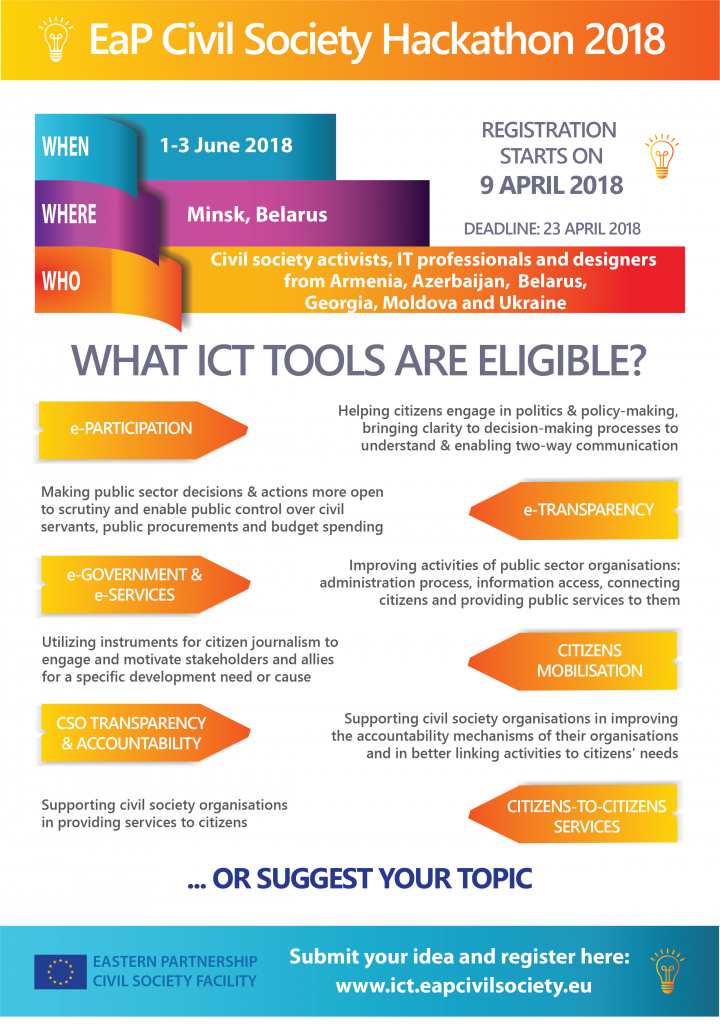 On the final day of 2018 EaP Civil Society Hackathon, the jury and participants will vote for the best ICT tool developed during the Hackathon. Three top-scoring ideas will be nominated for Digitalisation for Civil Society Award, a special facility to support the full-fledge development of the best ICT tool designed at 2018 Hackathon. Based on the applications received, the Selection Committee will choose one of the nominated ICT tool ideas for the development and launch.
Check how our first CitizenLab 2017 Hackathon went and visit our IDEA BANK for some ideas of ICT tools developed by its participants.
Background information: The European Union is committed to supporting civil society in Eastern Partnership (EaP) countries, including through supporting the development of ICT tools for transparency, accountability, digital participation and public services. As a part of these efforts, in 2017-2020 the European Union's Eastern Partnership Civil Society Facility project organises a series of EaP regional hackathons.
2018 EaP Civil Society Hackathon is the second hackathon in the series. The overall goal of the EaP Civil Society Hackathons is to establish long-term cooperation between local civil society and IT community that would results in developing new ICT tools to empower digital participation of citizens, to improve transparency and communication of governmental decisions and spending, to enable broader participation in decision making process and to advance public services.
2018 Eastern Partnership Civil Society Hackathon is an integral part of the EU-funded Eastern Partnership Civil Society Facility project.
[su_button url="http://ict.eapcivilsociety.eu/en" background="#ff342c" size="5″ center="yes"]REGISTER HERE[/su_button]