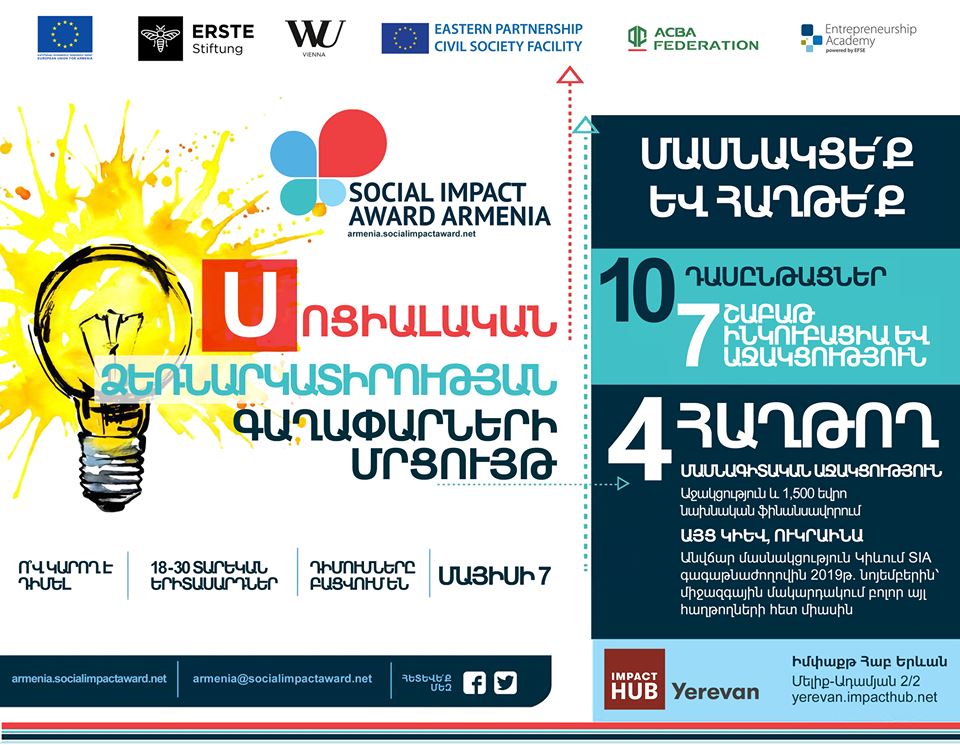 Ever heard of the Social Impact Award? This is the largest social entrepreneurship program for students worldwide, currently running in more than 20 different countries.
This year, with the joint efforts of Impact Hub Yerevan and the European Union, this program will be launched in Armenia for the first time! We, the Eastern Partnership Civil Society Facility, are happy to join this initiative in Armenia and support Impact Hub Yerevan in its implementation.
Registration for the workshops about Idea Generation and Business Modeling in 5 regions of Armenia is open now! If you are interested in learning hurry to register for the workshops in Goris (May 12), Yerevan (May 16), Vanadzor (May 18), Gyumri (May 19) and Ijevan (May 19).
👉 Click here to register: https://bit.ly/2vMO4Ia 
Social Impact Award Armenia will help young people from several regions of Armenia to learn concepts such as idea generation, business modeling and other topics essential to starting a social enterprise. Through the program young people will get knowledge and skills on how to create a social enterprise; will get support from experienced experts and mentors; and will compete for a chance to get funding to start their own social enterprises.