In Ukraine, the level of civic engagement is the lowest among citizens aged 18-24, despite a complex system in place for the development and support of youth. At least this is the conclusion of a recent survey conducted by GfK Ukraine. The reasons behind this disengagement remain unclear.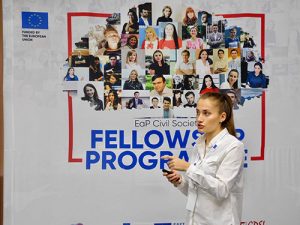 Valeriia Ovcharova has been working on youth policy in Ukraine for some years now and she wants to understand why young people are so passive. The Eastern Partnership Civil Society Fellowship was the perfect opportunity for her, providing the little funding required for an evaluation of youth work in South-Eastern Ukraine and the development of recommendations for authorities. A week ago, she probably would not have imagined sharing some of her findings and recommendations with the Deputy Minister of Youth and Sports over dinner. And yet on Monday evening this is exactly what she was doing during an informal dinner bringing together 20 young people from all of the six Eastern Partnership countries. "I deal with youth work issues in my fellowship project and it was a great chance to discuss with Deputy Minister Yarema about how to improve youth work at the local level in small towns and communities.", said Valeriia at the end of the two-days meeting of Eastern Partnership Civil Society Fellows in Kyiv.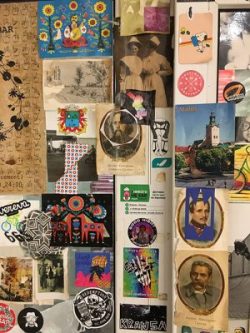 Before dinner, fellows visited the Laska shop nearby. Laska is the perfect example of what young people can do when they put their minds to something. In a relatively hidden underground location, the shop is a mix of second-hand store and local designers store. It encourages people to reduce waste by donating the items they are no longer wearing and promotes the amazingly creative work of local designers. Part of the profit is then rechannelled towards different local charitable organisations, making this a win-win-win situation. Behind the crazy set-up and paper unicorn heads, hides the tremendous work of volunteers and devoted staff.
Another innovative initiative, UrbanSpace 100 from Ivano-Frankivsk, has been experimenting with alternative mechanisms for financing projects. The train from Kyiv arrives in Ivano-Frankivsk just before 6 AM every day. There used to be no nearby café where the tired traveller could stop for a rest and good coffee. The team behind UrbanSpace 100 saw the opportunity and opened a café and restaurant just close to the train station. But what sets this venue apart is that 80% of its net profit goes into supporting social projects. The city comes to life and small community-based initiatives get funding, while people are enjoying a good meal and time with friends. In fact, the initiative proved so successful that it will be coming to Kyiv in December 2018.
Obviously, some young people are not passive at all… And in fact, even international donors are noticing the potential and reflecting on how to better support more innovative projects that develop organically rather than as a response to traditional calls for proposals.
At the meeting of the Eastern Partnership Civil Society Fellows in Kyiv this week, Tetiana Shulha, civil society focal point at the EU Delegation to Ukraine, confirmed that: "In the post-Maidan years, we see a whole generation of CSOs which perfectly rise and organise themselves without any support and who appear to be extremely successful and innovative. We want to try to engage these organisations, widen the circle of organisations we work with, and also take on board some of the new techniques they use. In this context, two major priorities for the future are social innovation and new social techniques."
And as proven by Laska Shop or UrbanSpace 100, social entrepreneurship has tremendous potential as well. This is why in the coming year, the EU intends to provide financial support for social entrepreneurship development and plans to setup a regional Social Innovation Lab: "We see it as a possibility to offer CSOs, civil society activists and civically-minded people from other spheres a space for trial and errors, where new ideas can be tested and where at the end of this process we can take back something new that can drive our societies forward", said Sinziana Poiana, Policy Officer and expert on civil society at the European Commission.
Initiatives such as the EaP Civil Society Fellowship are living proof of the enthusiasm and engagement of which young civil society activists are capable when offered the right environment and resources.