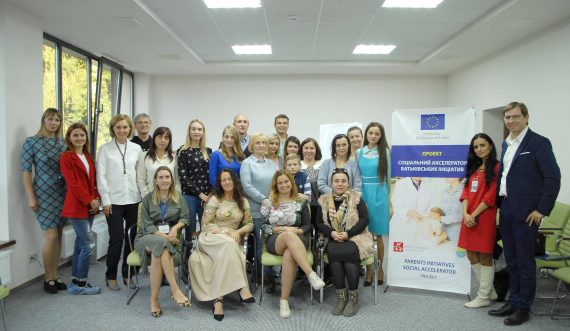 For parents to hear the doctor about their child having a chronic disease or disabling condition is a living nightmare. The verdict often comes unexpected bringing inner devastation, shattering hopes and leaving the once happy family in tatters. As time goes by, many parents become overcome with the feeling of insecurity, fear of the future and lack of support or understanding. Things get even worse when child health care practitioners with whom the parents have to communicate fail to demonstrate proper understanding and readiness to help.
Antin Kushnir, one of the EaP Civil Society Fellows from Ukraine and the Director of the Anna Mazurenko Children's Health Centre (social entrepreneurship in Lviv, which provides physical and mental health development programs as an integrative model of care), initiated the project Parents Initiatives Social Accelerator that was supported by the EU through its Eastern Partnership Civil Society Facility. The Project aims at creating new linkages and bridges between parents who look after their sick children and the professional paediatric community.
Together with his colleagues from the Ukrainian Academy of Paediatrics, Antin organised a workshop for parents and caregivers of children with chronic health conditions to give them an opportunity to join paediatricians at the breakout session of the Ukrainian Paediatric Academy's Third International Congress in Lviv.
This unique workshop took place on 28-29 September in Lviv and brought together parents of children with chronic health conditions and experienced psychologists, psychotherapists and coaches in public health, administrative management and communication. The idea of the workshop was to build a mutual understanding between the parents and paediatric professionals and to inspire parents for further motivation in their self-organization.
Antin Kushnir: "The workshop named "Parents Initiatives Social Accelerator" is part of my Action Plan for the parents and caregivers of children with chronic diseases. During the first day we already outlined some foreseen communication constrains: as we name the same things differently, hence, in the future we are reaching also different goals contributing to different values. It is important to create a single coordinated system, communication and vision."
Workshop participants got a chance to benefit from the experience of Prof. Patricia Gerrity in establishing professional-community partnership within the 11th Street Family Health Services of Drexel University.
Antin Kushnir: "After the first day of problems tree settings for both parents of children with chronic diseases and doctors, we came to the very emotional discussion of how to change our behaviour… At the end of the second day, a motivated parents' community started taking shape."
Photos: Anastasia Tumanova, co-founder School of ME and coach on social entrepreneurshi