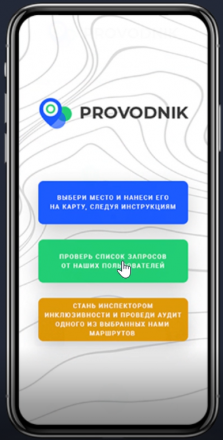 Do you remember our 2019 EaP Civil Society Hackathon in Tbilisi this June? If you do, then you know that three project ideas developed at the Hackathon were nominated for the EU Digitalisation for Civil Society Award. And we are happy to announce the Winner of the 2019 Award – the Ukrainian project Interactive Map PROVIDNYK by Anna Krys from Ukraine!
Anna is concerned about the accessibility infrastructure for people with disabilities and the lack of information about opportunities they could use to enjoy life to its fullest. To address this challenge, she came up with the idea of PROVIDNYK, an interactive map for people with mobility limitations to help them find the best and safest routes in the cities of Ukraine using crowdsourced data.  PROVIDNYK addresses the problem of the quality of life of Ukrainians with limited mobility by allowing its users add and evaluate the accessibility of infrastructure objects, first in Kyiv and Odesa, and later – throughout Ukraine. It also helps consolidate the efforts of civil society, state, business and the public in building an inclusive society in Ukraine.
As a winner of the 2019 EU Digitalisation for Civil Society Award, Anna and her team got the funding to develop and launch this IT solution. As a leader of debating society in her country, she also has support from Debate for Changes NGO and Debate Federation of Ukraine.
"In Ukraine, 90% of ramps are installed incorrectly and, in general, the infrastructure is not intended for people with limited mobility at all. I think it's unacceptable to ignore the fact that thousands of people are locked inside their apartments only because we close our eyes to this problem and don't demand any changes. With the project I'd like not only to collect data, but also to show to our government that Ukrainians really care about this issue and that together we should move this situation off the ground. On top of that, speaking about diversity & inclusion, it's not popular here, in EaP countries. But this dialogue should be started. And better sooner than later," says Anna.
Read more about PROVIDNYK here and check the first prototype of the PROVIDNYK application.
Check this video with some highlights from the 2019 Hackathon made by Anna: