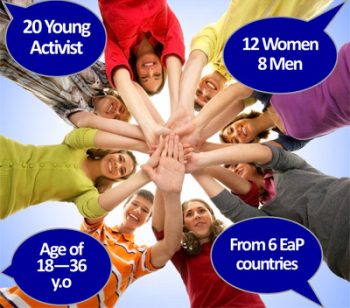 Twenty young activists in the civic sphere in the Eastern Partnership region have been awarded Fellowships under the Eastern Partnership Civil Society Facility, to pursue a programme of activities that will allow them to develop their leadership skills, and enhance their contribution to civil society development in their respective countries.
MEET THE EAP CIVIL SOCIETY FELLOWS – 2017:
ARMENIA
| | |
| --- | --- |
| Mari Chakryan | Safe Playground for Your Kids and Mine |
| Samvel Grigoryan | Enhancing Cooperation between CSOs & Young Civil Leaders Working in the Ararat Region of Armenia |
| Taguhi Kharatyan | Young Changemakers of Dilijan |
AZERBAIJAN
| | |
| --- | --- |
| Vafa Huseyinli | Increasing Awareness on Persons with Disabilities (PwD) and Improving the Collaboration among Government, CSOs and Media |
| | |
BELARUS
| | |
| --- | --- |
| Ludmila Batura | Capacity Building for Core Members of Global Shapers Minsk Hub |
| Yulia Stankevich | E-learning in focus (e-learning course for CSO activists on non-formal education |
GEORGIA
| | |
| --- | --- |
| Mariam Amashukeli | Supporting the Development of Countering Violent Extremism (CVE) Policy in Georgia |
| Giorgi Goguadze | Capacity Building of Regional CSO and Local Stakeholders in the EU Affairs |
| Mariam Khuroshvili | Civil society involvement in monitoring Tbilisi City Hall |
| Neli Merabishvili | Promoting for Cycling as a Transport in Tbilisi |
| Tornike Zurabashvili | Countering the Pro-Kremlin Disinformation Campaign in Georgia: the Czech Experience |
MOLDOVA
| | |
| --- | --- |
| Dumitru Alaiba | CPR Advocacy to Investigate Financial Crimes |
| Nadejda Cervinscaia | Restoration & digitalisation of the Zaharia Cusnir Photography Archive |
| Olga Diaconu | Enhancing ethical standards in the legal profession |
| Stanislav Ghiletchi | Evaluation of Public Transport in Chisinau |
UKRAINE
| | |
| --- | --- |
| Iryna Burbylo | Strengthening the Organization's Capacity through Professionalizing its Workers |
| Andrii Chubyk | Enable Strategy XXI |
| Bohdan Diachenko | Social development- Sustainable development |
| Viktoriya Luchka | Ability Beyond Disability |
| Vitalii Svitovyi | Implementation of the EU-Ukraine Association Agreement (Judicial Cooperation in Civil and Commercial Matters / Cross-Border Insolvency) |
---
WANT TO KNOW MORE ABOUT OUR EAP CIVIL SOCIETY FELLOWS – 2017?
HERE ARE SOME FACTS: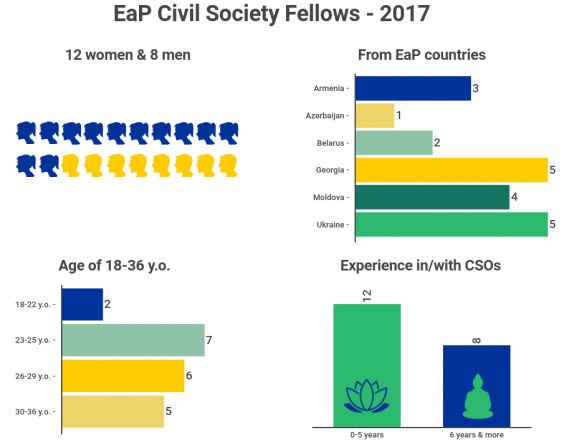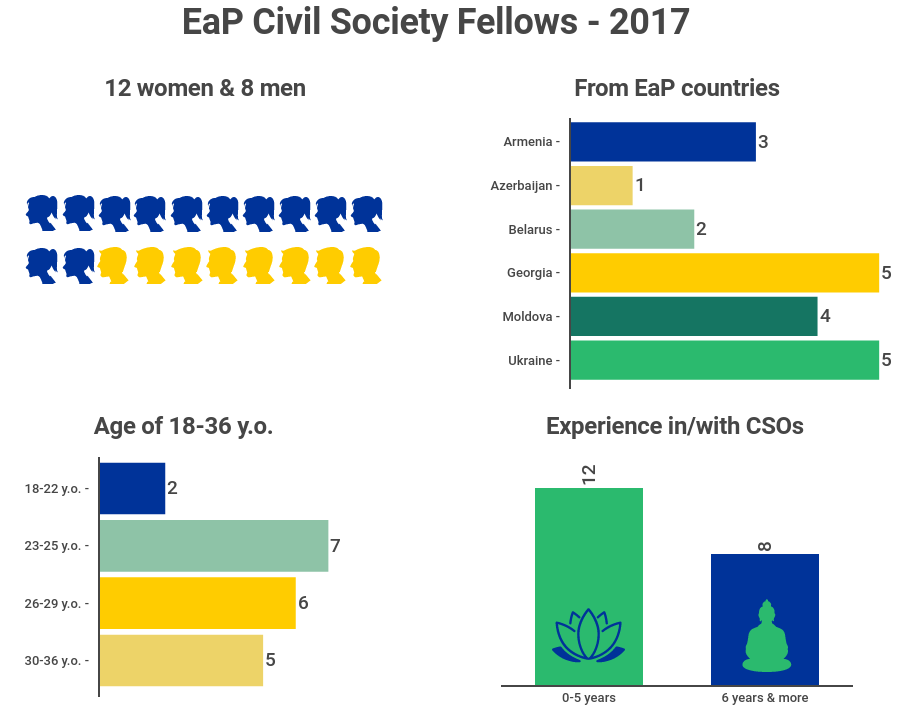 WHAT IT IS ABOUT
This support is an investment in the development of young current civic activists or civically minded individuals from the EaP region, who display the interest and ability of taking leading roles in the growth of their societies. The Fellowship programme contributes to the broader aims of EU support to civil society development in this region.
The Fellows – 12 women and 8 men, aged 18 to 36, – come from all 6 EaP countries, and were selected on the basis of their track-record of achievements to date, and the strong potential they demonstrated in their proposals, to act as drivers of change in the civic sphere. They come from a range of backgrounds – some having worked in Civil Society Organisations (CSOs), others from the think-tank or research sphere, others have been engaged in informal civic activities to date.
The Fellows' chosen topics for the work programme of the Fellowship covers a range of priority areas in the civil society realm – e.g. addressing the needs of local communities through engagement in participatory decision-making, monitoring and analysis of policy implementation and the work of government institutions (at local, municipal, national levels), capacity-building and networking among CSOs. The outputs anticipated by the end of the Fellowship period (awards are made for activities lasting up to 6 months) include policy papers on a range of important themes, e-learning course materials, visualisation of archive material, and the establishment of functioning networks of activists.
Mentoring of the Fellows will be provided by the EaP Civil Society Facility project, as well (in relevant cases) host organisations at which Fellows will spend a period during their programme.