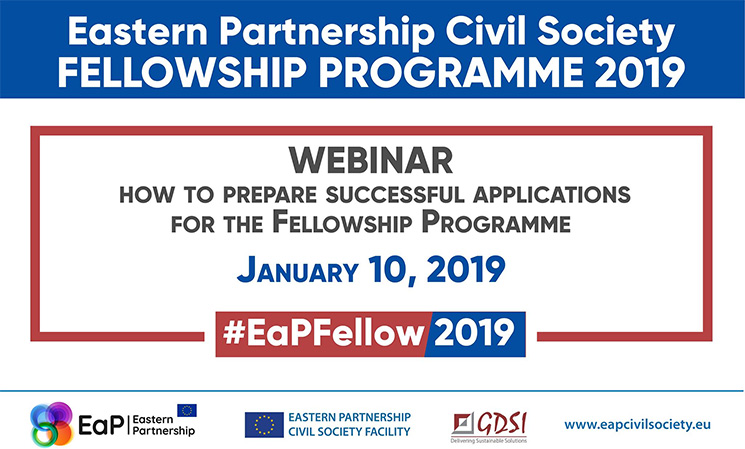 UPD: The recorder webinar is available online now!
Do you plan to apply for our #CivilSocietyFellowship this year? Still not sure how to fill in the application form? Got specific questions on the guidelines or the templates to be filled in? Not sure if your project is eligible?
Join us for the 1st Webinar on How to Prepare Successful Applications for the the 2019 Eastern Partnership Civil Society Fellowship Programme this Thursday, January 10, 2019.
During the webinar you will learn more about the Fellowship Programme; get recommendations from our team on how to prepare applications for the Call, action proposals and action budget, and will get answers to your specific questions. The webinar will last up to 1,5 hours and will be held in English.
The webinar will be held on Thursday, 10th of January at 16.00 CET (please check your local time below):
17.00 for Ukraine and Moldova;
18:00 for Belarus;
19:00 for Armenia, Azerbaijan and Georgia.
To register for the webinar, please fill in this short registration form: https://goo.gl/forms/D6j9r67uUWix1xvg1
We highly recommend all potential applicants to read the Application Guidelines before the webinar: https://eapcivilsociety.eu/news/guidelines-for-applicants.html
Learn more about the Call for Applications here: https://eapcivilsociety.eu/events/2019-fellowship-call-for-applications.html