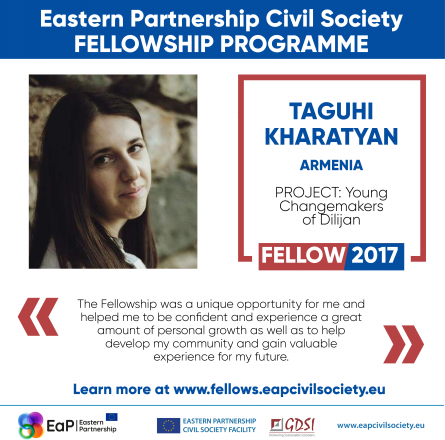 Taguhi Kharatyan from Armenia joined the Fellowship initiative in 2017 and became one of the first twenty EaP Civil Society Fellows. Here are her thoughts on the way the Fellowship changed her:
Taguhi Kharatyan: "A year ago, I could hardly fathom the successes that I have accomplished today. One year ago, I joined the EaP Civil Society Fellowship initiative and I was excited to share my experience with future fellows. It was a long journey, but along the way, I have continuously met people who helped me develop my skills, push me to always do a better job, and to never step back.
The EaP Civil Society Fellowship was a unique opportunity for me and helped me to be confident and experience a great amount of personal growth as well as to help develop my community and gain valuable experience for my future.
The first step is the easiest one: applying for the Fellowship. I was thinking about having projects from which can benefit both my community and me. That is what I did for the following year. I was learning by doing. The Project Design and Management course has different aspects, such as time management, working group management, budget control, and more. These are some of the skills that I gained and still use now.
Another point I want to highlight is the communication and network being a part of this network provides. Meeting leaders from EaP countries was another interesting side of the fellowship. The network we have created during meetings we use now when doing joint projects.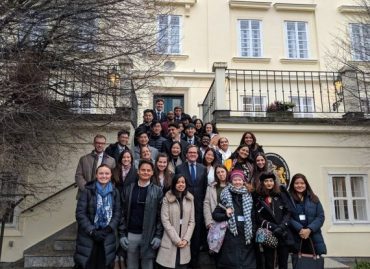 Lastly, the most important skill I have gained is self-confidence. This is a characteristic that allows an individual to become a leader. To present a project, prove that it is a strong one and that its impact is important for the community, and to assure people that you can be a changemaker is not an easy task if you are not confident in your abilities.
After 7 months of hard work, I finally finished my fellowship and the most important acknowledgement of my work was being selected for another opportunity to attend the International Youth Leadership Conference in Prague as a Civil Society Fellow. This week-long youth forum on world politics, international relations, and justice gave me opportunity to test my leadership skills, debate current global issues, deliver speeches, draft resolutions, make executive decisions, and realize through experience the complexities of international relations. This was my way to leadership.
In the end, I want to add that if you are a natural leader like me, if you want to be a change maker, meet new interesting people, gain experience, and spend one year of your life contributing to impactful changes, you should apply to EaP Civil Society Fellowship and be a part of our strong family!"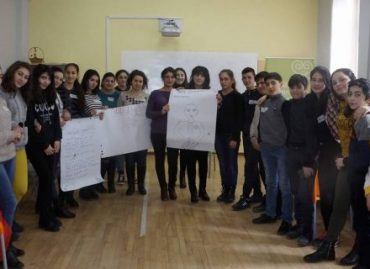 Within her fellowship project 'Young Changemakers of Dilijan', Taguhi has provided mentorship and resources to 45 young people, aged 13-17, to make their ideas for social change in the community come true. 5 different projects in the community of Dilijan town were implemented. A group of youngsters with the help of their mentor opened a Sport Centre with the necessary sport items to encourage active lifestyle in the community. The painting exhibition was established and presented to schoolchildren in Dilijan. In the village of Haghartsin 5-7 years old kids were provided with learning games. Also, trees and flowers were planted around the surroundings of their school. Youngsters themselves renovated and repainted the bus stop that was in a poor condition. The project has also provided an opportunity for them to gain basic math and language skills through the educational games before starting their formal education in school.
Taguhi managed to provide the resources of the fellowship directly to the communities of Dilijan. The participants of her project were able to make a personal change and get valuable skills of team-building, problem solving and community engagement. In 2018 Taguhi, as a Civil Society Fellow, had an opportunity to participate in the International Youth Leadership Conference in Prague and improve her leadership skills. Ability to discuss and network with the young activists from all over the world has helped her engage more in the social issues and motivated to create new projects inside and outside of Armenia.