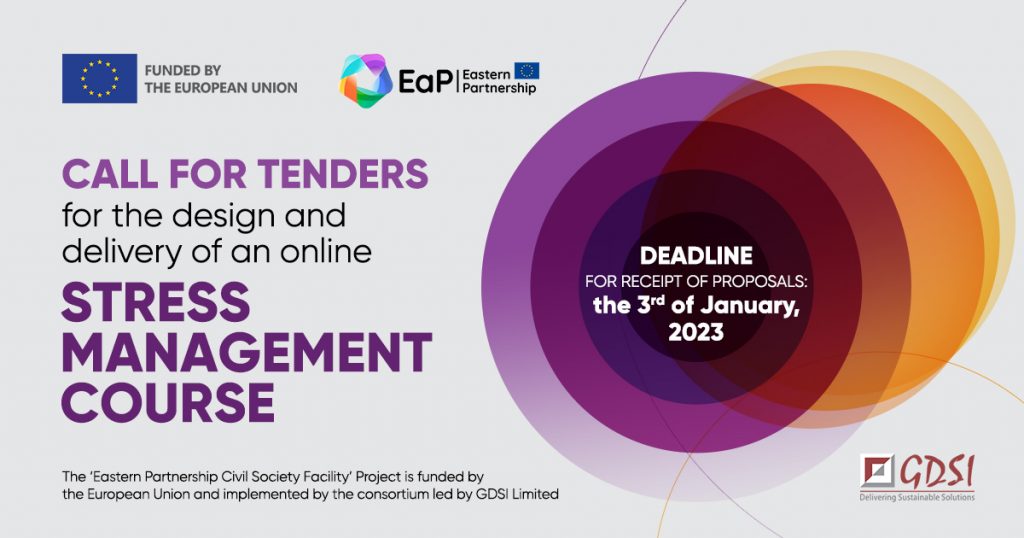 We are looking for experienced organisations to develop and deliver a a Stress Management Course! Download the ToR: Tender Notice - Stress Management Course.  
This course is commissioned within the framework of the EU funded project Eastern Partnership Civil Society Facility being implemented by the consortium led by GDSI Limited.
The double impact of a Covid pandemic and war in Ukraine has forced our Eastern Partnership Civil Society Facility Project to change its operations and to address changing priorities of the targeted civil society. Thus, the capacity-building activities are now delivered 'remotely' through online platforms and remote coaching, and a newly identified priority is the need to build capacity for stress management among CSO staff, volunteers, and the communities they are supporting.
The Stress Management course will be based on a type of 'training-of-trainers' approach, with a group of 20 CSO managers/staff capacitated to provide a basic-to-intermediate level of support on stress management and psychological first aid to their staff, volunteers, and selected members of the communities that they are working with. The course will involve the online delivery of a number of modules, with participants being coached between modules on 'homework assignments', and on completion of the modules, participants will be coached through some initial support activities.
In addition to training materials to support the delivery of the course, the service provider is also expected to produce a brief 'good practice' document, focused on the context of the EaP, to be disseminated within the project's beneficiary groups.
The Tender is open to all legal entities in the EU, Neighbourhood and Pre-Accession countries. The Contracting Authority is GDSI Limited.
To download the Tender Notice and Specifications for this assignment please click here: Tender Notice - Stress Management Course.
Interested organisations should submit both Technical and Financial Proposals for this assignment.
Details:
Expertise required:
The contractor is required to deliver the outputs described in the Specifications. The expertise to achieve this should be described by the contractor and proof of such capacity, including CVs of experts, should be included in the proposal. The contractor is wholly responsible for ensuring sufficient capacity to deliver the requested outputs.
Language requirements:
The primary language of the assignment is English. All written outputs shall be provided in English.
Proposals submission deadline:
The deadline for receipt of proposals is January 3, 2023, at 12.00 CET.
Interested individuals/organisations can request clarifications on this assignment by writing to [email protected] up to December 13, ,2022, before 12:00 pm CET.
How to Apply:
Proposals should be sent by email to [email protected] in two files: Technical Offer – name of applicant and Financial Offer – name of applicant.
Timing of activities:
The planned timing for the assignment is from March-November 2023.