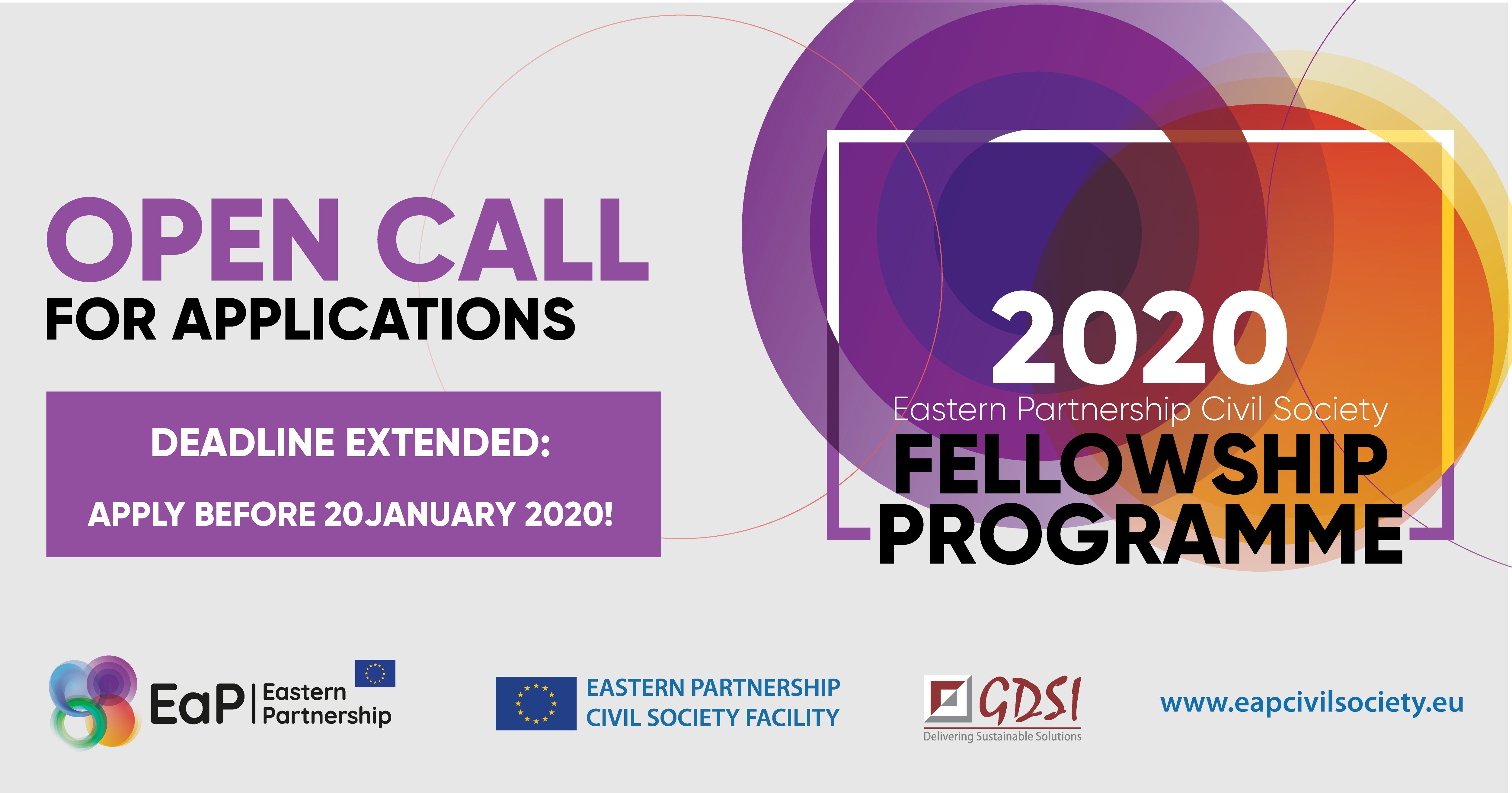 IMPORTANT UPDATE: Deadline for submission of applications extended until January 20, 2020 (12.00 CET).
We are happy to announce our new Open Call for Applications under the 2020 Eastern Partnership Civil Society Fellowship Programme! If you are a young civil society activist from Armenia, Azerbaijan, Belarus, Georgia, Moldova or Ukraine with new ideas for improving your community or country and you are looking for opportunities to improve your leadership skills – don't miss out and apply before January 20, 2020 (12.00 CET).
This is the last chance you have to apply for the Fellowship Programme in its current form, so don't miss this opportunity! We will be selecting 20 more Fellows for our 2020 generation.
The fellows have a unique opportunity to take part in trainings and other capacity building activities, as well as implement individual projects of up to EUR 5,000. In addition, the fellows become part of an international network of like-minded individuals and have the opportunity to attend various high-level meetings and interact with decision-makers in their countries, as well as those from the EU institutions.
The Fellowship Programme will provide support in the following broad areas of activities:
Research or monitoring of how public services are delivered at national / community level;
Drafting policy papers and recommendations for decision-makers;
Supporting mentoring and job shadowing schemes in order to build capacities that can be transferred to other members of the organisation;
Advocacy campaigns on issues of public concern;
Better tailoring civil society organisations' activities to citizens' needs;
Developing new solutions for e-transparency and e-participation;
Bringing civil society and authorities together to develop common solutions;
Strengthening organizations' capacity to act effectively;
Cooperation between civil society organisations, including trade unions and professional associations on issues of common interest;
Other areas of activities relevant to the fellows' communities.
However, in 2020, preference will be given to those applicants aiming to fulfill a watchdog function by:
holding government and institutions accountable: monitoring the implementation of national and international commitments and informing communities, citizens or other stakeholders (for example monitoring of abuses of civic and human rights, adherence to labour and social rights, quality of public services, etc.);
contributing to monitoring of planning and/or expenditure of public budgets or actively participating in the definition of budgetary priorities at the local or national level.
Today the network of fellows comprises 60 young people from the six EaP countries. Their Fellowship actions cover a range of priority areas addressing the needs of local communities: youth work, leadership development, anti-corruption actions, capacity-building for CSOs, development of policy papers, educational materials and e-tools for better governance and many more.
If you want to find out who our current fellows are and what they are doing, please visit the fellows' webpage available here.
Through the Fellowship Programme, the EU is investing in the development of young civic activists or civically minded individuals from the region, who display an interest and ability for taking up leadership roles in their countries. Developing leadership capacities and skills of future civil society leaders is one of the commitments made by the European Union in its policy on achieving '20 Deliverables for 2020. Focusing on key priorities and tangible results'.
The Eastern Partnership Civil Society Fellowships are an integral part of the European Union's Eastern Partnership Civil Society Facility – Regional Action project.
If you want to apply, please carefully read the Fellowship – Guidelines 2020, fill in the application form via our online application system or send us your application by email (2020 Fellowships Application Form) to [email protected] before January 20, 2020 (12.00 CET). Please note that we prefer receiving applications online.
What you need to do now:
Watch our webinars for potential applicants of 2020 Fellowship Programme: 
The DEADLINE for submission of applications extended until Monday, January 20, 2019, 12.00 CET. See the timeline of the application process below:

Should you have any questions regarding your application, please contact [email protected]