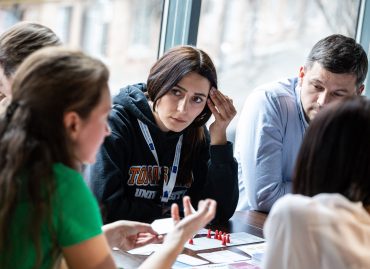 Imagine yourself living in a small rundown town far from the capital: the local economy in steep decline, businesses wilted, young people hurry to chase better prospects elsewhere in big cities because jobs are few. Evenings are even worse than that, the only entertainment around (beside the employment centre, now off-hours, and the ancient library) being casual meet-ups on the 'central square' in front of the town hall and the school. The level of community attractiveness here can be best described as 'depression' and 'despair'. Now suppose the town has local elections and – surprise! –five locals, the five 'heroes' – a civil society activist, a retiree, a stay-at-home mum/dad, a businessperson, and a refugee – make it to the local council on conscious promise to take responsibility for the future of their own neighbourhood and community. They will have to learn to work together to breathe life back into their township and transform it into a healthy, happy and wealthy community people would want to live in.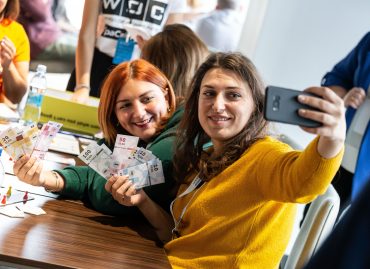 This almost impossible task was given to our Fellows by the creators of the World of Community simulation game during our regular Mid-term Fellowship Event in Kyiv. Five teams of Fellows worked hard to bring their communities to prosperity by overcoming difficulties and temptations, reversing bad decisions and making good ones, and balancing private and public interests.
Of course, we had a winner in this game – a team who made maximum scores and managed to develop its small community in the Carpathian Mountains, create a prosperous winery business there and even build a hospital in a small town to serve the needs of the whole neighbourhood.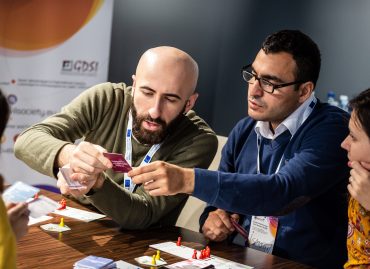 Actually, the game became a winning scenario for all the teams and everyone involved: the Fellows got a chance to wear the hat of decision makers, test their leadership, problem-analysing and problem-solving skills, find common grounds and cooperate/negotiate with each other for common goals. Impossible can become possible with a team you can trust that is able to dig to the roots of community problems and is able to prioritise in order to succeed.
The gaming experience became an eye-opener for many participants who eagerly shared some of developed insights and lifehacks useful in real-life situations:
It is always important to think about your community, not only your personal goals. Sometimes you have to sacrifice your personal goals, in order for the community to reach its common goals.
Trust is very important, and you cannot achieve anything without trusting your team.
Once you decide on priorities as a group, it becomes much easier to reach your goals.
In order to succeed, you need to be aware of external conditions and risks.
There are things in life that are out of your control and one should just accept it. The energy and strength you have you should focus on the things you can control.
Strong leadership and communication skills matter. Teamwork is important, but you need to have a real leader who can take responsibility for hard decisions.
It's important to keep the overall picture of what the community wants in mind.
With the 4th Fellowship Call launched earlier this week, a new generation of fellows will have the chance in 2020 to join our network and improve their understanding of themselves as potential leaders and of how they can help their communities become better places to live in.