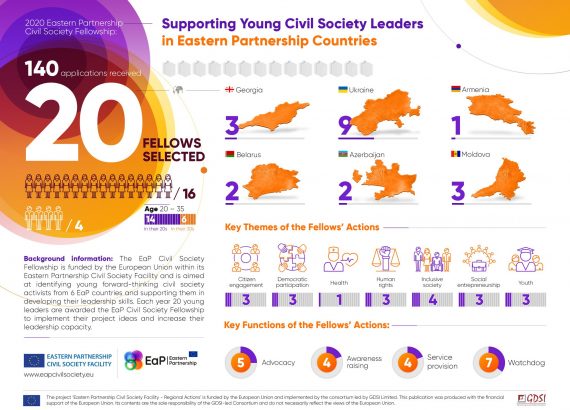 We are happy to announce that another 20 young civic activists from Armenia, Azerbaijan, Belarus, Georgia, Moldova and Ukraine were selected as Eastern Partnership Civil Society Fellows. Since 2017 the Fellowship Programme aims at supporting young civic activists from the EaP region with developing their capacities and bringing their ideas to life in their communities.
The network of fellows now brings together 80 young people from the six EaP countries, who have the opportunity to take part in trainings and other capacity building activities, as well as implement individual projects of up to EUR 5,000. In addition, the fellows become part of an international network of like-minded individuals and have the opportunity to attend various high-level meetings and interact with decision-makers in their countries, as well as those from the EU institutions.
The new, 2020 iteration of the Fellowship Programme has seen 20 new fellows, 16 women and 4 men aged between 20 and 36 from the EaP countries, selected as the ones best suited for developing their leadership capacities and skills and contributing to the development of their home countries.
The work of 2020 Fellows will cover a wide range of priority areas like citizen engagement and democratic participation, health, human rights and inclusive society, social entrepreneurship, and youth. In 2020, preference was given to those applicants aiming to fulfill a watchdog function by holding governments and institutions accountable and contributing to the monitoring of public budgets or actively participating in the definition of budgetary priorities at the local or national level.
In 2020 we received 140 applications from 6 EaP countries and here are the Fellows selected for the Civil Society Fellowships 2020:
Name
Country
Action
Ilkin Aliyev
Azerbaijan
Women Changemakers` Academy

The goal of the action is to increase knowledge and capacity of women on social entrepreneurship. Women from rural areas will be trained on social entrepreneurship, soft skills, gender and active citizenship and ICT skills. Following trainings they will act as multipliers in their communities and will disseminate knowledge and information gained with other women living in their neighborhoods. Totally around 120 women will benefit from this project.

Valeryia Amialiusik
Belarus
Participatory Monitoring and Evaluation in Belarusian Schools

The purpose of the action is to improve the monitoring and evaluation of the secondary and vocational education in Belarus by engaging the students into the problems identification and formulation of potential solutions.

Liliia Antoniuk
Ukraine
Development of a Policy Paper on 'Social Entrepreneurship in Ukraine. Gender Perspective: Steps to Be Taken'

This policy paper aims to develop recommendations for policy-makers on the development of social entrepreneurship in Ukraine taking into account its gender perspective. The action will also include awareness-raising and information campaigns on social entrepreneurship in Ukraine and presentation of the policy paper to policy makers..

Pavlo Bogachenko
Ukraine
PROVIDNYK: Interactive Map for People with Mobility Limitations (2nd stage of implementation)

The purpose of the action is to improve the quality of life of Ukrainians with limited mobility by contributing to the development of accessible infrastructure in their hometowns through the PROVIDNYK Interactive Map. The implementation of the action will also consolidate the efforts of civil society, state, business and public in building an inclusive society in Ukraine, as well as help to develop the applicant's leadership skills.

Zinaida Emelianova
Moldova
Research on Best Practices and Effective Methods of Developing Social Entrepreneurship and Advocacy Campaign

The action is aimed to analyse best of international practices (EU and in particular Romania), organise and conduct advocacy campaign in the region with the aim of institutional development of the social entrepreneurship (introducing amendments into the Transnistrian legislation based on the best practices in social entrepreneurship).

Yevgenii Grechukha
Ukraine
Strengthening Position of the Ukrainian Academy of Pediatrics Specialties in Overcoming Vaccination Crisis

Within the framework of this action, the Fellow will focus on overseeing government relevant actions, organising education events to improve the knowledge of health care workers and increase awareness of community about immunization.

Ana Indoitu
Moldova
Monitoring 2020 Youth Budget Execution at the Local Level

The action will contribute to the increase of youth participation in the process of youth budget execution at the local level.

Arzu Ismayilova
Azerbaijan
Advocating Legal Frame for the Social Entrepreneurship: a Dialogue between Policymakers, Social Entrepreneurs and Other Actors

The primary purpose of this initiative is to advocate the legal frame for social entrepreneurship through bringing together interesting actors (government agencies, experts, social entrepreneurs, civil society organizations, and media) and develop policy recommendations for the national law.

Nino Macharashvili
Georgia 
Using Data in Politics: Awareness Raising Campaign among Voters and CSOs Prior to the Georgian Elections 2020

The Fellowship action aims to carry out a small-scale research project on use of data in politics, and more specifically, in elections, and, based on the findings, design an awareness raising campaign targeting Georgian CSOs and active citizens prior to the elections taking place in autumn 2020.

Tamar Nadibaidze
Georgia
Promoting Civic Capacity for Democratic Oversight

The Fellowship outcomes are presumed to result in increased understanding of a new political system, and informed voting as well as higher voter turnout. In overall, the project impact should amass to contributing to better democratic political culture and strengthened democratic oversight.

Viktoriia Omelianenko
Ukraine
Young Guardians of Digital Rights

The action will increase the awareness of children's digital rights and freedoms through involvement of 30 participants in amalgamated communities into workshops and advocacy campaign in social media.

Maria Poloz
Ukraine
Transparent Budget is Not a Luxury 

The action is aimed to engage and encourage citizens of Nikopol (a city in the Dnipropetrovsk Oblast of Ukraine) in monitoring and participatory budgeting in the city.

Salome Sichinava
Georgia
Contributing to Reforming and Upgrading Public Services at Municipal Level in Georgia

The action aims to facilitate improvements of public services at local level and raise awareness of local population on the public services, accessible in their communities. It will also promote community leaders to proactively engage and participate in designing public services at local level. The action will be conducted in one of the biggest region of Georgia – Kakheti.

Oleksandra Smilianets
Ukraine
Citizen Engagement for Transparent Land Management in Rural United Territorial Communities of Ukraine 

The aim of the action is to foster citizen engagement for transparent land management in rural United Territorial Communities, empower proactive communities for long-term cooperation towards implementation of high-quality and user-centered IT-solution for effective management of land resources and aimed at potentially increasing community budget revenues.

Tony Snizhko
Belarus
Advancing the Adoption Process of the Law on Domestic Violence

Syuzanna Soghomonyan
Armenia
Promoting Direct Democracy for Strengthening Human Rights in Armenia

The action is aimed at monitoring of implementation of the National Strategy for the Protection of Human Rights as well as informing communities, citizens and other stakeholders on the results of the monitoring.

Ludmila Stuparu
Moldova
Voting is Not Only Our Right, It is Our Power!

The action will focus on the education of first generation of voters by involving members of the National Network for Legal Education to conduct more "Democracy classes". These classes will cover subjects related to the importance of being engaged, how each vote counts for proportional representation and also how to improve critical media literacy and critically analyze the media that present different false news, conflicting information and to select only trusted media sources.

Uliana Sydor
Ukraine
Gender Mainstreaming in Public Security Service in Ivano-Frankivsk

The action will encourage the gender mainstreaming in public security service in Ivano-Frankivsk city through monitoring and evaluation safety of public spaces in the city.

Maksym Sytnikov
Ukraine
Semi-automated System for Gathering  Deficiencies in Police Investigations of Attacks on Civil Society

The idea of the project is to reveal the most problematic stages of police actions during the investigation of crimes against civil society in Ukraine. The project intends to raising the safety of civil society activists by providing them with a practical tool and by contributing to improving the legal framework.

Leila Zhdanova
Ukraine
Enhanced Engagement of Civil Society in Monitoring of Implementation of the UN CEDAW in Ukraine

The objective of the action is to enhance the role and engagement of civil society organisations, human rights defenders and civic activists from Odesa in monitoring of implementation of Ukraine's international commitments on protection of rights of women and girls from vulnerable communities under the UN CEDAW, among others by means of submitting alternative reports and individual communications to the CEDAW.