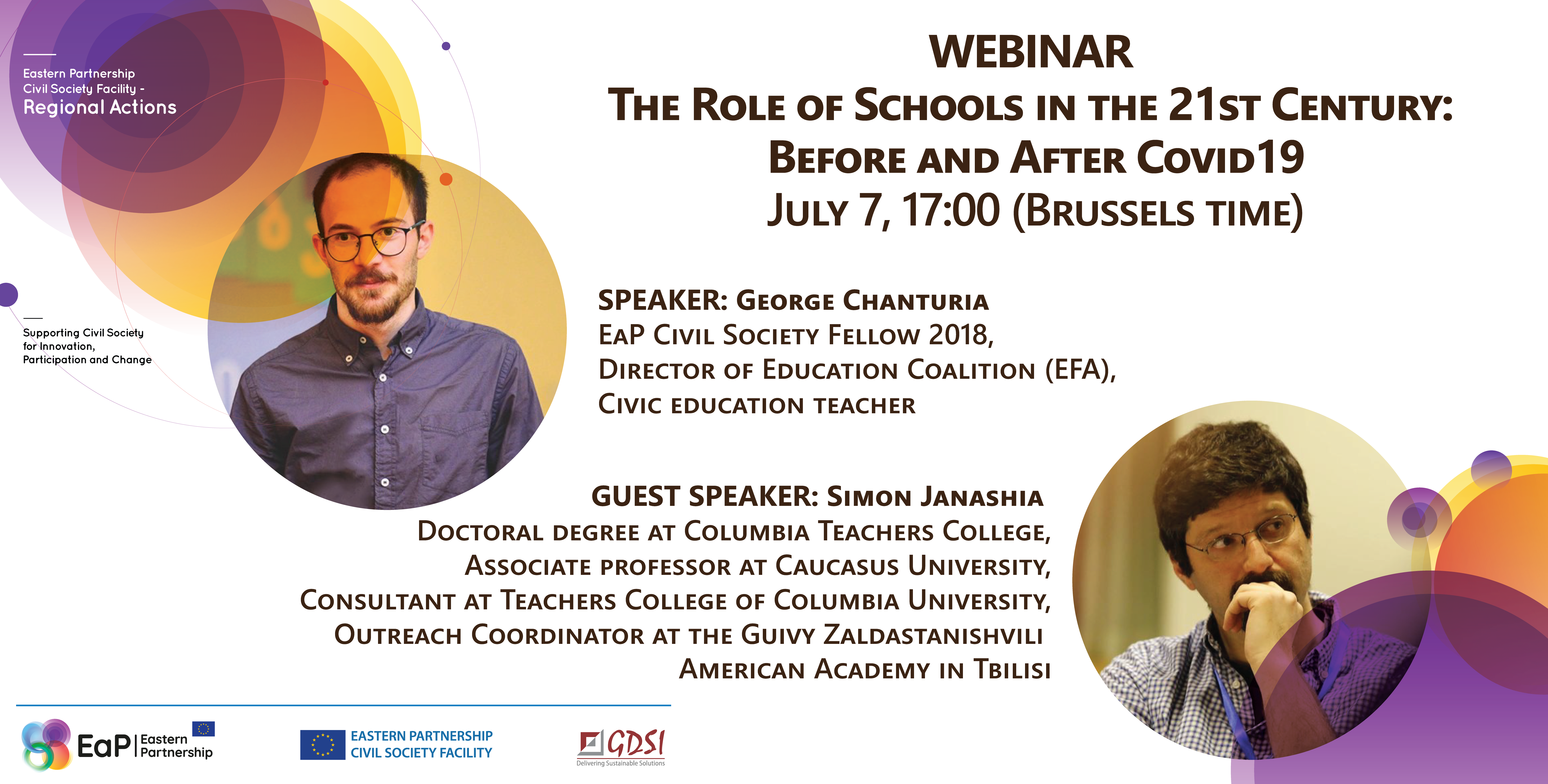 WHAT: Webinar/Meeting "Role of Schools in the 21st Century: Before and After COVID -19"
WHEN: Tuesday, 7 July 2020, at 17:00 Brussels time (18:00 Kyiv/Chisinau/Minsk time; 19:00 Tbilisi/Baku/Yerevan time
WHY: To stimulate the discussion regarding the post-COVID education system (although it's not post-COVID, yet :-). The participants will learn more about education theories, evolution of education system, different systems of education and practical application of schools.
HOW: Zoom webinar in English with Russian interpretation. To register for the webinar, please fill in this short registration form and you will receive all connection details by e-mail.
TOPICS:
The purpose and role of schools – What is a good school?
Changes in education policy – where do we go from here?
Schools Post Covid19 – what is the role of CSOs?
WHO:
Speaker/Host: George Chanturia, EaP Civil Society Fellow 2018
George is an MA in Organizational Development and Consultancy as well as in Cultural Studies. He did his BA in Sweden and US and studied human rights and political science.
In 2016 he joined Education Coalition (EFA) and currently is heading the organization as its director. He is also a teacher of civic education.
As part of his Fellowship, George worked on the issue of bullying in Georgian schools. Specifically, school headmaster's opinions regarding the topic.
Currently, along with his colleagues, George is working on the History of General Education Policy in Georgia: 1990-2020.
Guest: Simon Janashia, PHD in Educaiton
Simon Janashia has received his doctoral degree at Columbia Teachers College. His primary interest is the education policy analysis, curriculum development, teacher professional development and education development internationally.
Internationally, Simon Janashia worked on international education development projects in Kyrgyzstan and Uzbekistan. In Georgia, his primary work is to consult Guivy Zaldastanishvili American Academy in Tbilisi to develop its outreach programs trough teacher conferences, distance education courses, school partnerships, teacher forums etc.
Simon Janashia served as an assistant professor at Ilia State University, Tbilisi, Georgia. At Ilia State, he has been leading the change of the curriculum of the education department. Under his leadership new MA program in Education Administration has been established. In years 2004-2009 he has been part of a team leading the education sector reform under Ministry of Education and Science Georgia. During these years he headed the National Curriculum and Assessment Center.
Prior, Simon Janashia has earned his MA degree from Harvard Graduate School of Education, and has taught history at secondary schools and at the Tbilisi State University. He has been a founding teacher of Guivi Zaldastani American Academy in Tbilisi.