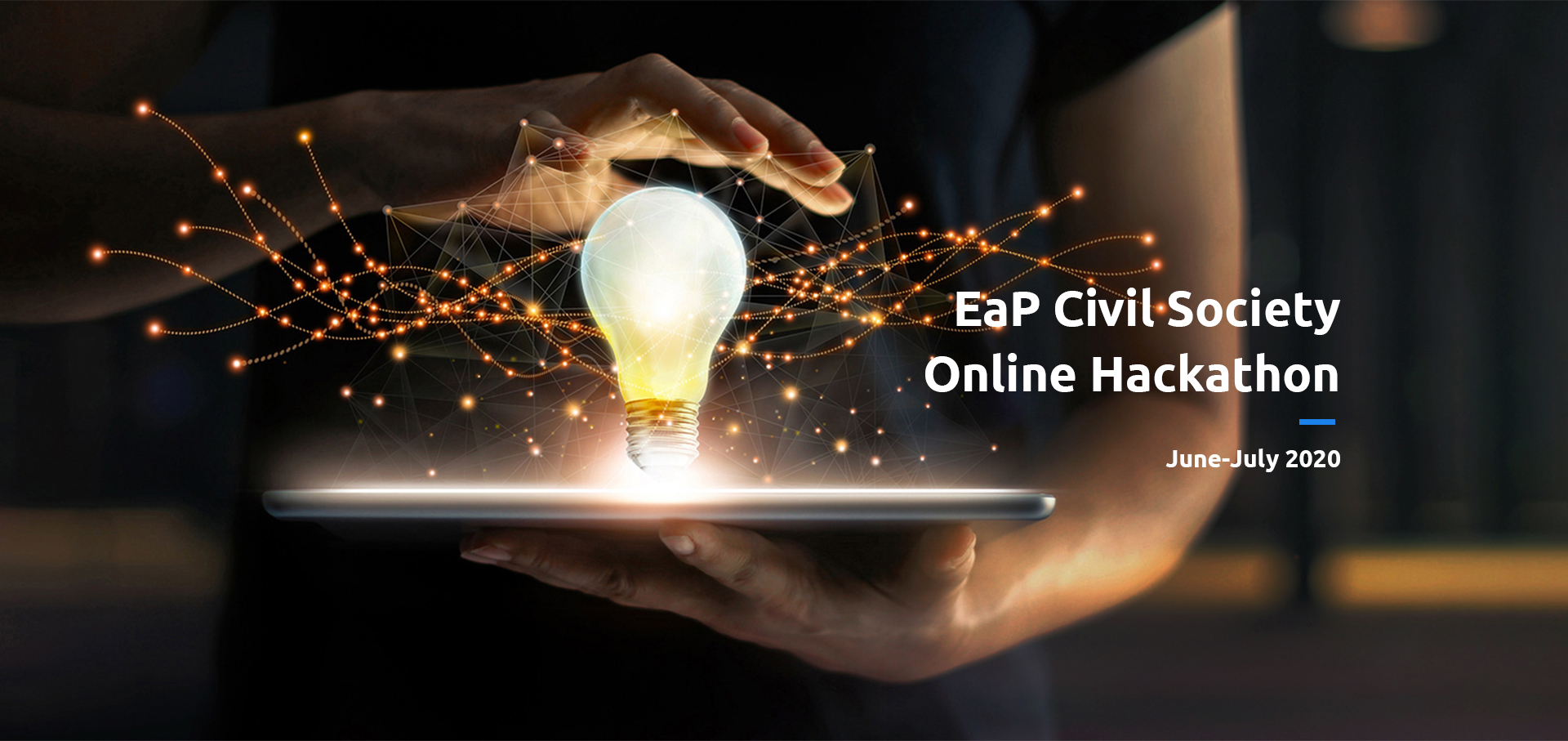 In response to the changed environment caused by the COVID-19 pandemic, this year our EaP Civil Society Ideathon and Hackathon will be organised online for the first time, with most activities taking place over the months of June and July.
The 2020 Online Regional Ideathon, taking place from the 12th to the 28th of June, will help prepare the hackathon. The ideathon is meant to ensure that those ideas which are brought to the hackathon are feasible and sufficiently developed. This year through the Call for Applications for Ideas of Digital Solutions we received 78 applications with ideas for digital solutions from civil society activists: 5 from Armenia, 9 from Azerbaijan, 15 from Belarus, 8 from Georgia, 11 from Moldova and 30 from Ukraine. 32 ideas were shortlisted and will participate in the Regional Ideathon.  
During the Ideathon the civil society activists will present their ideas to the Hackathon mentors and organisers, improve their skills in designing a civic tech project, will work individually with the mentors to improve and further develop their ideas, and will prepare their final pitches. On the last days of the Ideathon, they will pitch their improved ideas to the mentors and the organisers, who will select 15 ideas for participation in the 2020 Online EaP Civil Society Hackathon.
The Call for Applications from IT professionals and graphic designers will be re-opened on the 5th of June with a possibility to apply until the 29th of June 2020 (Note: all applications submitted within the Call from January 31 until March 6 remain valid, and the current applicants do not need to reapply).
The 2020 Online EaP Civil Society Hackathon will bring together 45 civil society activists, IT professionals and designers from Armenia, Azerbaijan, Belarus, Georgia, Moldova and Ukraine. For three weeks, technical and subject-matter experts will work together on IT solutions that would enable civil society organisations and activists better serve the needs of their communities, and help citizens participate in decision making. Hackathon participants will get support and advice from a multidisciplinary team of guest speakers and mentors, with proven experience in civic tech initiatives, IT start-ups and consulting companies. One or several of these ideas will then be selected for the Eastern Partnership Civil Society Digitalisation Award, allowing for their full-fledged development and launch.
If you want to find out more about what our participants will be working on, please have a look at the list of ideas selected for participation in the Ideathon:
[su_table]
| | | | |
| --- | --- | --- | --- |
| Name /  CSO | Country | Digital Tool | Sector(s) |
| Ashot Mirzoyan, Centre for Consumers Support | Armenia | Clean City: multifunctional website (interactive map of Yerevan on waste collection) | C2C, e-Reports |
| Seda Papoyan, Girls in Tech Armenia | Armenia | She4Data: digital hub for women and girls to master data proficiency | C2C, e-learning |
| Javid Abbasov, United Aid for Azerbaijan | Azerbaijan | LovelyBeach: platform for engaging volunteers to clear beaches | C2C, fintech |
| Ismayil Fataliyev, EaP Fellow, Azerbaijan Journalists' Network | Azerbaijan | DEputatım: application on deputies, their activities and for communication with them | e-Transparency of public sector |
| Ulvin Omarov, Social Innovation lab | Azerbaijan | PitchaPitch: crowdfunding and networking platform for 'green' projects | Crowdfunding, C2C, information resource |
| Ilgar Taghiyev, MedNot and Spendonate start-ups | Azerbaijan | Spendonate 2.0: service for using cashback for donations / charity | Crowdfunding, C2C |
| Alena Dudkova, Young European Ambassadors | Belarus | EcoLarry: plant your dream tree educational environmental online game | Gamification |
| Yuriy Kukhalskiy, SaveUs charity project | Belarus | SaveUs crowdfunding platform | Crowdfunding, C2C, UGC |
| Sergei Lavrinenko, Belarus Developers Community | Belarus | Baby Tracker: application for vaccination of children | C2C |
| Egor Moroz, Belarus Association of Journalists | Belarus | Crypto-donations: platform for mining crypto currency to be donated to charities / CSOs | Fundraising, C2C, fintech |
| Alexandra Privado, activist | Belarus | Talkey: application for mental health (info +tracker) | C2C |
| Mariam Sulamanidze, Charity Humanitarian Center Abkhazet | Georgia | The Helper: application informing the user's contacts on the user being in a dangerous situation and his/her location | e-Reports, C2C |
| Ketevani Tatikiani, Volunteer Hub | Georgia | YOUthrive: platform for monitoring and evaluation of youth related programmes and policies | Information website, open data, e-government, UGC |
| Tea Turashvili, Electronic Governance for Georgia | Georgia | Digital Connection: platform for connecting vulnerable people and providers of social services | C2C, e-Services, UGC |
| Cristina Jacot, Eco-Village project | Moldova | Interactive map of Chisinau | Navigation system, online catalogue |
| Olesya Lungu, Association of IT Companies of Transnistria | Moldova | IT Volunteer: crowdsourcing platform | UGC, crowdsourcing, C2C |
| Natalia Panga, volunteer | Moldova | Share Your Food: application for re-distribution of food meant for utilisation | UGC, C2C |
| Roman Sandu, Healthy Future Information Centre of Tiraspol | Moldova | I am Donor! application for current and future blood donors and blood recipients | Information website, UGC, C2C, chat bot |
| Viktor Trofimenko, Putnik Centre for Social and Ecological Problems | Moldova | SOS: mobile application for rapid infoming of emergency services | e-Services |
| Aleksandr Galushchenko, activist | Ukraine | Bullying Protector: chatbot for bullying victims | C2C |
| Ekaterina Khomenko, SURDO School | Ukraine | Surdo INFO: mobile application for informing emergency services a person with hearing limitations needs help | C2C |
| Yuliia Korzeniuk, GoVote Initiatve | Ukraine | GoVote: electronic voting system for student self-government and university president elections | e-Services, C2C |
| Eugeniya Kubakh, Prirodni Prava CSO | Ukraine | Transparent Maternity Clinic: citizens' e-reports and feedback of services and costs in  maternity clinics, ratings, information on medicines availability | C2C, UGC, e-Transparency,  information website |
| Sergey Kulenko, ATO volunteer | Ukraine | UAditoriya: distant learning platform / course management system (CMS) | C2C, UGC, Learning Environment |
| Anatoliy Kurinniy, activist | Ukraine | Help Beacon: mobile application for emergency communications with user's contacts | C2C |
| Marianna Marshalenko, EaP Fellow, Kyiv Cyclists' Assocciation | Ukraine | No Bread Waste: platform connecting HoReCa companies, animal shelters and logistic companies / volunteers | C2C, B2B, UGC |
| Kateryna Nekit, Democracy Study Centre at GPUS | Ukraine | Anticorruption chatbot: e-reports on the corruption and data collection | e-Transparency of public sector, citizens' e-Report |
| Aleksey Seryh, student | Ukraine | Outside of Labour Protection: platform for rating enterprises in terms of work safety and reporting work place accidents | e-Reports, C2C |
| Anatoliy Shalayev, Regional Initiatives Foundation | Ukraine | Local Authorities in the Crosshair: application visualising budget allocations per infrastructure object, and e-reports | e-Transparency, e-Reports |
| Natalia Sklyarska, Social Capital NGO | Ukraine | Tickets to Free Events: application for fundraising for social events | Fundraising, C2C, fintech |
| Oleksandra Smilianets, Centre for Innovations Development | Ukraine | Online public map of Land Management Transparency in Hromadas: Transparency Rating | UGC, data visualisation |
| Ostap Yednak, Environment People Law, ANTS National Interests Advocacy Network | Ukraine | DeepForest: application that analyses where illegal trees cutting takes place using high res satellite images, AI/ML tools and official data, and notifies activists | open data, e-Reports, ML and AI |
[/su_table]
2020 Online EaP Civil Society Hackathon Website