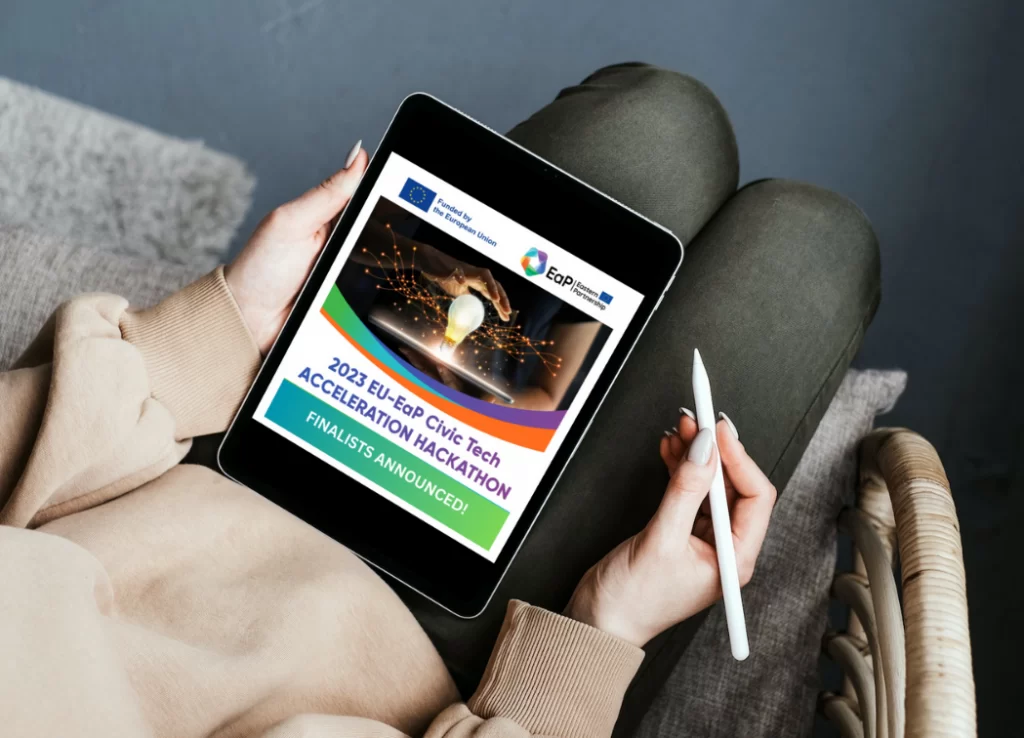 We are thrilled to announce the outstanding achievements of our recent 2023 EU-EaP Civic Tech Acceleration Hackathon aimed to foster digital solutions that enhance the impact of civil society across the Eastern Partnership countries.
12 talented teams from Armenia, Azerbaijan, Belarus, Moldova and Ukraine joined the intensive 4-week programme of our 2023 Hackathon on the 12th of May. They came to the Hackathon with existing prototypes of digital solutions addressing the needs of communities, helping citizens to better hold their governments to account and leading to the improvement of public services in their home countries. They also brought a lot of energy to the process and the desire to make their projects better. The Hackathon partnered established teams with experienced start-up mentors. In addition, the teams got invaluable hands-on support from 10 individual developers, designers, QA experts and IT project managers who volunteered to dedicate their time and expertise to help the civic tech start-ups.
The journey was not an easy hike: regular sessions with the team's mentor and progress reporting, additional consultations with other mentors and experts, user interviews, webinars and checkpoint meetings with the Hackathon coordinator, tough deadlines, and hours of coding. But these came together with the new friends and colleagues, Eureka moments and good laugh with like-minded people.
The culmination of this journey took place on June 10th, when the teams presented their refined projects to the mentors and judges during the final pitches. The competition was fierce, but six outstanding teams emerged as preselected finalists for the EU's Civil Society Digitalisation Award. These teams have demonstrated exceptional talent, dedication, and potential for societal impact.
Let us introduce you to the remarkable teams that will be competing for the Civil Society Digitalisation Award:
ReEducate (Armenia): This team is working on a digital education platform that utilizes Augmented Reality technologies to create virtual labs and interactive learning experiences. By leveraging immersive technology, ReEducate aims to revolutionize the way students and educators engage with the learning process.
4YOU (Azerbaijan): Combining psychological counselling and elements of gamification, the team has designed a service platform 4YOU specifically tailored to support children's mental health. By creating a safe and engaging environment, this team aspires to provide accessible and effective counselling services to young individuals.
Red Cap Must Cry (Belarus): Addressing the critical issue of sexual violence against children and teenagers, this team has developed a mobile game that would equip the youngsters with the clues how to recognize inappropriate behaviour, how to tell about the issue and how to defend personal boundaries. Through this innovative approach, Red Cap Must Cry seeks to raise awareness and foster empathy to combat this distressing societal problem.
Court Decisions (Moldova): Recognizing the need for improved access to legal information, the team has built a comprehensive database and knowledge management system of the decisions of the Moldovan courts. Additionally, their user notification system ensures that users stay informed about relevant legal developments, empowering them to make informed decisions.
Oppcorn (Ukraine): Empowering civil society activists, the team has created a grant and other opportunities matching and streamlining service Oppcorn that utilizes a platform and bot. This solution aims to streamline the process of connecting activists with suitable funding and capacity building opportunities, enabling them to drive positive change effectively.
City Guard (Ukraine): In response to the challenges posed by war, accidents and man-made disasters, the team has developed an evacuation planning and emergency communication and response system. By providing real-time information and guidance, this team's solution seeks to enhance safety and preparedness within communities, with a special focus on vulnerable groups.
The competition is far from over! These six teams will now compete head-to-head for the Civil Society Digitalisation Award. The winners of this prestigious award will receive funding for product development and launch, enabling them to transform their prototypes into impactful solutions that benefit society at large.
We extend our congratulations to all the teams that participated in the hackathon. Your dedication, creativity, and hard work have truly set you apart. We eagerly anticipate the results of the final round and look forward to witnessing the continued growth and success of these remarkable projects.
Stay tuned for updates as we reveal the winners of the EU's Civil Society Digitalisation Award!