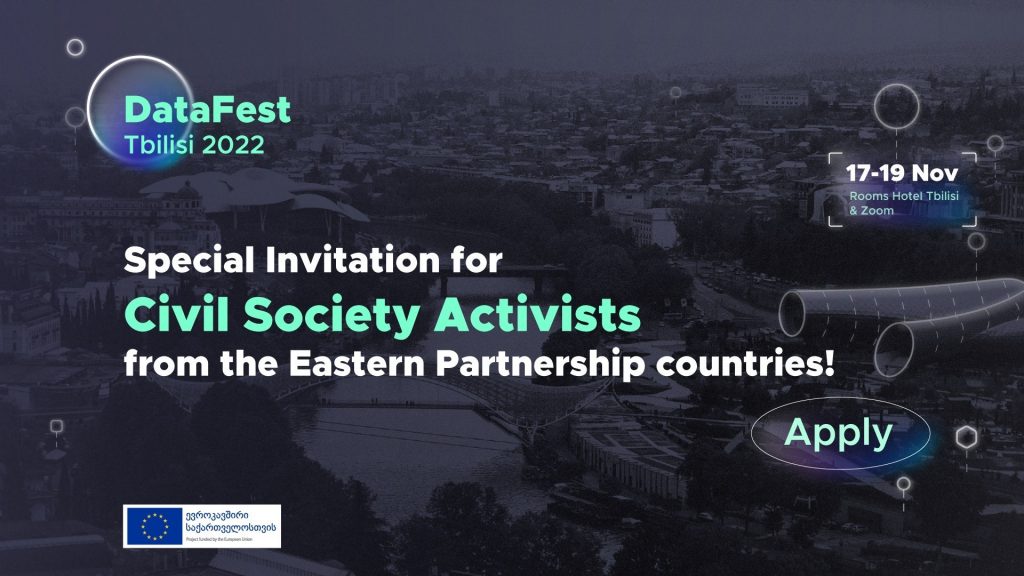 Together with ForSet (Georgia) we invite civil society activists to join DataFest Tbilisi 2022!
On 17-19 November 2022, Tbilisi will host the sixth edition of the international data and communications festival designed to inspire its participants to explore new opportunities for engaging with and using data. DataFest Tbilisi brings together journalists, civil society activists, marketing specialists, business professionals, government officials, data analysts, developers and designers working with data and willing to do more.
This year DataFest expects more than 500 attendees from Eastern and Central Europe, Central Asia and beyond. For the three days, participants will learn about new trends and best practices in data journalism and visualisation, data activism and open government, data science and AI – and much more! Besides attending inspirational talks and in-depth workshops, participants will have an opportunity to engage in various datathons and win cash prizes.
As a part of our efforts to empower civil society in the EaP region, our Project will support up to 35 civil society activists from the EaP countries to attend DataFest Tbilisi 2022 either online or offline. The EU support will cover the participation fees of the successful applicants.
The application is open to individuals who are:
Citizens of the EaP countries – Armenia, Azerbaijan, Belarus, Georgia, Moldova or Ukraine;
Active members of civil society in their home countries or in the EU, as representatives of civil society organisations or informal civic groups, volunteers at civic initiatives or non-profits, team members of civic tech projects, reporters in non-profit media, or engaged in any other form of civic activism.
Interested civil society representatives can apply for DataFest Tbilisi 2022 and the EU-funded Eastern Partnership Civil Society Facility financial support until 7 November 2022.
Successful applicants will be informed of the results and provided with further details until 9 November 2022.
More information about DataFest Tbilisi 2022 can be found here: https://datafest.ge/ or https://www.facebook.com/DataFestTbilisi/.