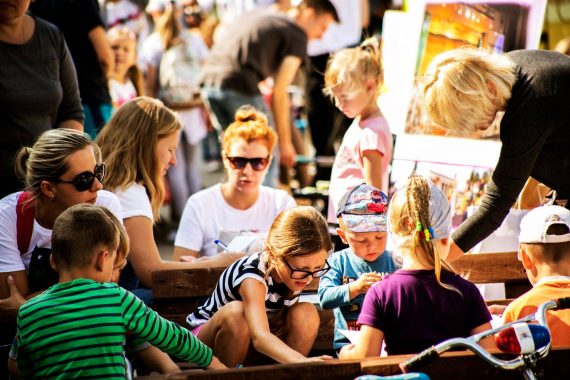 Meet Serabranka. My Neighbourhood Project, a participatory urban development website http://serabranka.by developed for Serabranka, a district in Minsk, Belarus, with around 30 thousand inhabitants. It has come into being with financial support from the European Union as part of a project intended to help its residents understand their rights to use the surrounding urban space and to collect their very own ideas of how the neighbourhood should look like.
The project itself targets seven courtyards in the neighbourhood selected for improvement by its initiators. The first, research phase ended in May and now the project team invites locals to suggest ideas for a "facelift" of the district's public spaced. These ideas will be translated into design sketches with efforts from a team of architects, urbanists, designers and activists.
The next step will be voting among Serabranka residents to select the winning public space projects fit for implementation; it will start on the 22nd of September. This would hardly be possible without transparent and efficient two-way communication between urban development professionals and everyday users of public spaces – the web platform that the EU helped to design and launch. It comprises a website (http://serabranka.by) and a mobile application for initial research of demand for parking space and parking space turnover.
The project hopes to boost civic responsibility and showcase citizens' involvement in changing their neighbourhood for the better. Importantly, it can be easily scaled up and applied to any other district or city in the country.
Serabranka. My Neighbourhood website is the winner of the EU-funded 2017 Civil Society Digitalisation Award, a special facility that seeks to support the full-fledge development of the best ICT tool designed by during yearly hackathons organised by the Eastern Partnership Civil Society Facility – Regional Actions project.
All photos made by Alexandra Kononchenko during the Serebrianka Urban Game event (see the full photo album at Serebranka Facebook page).
Background information:
The Eastern Partnership Civil Society Facility – Regional Actions is an EU-funded Project working with the six EaP countries to promote the role of civil society actors in reforms taking place in their countries. The Project covers several components, including e-learning, development of digital solutions to improve the public sector's transparency and accountability, and strengthening cooperation and networking among civil societies throughout the region. The Project is funded by the European Union and implemented by a consortium led by GDSI Limited (Ireland). For more information about the Project please visit: www.eapcivilsociety.eu or www.facebook.com/EaPCivilSociety/