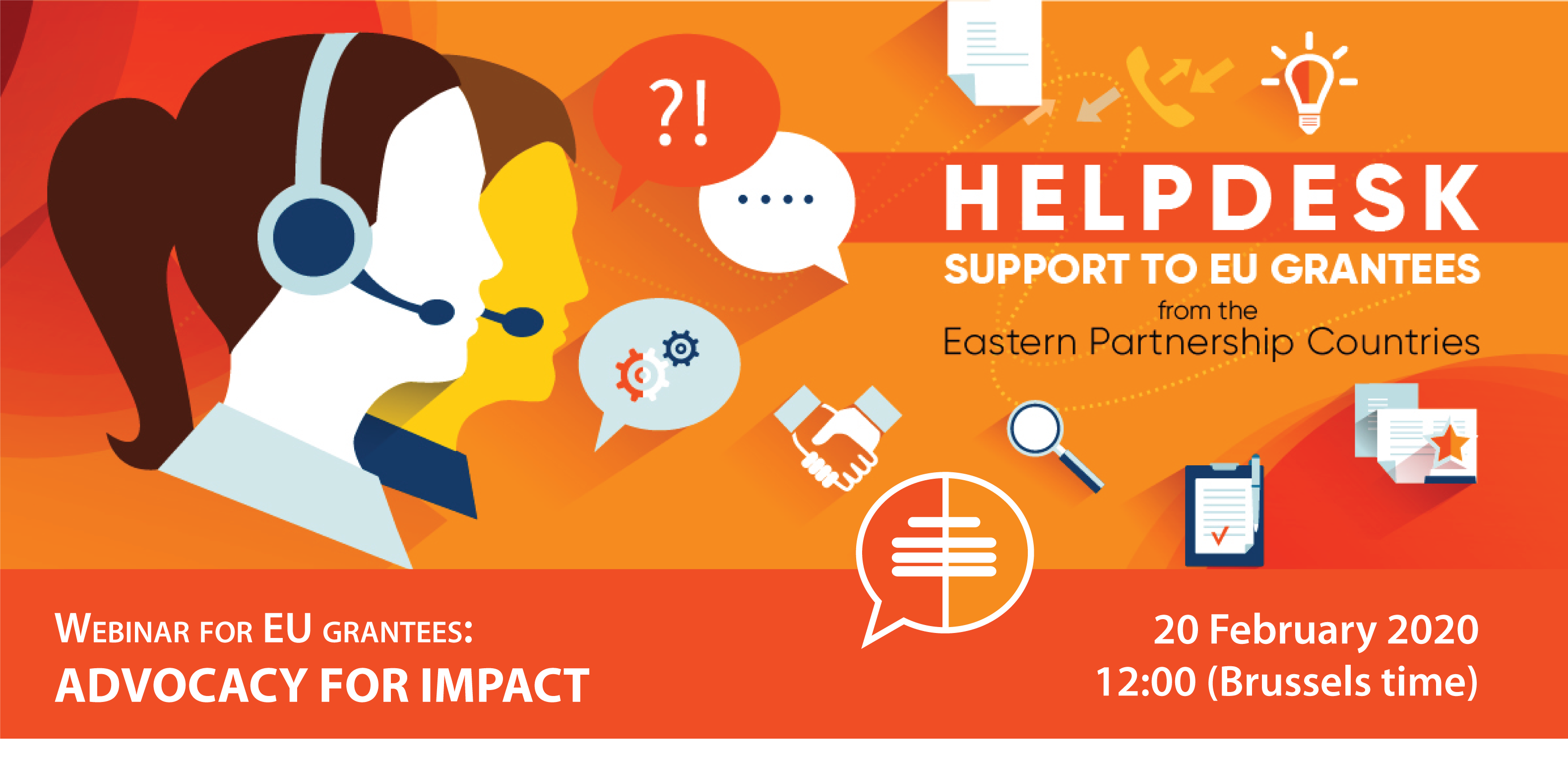 EU grantees (civil society organisations implementing EU-funded projects) from Armenia, Azerbaijan, Belarus, Georgia, Moldova and Ukraine are invited to participate in our next webinar "Advocacy for Impact".
Advocacy requires taking a stand and fighting in various arenas to make positive change happen. The focus of the webinar will be on how to implement advocacy campaign from identifying clear policies objectives to concluding a campaign. We will focus on different strategies and key activities that are important to bring a desirable change regarding policy legislation and policy implementation. Organised actions, if well planned and followed up, can effectively pressure decision-makers or groups into changing a policy or entering into a negotiation process.
This webinar is scheduled for February 20, 2020 at 12:00 Brussels time and will last between 60 and 90 minutes.
If you are interested to attend please send an email  to the following helpdesk address to confirm your interest before  19 February 2020 at noon Brussels time: [email protected].
We aim to organise around 12 webinars for civil society organisations from now until November 2020, so please keep an eye on our website and Facebook page for opportunities! You can also check here the video from our previous webinars and useful Tips and Tricks on 1) Better Reporting for the EU; 2) Communication for Impact: Focused; and 3) Civil Participation in Decision-Making Process.
In addition, our helpdesk can provide advice / support to grantees on issues such EU visibility and better public outreach, EU reporting, best practices in EU grant management, financial support to third parties / sub-granting (measuring impact, calls for sub-grantees, monitoring sub-grantees, etc.), making better use of digital tools for organizational management and communication, participation in policy-making processes, better advocacy and campaigning, better fundraising, other international funding opportunities available for CSOs, etc. If you want to start using the helpdesk, please fill in this ONLINE FORM or send your inquiries in English to: [email protected].