by Mari Chakryan, Local Correspondent from Armenia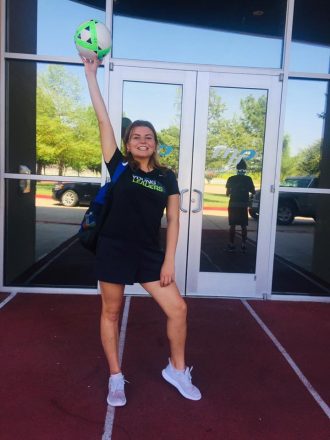 My interviewer is a young leader, activist and change-maker Ozheni Avetisyan, who believes that all our dreams will come true, if we work hard, and believe in our dreams, we should  be responsible for our goals and take actions for what we want to achieve  in our life.
Ozheni is one of the unique ladies who inspires young girls to act as leaders through sports. It is already 2 years that Ozheni has taken the role of regional coordinator of GOALS Armavir soccer league.
"The idea is to empower young girls to fight for their dreams, to help girls identify their true leadership potential, to act as great athletes and young professionals, in order to find their life inspiration.  This is what we do for young girls"- Ozheni is clarifying. "The other way to empower young girls is to give them great education, so it is not only about  teaching  them sports techniques and tools, but also giving them opportunities to study abroad, to have higher education, and simply go for their dreams".  She highly values the role of their organizations in the process of encouraging  young girls to be  strong and motivated leaders.
This slogan that moves Ozheni forward is "Make your life a masterpiece: imagine no limitations on what you can be, have or do!".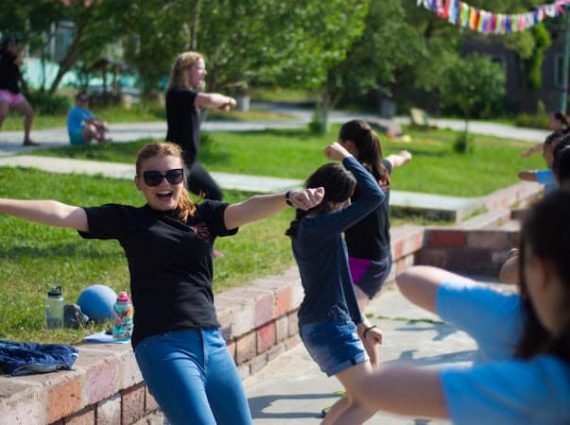 In her opinion, young women living in Armenia have one major issue, which is connected with the stereotypes that "women are weak gender".
Most of the people in Armenia  believe that woman are not capable of doing specific things just because of their gender, because of being women; like being involved in politics or judicial court or even playing sports: driving cars and repairing them, doing some sorts of things which are not considered to be feminine. Ozheni is confident that this kind of stereotypes should be broken because it's damaging the way we are thinking, the way we want to transform the world and make it a better place for all of us.
Ozheni really believes that women are very strong and powerful, and in order to achieve their dreams  they just need to be very persistent,  exactly  know what they want and go for it, develop themselves, become great professionals and then think about having families too.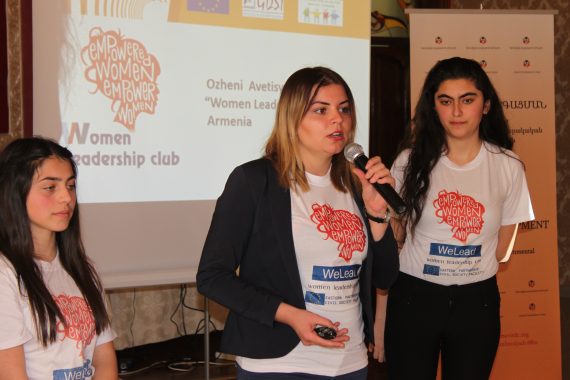 In 2018 Ozheni created the Women Leadership club withinh her EaP Civil Society Fellowship, which lasted 6 months. During the project she involved 24 young women and 12 mentors on the project, who were constantly taking part in interactive workshops, educational activities on human rights, leadership, community activism, etc. They have created a regional network of women leaders who are constantly in touch with each other, sharing and caring for each other.
After the implementation of the project, the participants became the members of online platform for young women leaders. The platform is for both communication, cooperation and exchange of experience. The alumni of the Women Leadership Club are motivated and inspired women, currently they have leadership positions in the organizations they work for.
For instance, Karine, who is  mother of 3 children and never thought about continuing education, now is looking for some opportunities to continue do her masters and become a better professional.
The other participants came up together with one common idea and are planning a start-up project in their community. Still and all there is lot to be done in order to shape a society of smart women who know their worth and are willing to fight for their future by themselves in Armenia.
This article was produced by Mari Chakryan, the Project's local correspondent and EaP Civil Society Fellow from Armenia in the framework of the EU-funded 'Eastern Partnership Civil Society Facility – Regional Actions' Project. Its contents are the sole responsibility of Mari Chakryan and do not necessarily reflect the views of the European Union or the Project
Read more about our local correspondents here.