How COVID-19 changed life in Belarus: restaurants send food to hospitals, teachers sew face masks, and volunteers deliver them
by Valeria Volkogonova, Local Correspondent from Belarus and Alexandra Savinich (Office for European Expertise and Communications)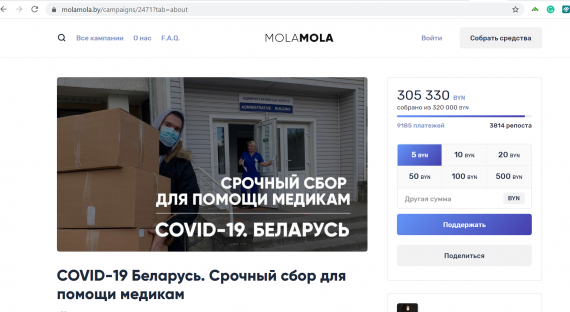 Many civic activists, NGO leaders, and managers work from home for almost two months. Self-isolation is voluntary in Belarus, and each company or organization decides independently if to switch to remote work. Despite this, the coronavirus pandemic has united the Belarusian business and civil society more than ever.
On 5 May, the Ministry of Health of Belarus confirmed 18,350 COVID-19 cases. The daily number of new cases varies from 740 to 970 since April 24.
The number of new cases was rising rapidly and doctors in some parts of the country reported a lack of protective equipment, such as masks, suits, and gloves. This problem was quickly solved by civic activists, who created a group of active citizens named ByCovid19. Now they are raising money to purchase face masks and protective gear for healthcare workers. Hundreds of volunteers offer their help with delivery, administrative work, sewing, answering calls.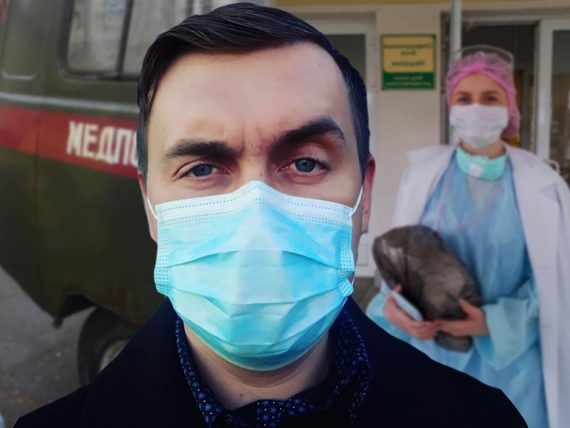 In just two weeks the initiative raised $135,433 to protect frontline medics. At the same time the Ministry of Health received more than $1,600,000 on their special charity bank account. The Ministry purchased 4,000 protective dental screens, 100,000 medical overalls, 2,000 reagent kits for detecting COVID-19, 20,000 filtering masks for the local healthcare institutions.
Some organizations help not only financially but also by providing access to their offices. The «Ў» Gallery of Contemporary Art temporarily allowed the ByCovid19 initiative to use part of their showrooms as warehouse.
Teachers sew masks and engineers print face guards on a 3D printer
Minsk Hackerspace, the technical creativity club, joined to help the medics. Together with numerous volunteers they made 40,188 face guards, 8,583 protective overalls, and 1,217 adapters to convert snorkel masks to emergency PPE. Dobra Foundation purchased materials for 3D printers and helped raise private donations.
School and kindergarten teachers also joined the volunteer movement. The government extended school spring break until April 18, and teachers started to sew face masks and protective suits.
Restaurants send food to hospitals
Although there is no state-wide quarantine announced in Belarus, many citizens prefer to avoid social contacts and stay away from cafes and restaurants. Local businesses have to transform their activities or shut down for an indefinite period.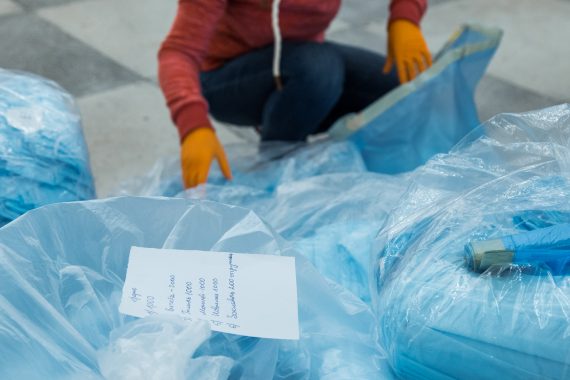 The "Grillman" Restaurant had been closed because of coronavirus, but its team decided to stay at work and cook meals for doctors of the city clinical hospital of infectious diseases. They prepare about 500 servings daily and had to start a fundraising campaign to purchase food products and disposable tableware.
Other partners joined quickly; shops and supermarkets supplied free grocery, bakeries – free bread. Restaurants, coffee shops, and even gas stations are working together to offer support to those who need it more during the coronavirus outbreak.
For example, the A-100 Petrol Station Group of Companies provides free lunches for ambulance staff. "Stolitsa Catering" company together with the Belarus Red Cross launched the "Lunch for Medics" campaign ("MedObed"), where they deliver free meals for the staff of city clinical hospitals.
Telegram channels to appreciate doctors, nurses, and other medical professionals
It's important to express appreciation and gratitude for these everyday heroes. To let the medical staff know how grateful the Belarusians are, activists launched the "Kind Words to Belarusian Doctors" Telegram channel. Anyone can fill out a questionnaire and write warm words of support to doctors. All messages are moderated and then published on this channel.
Popular Belarusian musicians together with New Radio and Dobra Foundation launched an online music marathon to appreciate doctors, nurses, and other medical professionals.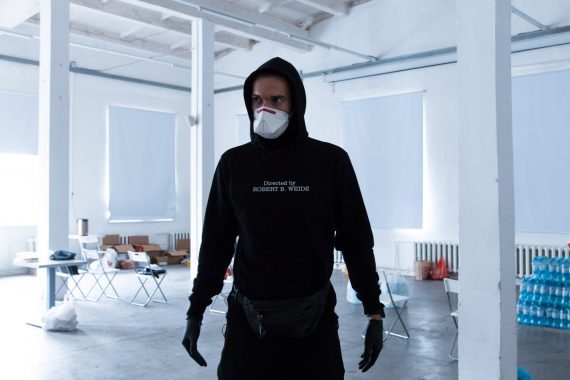 Neighbors help each other
Doctors are not the only ones who need support during these challenging days. When it comes to COVID-19, older people are especially vulnerable to severe illness. Volunteers designed the print-at-home templates which you can leave on doorsteps of elderly neighbors. It means you volunteer to go to the store or pharmacy and help older adults keep social distancing.
The Belarusian Red Cross, together with the IMENA platform, launched a multi-channel "Good Phone" telephone line. Here everyone can get psychological support, recommendations, relevant information about COVID-19, and the necessary contacts for help.
Despite the stress of the situation the world is facing for the first time, the support and cooperation of businesses, communities, and neighbors worked well. This shows how strong and confident society can be when people do not remain apathetic.
This article was produced by Valeria Volkogonova and Alexandra Savinich in the framework of the EU-funded 'Eastern Partnership Civil Society Facility – Regional Actions' Project. Its contents are the sole responsibility of its authors and do not necessarily reflect the views of the European Union or the Project.
Read more about our local correspondents here.