by Ismayil Fataliyev, Local Correspondent from Azerbaijan.

Last year I had a privilege to participate as a journalist in the capacity building event for 2017 Fellows in Kyiv. I recall that 2 days long meeting pushed me towards becoming more active in implementing projects concerning civil society. Nonetheless I kept on doing active journalism until I myself became a Fellow. 
As a newly-baked one I would have never missed a chance to come together with other peers and colleagues from the EaP region. Once the invitation to the Relay Event arrived with no shade of doubt I accepted it and embarked to Brussels. And here are my two top reasons for that:
-Firstly, I would be able to see Fellows of all editions including "baby-fellows" like me.
-Secondly, it was the speakers with immense professional background whose tips and advises could prove tremendously useful for me in future. It is always interesting to listen to one's "professional stories and anecdotes, ups and down, successes and failures" as they are real, especially when they are untold.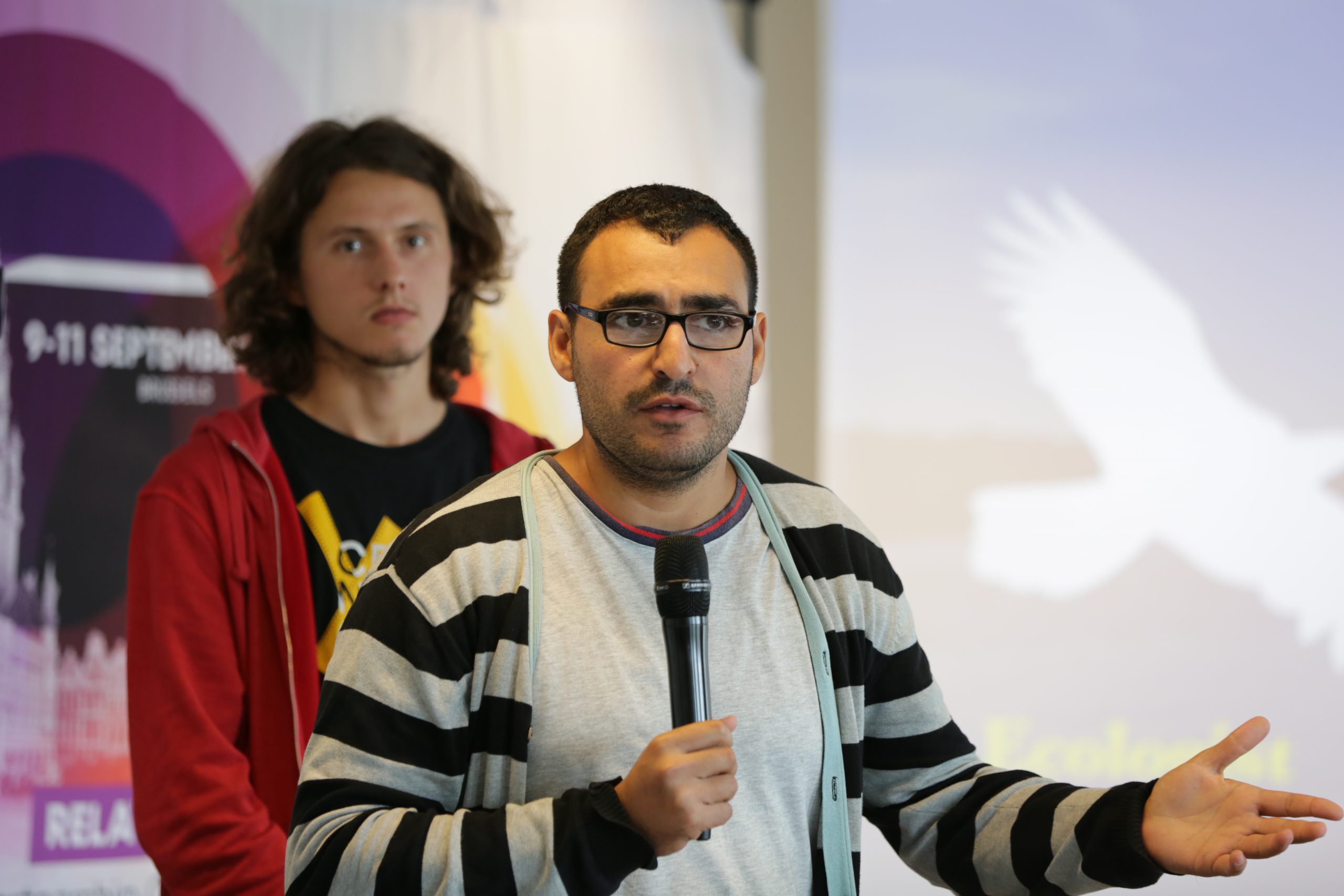 What I liked the most about the capability building and networking event is the fact that within a limited period of time one had a chance to  cooperate with same-minded people, elaborate an idea on a project concerning civil society. This cooperation does not necessarily mean sitting in a workshop and discussing projects clauses. In our case (me and other two Fellows from Moldova)  we drafted our project in a pub with some beer. And later we added some details whilst listening and dancing under the performance of street musicians in Brussels. Such informal entourage creates bonds among Fellows and in case of future opportunities we will not need any time for ice-breaking and team-building. Yes. unfortunately our project was not supported but even we still look forward to find a way to implement it somehow.
Honestly, each and every event has boring topics presented by speakers who makes you almost to fall asleep and vice versa. On my memory the latter are relatively young ones and the former – the elder speakers. The Relay Event was a kind of exception in this regard. I have participated in various events for last five years but really can't recall a speaker like Kingsley Aikins, CEO of The Networking Institute whom I listened from the beginning to the end. I am not sure whether his topic, Networking Matters, his huge experience or the way he was communicating with us impressed me more but what I do know is that I am glad to  be able to ask a donor for a sufficient funding now.
The other two speakers whose interactive presentation skills and topics dragged my attention were kneeling at the flipchart Tin Geber and skeptical of Elon Musk, ball-throwing,  Lukasz Krol. I think Tin's Future of Technology and Lukasz`s  How to be human in an age of machine perfectly complement each other as the first one drew fantastic pictures in mind and the second one brought us all down to Earth. Nice balance!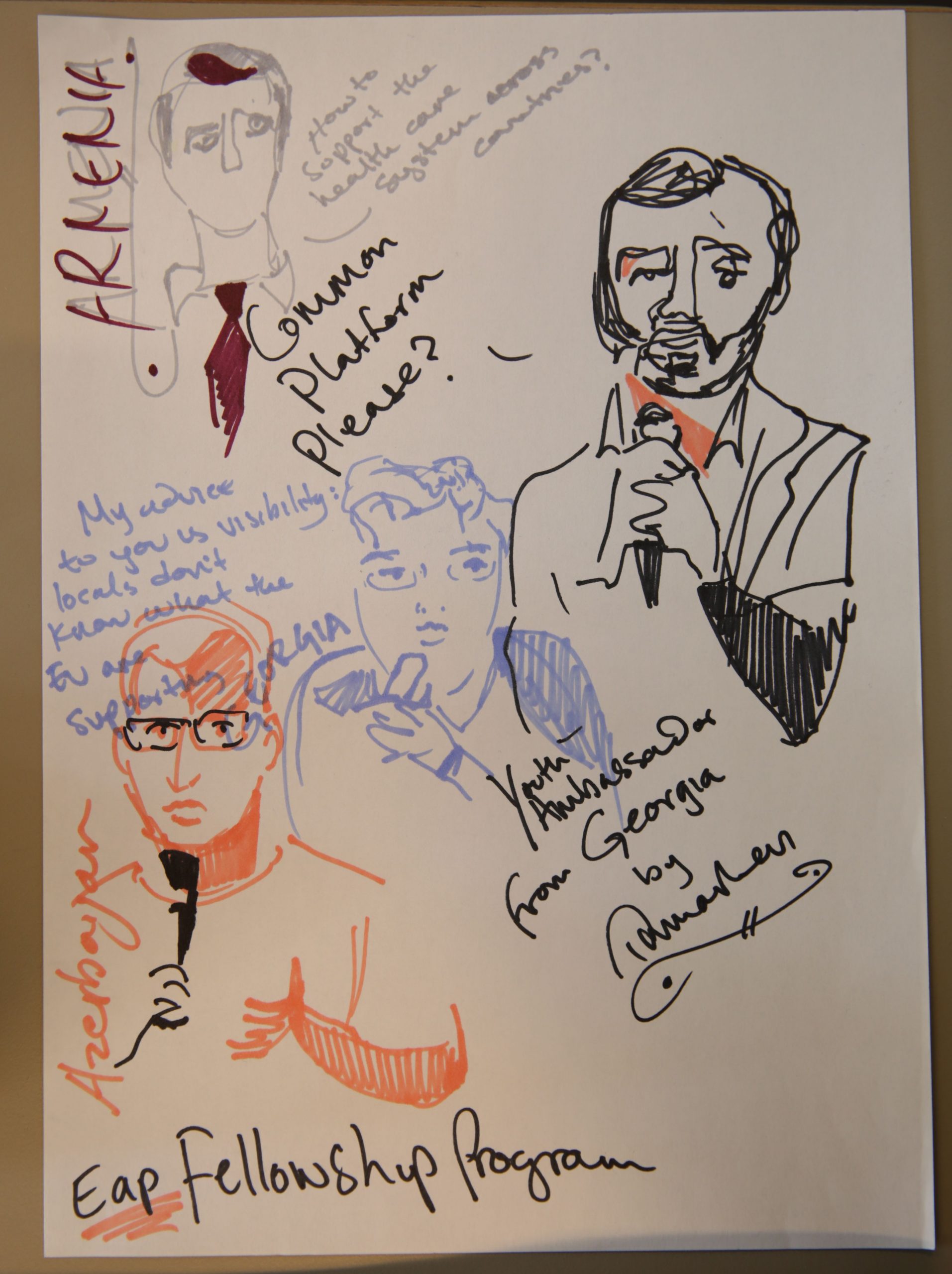 In such get-togethers any official is very welcome as experts say what is right and wrong, what needs to be done etc. The official tries to align anticipations and opinions of others to well-determined political line and deliver messages of the organisation s/he represents. In this regard I was double glad to meet Lawrence Meredith,  a joking and ironizing EU functioner. Honestly, an official with such features is one in a thousand in Azerbaijan. I appreciated a lot a straight Q/A session on future of the Eastern Partnership and my concerns partially were addressed as well. Other speakers as well did a great job. Practical tools  provided by e.g. Varoon Bashyakarla, Irina Velska etc. are worth to use in my organisation on a daily basis.
But the cherry on the pie was undoubtedly the idea to invite an artist who immortalized us all in pictures and in such a professional manner. Mine is already in a frame on the wall at home.
In conclusion, I would add that the possibility to have a lot same-minded people around in the heart of Europe was awesome. The probability to work with some on joint project sounds even cooler. So I hope a sequel` famous To be continued  is going to be our case.
This article was produced by Ismayil Fataliyev, the Project's local correspondent and EaP Civil Society Fellow from Azerbaijan in the framework of the EU-funded 'Eastern Partnership Civil Society Facility – Regional Actions' Project. Its contents are the sole responsibility of Ismayil Fataliyev and do not necessarily reflect the views of the European Union or the Project.
Read more about our local correspondents here.