by Ismayil Fataliyev, Local Correspondent from Azerbaijan.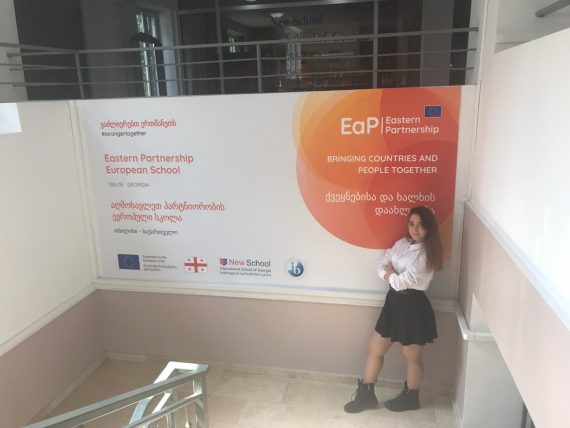 "I thought it would be a great chance, a door to the future. So many opportunities. You study abroad and get a scholarship," says Ayla Akhmedova, 17 years old Azerbaijani teenager. "Along with studying for free in a foreign country, you are surrounded with so many people from different countries, sharing a lot of culture and humour" -adds Ulvi Gitaliyev, her same-aged compatriot.
Now, Ulvi and Ayla are respectively in the 12th and 11th grade of the New School, executive partner of the EU in Eastern Partnership (EP) Scholarship programme also called European School. The EU-funded International Baccalaureate (IB) opportunity offers tuition-free education for all pupils from the EaP countries. They are two out of only three Azerbaijani students who received scholarships available for EaP pupils in 2018. In comparison with the number of fellows from the other EP countries, it is quite a low number.
Cares and doubts?
In Azerbaijan the process of spreading a word about the School is to gain momentum. Along with it, a conservative mindset and stereotypes popular among representatives of elder generation contribute to low numbers of sent applications.
Ayla says back home many parents of girls are reluctant to let them go abroad for studying. But luckily, in her case it was vice versa.
"My grandpa, uncle, other male relatives were saying I was too young to go abroad, I needed to stay in my hometown and study here. Instead, my mom always supported me in this regard. Because she knew my goals. She believes if it is good for her child to follow her way and choice. When she got to know I was accepted she was crying with me," Ayla says.
Despite his parents' doubts, Ulvi says, they decided to send him eventually.
"Firstly, this is Georgia, not far away and she (Ulvi`s mother) could come and see me in a couple of hours. Secondly, we have breaks by the end of each three months. If I need something she would come and if we miss each other I would go back for a week during breaks," he says.
Along with 2-month vacations in summer, students enjoy a week-long break once in three months and two-weeks pause during the winter break.
Studying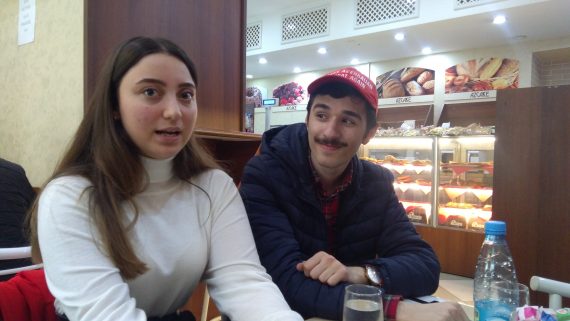 An applicant needs to pass exams in Math and English during the enrollment process. Successful candidates go through a Diploma Program (DP) which lasts two years and is regarded as one of the world's most innovative educational courses. At the beginning of the school year, students are supposed to choose one subject from each group: native language, foreign language, mathematics, humanities, natural sciences and arts: three subjects at the higher level and another three – at the standard level. Higher level is for those who want to continue to study this subject at university. Mathematics and English are compulsory. All subjects are taught in English, so level B2 is required. It helps students to become more proficient in languages and acts as an equivalent of TOEFL or IELTS.
The students also learn and participate in all three parts of the core of the DP, which requires the submission of an Extended Essay, satisfactory completion of the Theory of Knowledge (TOK) course and participation in the Creativity, Action and Service (CAS) programme.
The Extended Essay is a requirement for students to engage in independent research through an in-depth study of a question relating to one of the subjects they are studying.
The "Theory of Knowledge" is an interdisciplinary subject; it explores the nature of knowledge across disciplines and encourages an appreciation of other cultural perspectives. "Theory of Knowledge" is a course designed to encourage each student to reflect on the nature of knowledge by critically examining different ways of knowing (perception, emotion, language and reason) and different kinds of knowledge (scientific, artistic, mathematical and historical).
The New School differs from others not only in terms of education but personal development as well. That is where the CAS programme comes in as in the New School like in any IB school extracurricular activities are very important.
"You can't get your diploma if you don't complete a certain number of extracurricular activities. You have to go to Model UN clubs, dancing clubs, go volunteering to shelters, etc. And you are doing it after your school hours," says Ulvi. "You carry out your activities, take photos and upload on your account. This is a kind of evidence, and you need to reflect on the implementation of projects and activities, on what they taught you," adds Ayla.
The CAS programme must involve real purposeful activities, with significant outcomes; personal challenge; thoughtful consideration – planning, reviewing progress, reporting; reflection on outcomes and personal learning.
This "novelty" did not come out as a surprise for both teenagers. Before coming to Tbilisi, Ulvi was quite active in model UN community clubs, worked as a volunteer in shelters which dealt with people who came across domestic violence. In her turn, Ayla was a moderator in conversations clubs, she was teaching, and used to make videos on disabled people.
Expectations and aspirations
Ulvi says he would love to continue studying in the USA in case he gets another scholarship. But there are other options as well. He is going to study either political science or history and is determined to use his knowledge when he is back in Azerbaijan.
"I want to use my skills to structurally change the way Azerbaijani history and politics are told. Because they are simply stuck too much to the past. It needs to be modernized to some extent. I believe no matter what you study as long as you set a goal and are interested in your work, not because of money or because someone forced you, any education could lead you to where you want to be," he says.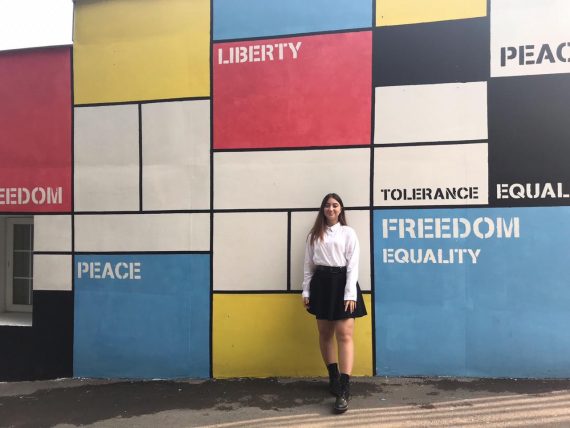 Ayla has not decided yet where exactly in Europe she would like to study after having graduated from the New School. She wishes to become a psychologist with kids being her main target group.
"For me everything starts from childhood. If you have proper mental health then your physical health will be fine and you can achieve all. I want to bring changes in my country. I want to help kids develop themselves not only educationally but socially too," she concludes.
About the benefits
Graduates receive an IB diploma with a focus on European studies. Having received it, students send exam results to higher education institutions in nearly 90 countries annually such as the USA, the UK, France, Germany, Italy, Spain, Switzerland, Japan, Australia etc
Moreover, the EU covers accommodation, meal, bus fare, two trips home a year, and even participation in summer school programmes and conferences.
Through the DP, the school develops students who have excellent breadth and depth of knowledge, flourish physically, intellectually, emotionally and ethically, study at least two languages, excel in traditional academic subjects, explore the nature of knowledge through the program's unique theory of knowledge course, they gain competitive offers for further study as the programme is globally recognized by universities for the holistic and rigorous education it provides.
Teachers here come from different countries: the USA, Georgia, Iran, Germany, Italy, Spain and Turkey. Discussions are encouraged, and teachers are ready to listen to any opinion. Most of the reading material is sent to pupils in advance, so that attendees would be ready to analyse and discuss it in class.
The next New School admission will start in January 2021 and last until the beginning of March. All EaP countries pupils aged 16–17 have this opportunity to become a part of the School and enjoy the benefits it offers to full extent.
"If you want to spend two years of your life in a multicultural environment where you hear and can learn different languages every day, where you study with one the most rigorous educational systems of the world then you are welcome to come," encourages Ulvi.  "If you want to find your own way in this world, want to make decisions at an early age, it is a great chance to join us," concludes Ayla.
This article was produced by Ismayil Fataliyev, the Project's local correspondent and EaP Civil Society Fellow from Azerbaijan in the framework of the EU-funded 'Eastern Partnership Civil Society Facility – Regional Actions' Project. Its contents are the sole responsibility of Ismayil Fataliyev and do not necessarily reflect the views of the European Union or the Project.
Read more about our local correspondents here.