by Ismayil Fataliyev, Local Correspondent from Azerbaijan.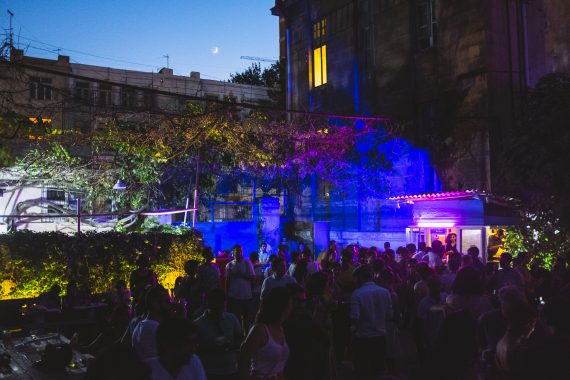 For ages Baku has been a multinational, multicultural, multilingual city i.e. a city of contrasts. This refers not only to people's background or origin but also to the different ways of self-expression. The youth and the ideas they put forward have always played a specific and driving role in this respect. Salaam Cinema is one such youth-driven initiative that contributes to the city's .
Launched in 2019, it offers a wide program of film screenings, exhibitions and educational workshops dedicated to equality, inclusion and celebrating diversity, as well as space for audio-visual and performing arts. Taking its name from the same-titled movie by Iranian filmmaker Mohsen Makhmalbaf, Salaam Cinema is a non-profit, non-governmental platform for cultural initiatives.
Leyli Gafarova is one of its founders. 30 years old Leyli, who holds a degree in film-directing, recalls how the idea about Salaam Cinema came to her mind a couple of years ago. At that time, she dropped into dozens of non- or semi-functioning Soviet-time cinemas left in Baku. The majority accommodated local businesses like teahouses and furniture shops. Meanwhile, in a few she saw young couples getting intimate in the dark room, families collectively watching wedding videos, or the youth watching second-hand DVD copies of Hollywood blockbusters, etc.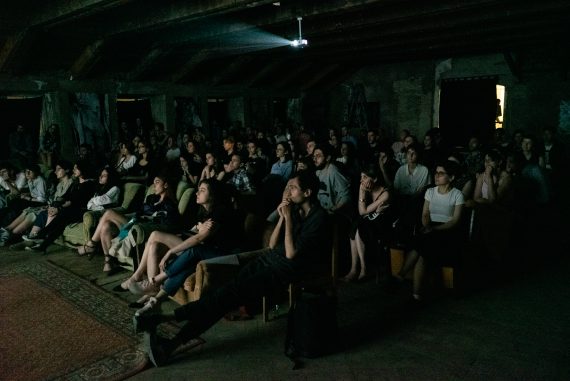 Various communities developed inside old buildings and brought a breath of fresh air into these premises. "There was only one thing missing,"-she adds. "Quality films and audience that really wants to watch films together."
Together with her friends, a young filmmaker was about to rent such a cinema in downtown Baku. They planned to translate the movies of young directors into Azerbaijani, asking friends for equipment to arrange music so that they could watch films together in a cosy old building. But suddenly it was all gone. The cinema was demolished over one night.
In 2019 she decided to take one more try. They found another premise planned to be demolished in the near future. But this time they decided not to abandon the place.
"We understood that it was important to be inside this time. We took the risk, rented the abandoned building and started to do DIY renovations with our friends and a growing community of young people – willing to contribute to this upcoming new space. This time the building was dictating the concept to us", -Leyli says.
[su_quote]Salaam Cinema interprets art as a tool to create social awareness and bridges between communities, social classes and cultures.[/su_quote]
Although this concept of a creative community space attracts the youth, Salaam doesn't have a particular target group. Its aim is to create a safe and inclusive community regardless of age, gender, sexual orientation, ethnicity or social class.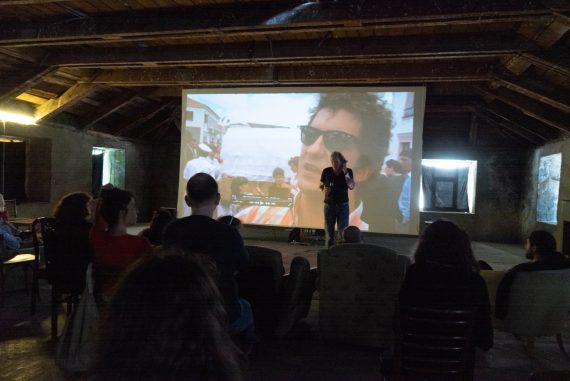 Ilkin Huseynov, the other founder, says Salaam Cinema interprets art as a tool to create social awareness and bridges between communities, social classes and cultures. By concentrating on the vulnerable and the unknown, the platform devotes itself to the importance of the creative city. It is being done by activating the local, sustainable and solidary vision and creating chances and development of personal skills for young creatives.
"We want to work on a society which refocuses on equality and inclusion through artistic practices. Salaam is strongly connected to the space where the platform is located: The Molokan prayer house. (E.N: Built in 1913 it was an important place for Molokans, members of various spiritual Christian sects that evolved from Eastern Christianity in the East Slavic lands, to perform their religious rites.) The reason of its existence was and will be the idea of creating an inclusive creative community with non – institutional approach. It's partially an urban project and connects different aspects of the creative process," – he adds.
Firstly, Salaam provides its own high quality programming of film-screenings, performances, exhibitions and educational programs, and secondly, it acts as working space and exposition space for young creatives.
The absence of a vertical structure i.e. there is no boss or leader and the members share tasks and responsibilities, makes Salaam differ from other spaces. The team of eight carries out work on the programming of the events, on the technical aspects, etc.
[su_quote]For community members Salaam is a safe non-commercial space where they can develop their creative and personal projects, take initiatives but also just chill out and be themselves. [/su_quote]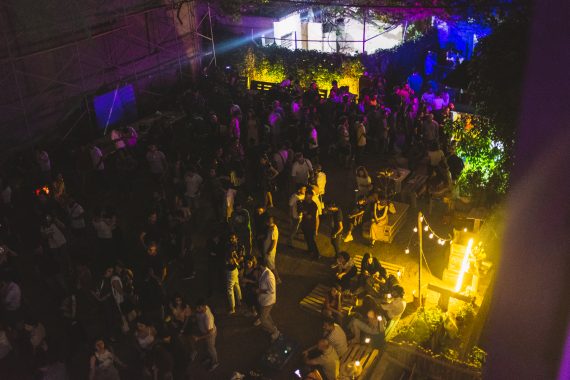 Salaam Cinema carries out educational programs as well.  Non-formal and experiential forms of education, Leyli believes, are about the process instead of predefined results.
According to Leyli, these various factors make Salaam Cinema a fascinating case study for the future. As to future perspectives, she says, the team is in a constant search for its identity. They want to see Salaam sustainable without going commercial.
"Until now we have only been able to do one percent of what we actually want to do. If we are able to stay in the building, make some needed renovation – we will be able to bring even more variety into our concept: more interesting films, more theater productions and more creative youth," – concludes Leyli.
This article was produced by Ismayil Fataliyev, the Project's local correspondent and EaP Civil Society Fellow from Azerbaijan in the framework of the EU-funded 'Eastern Partnership Civil Society Facility – Regional Actions' Project. Its contents are the sole responsibility of Ismayil Fataliyev and do not necessarily reflect the views of the European Union or the Project.
Read more about our local correspondents here.