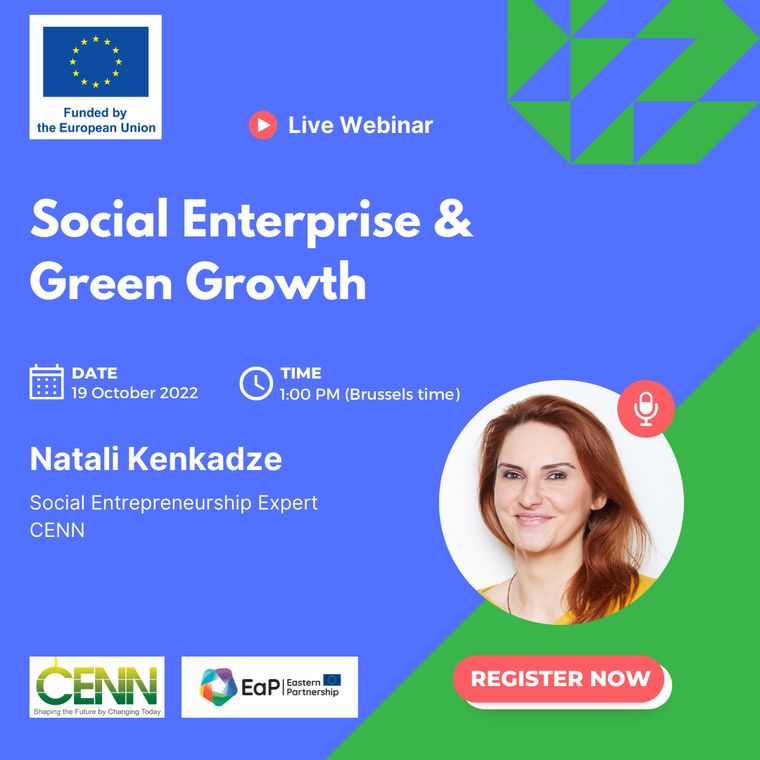 NEW: Recorded webinar is available on our e-learning hub! 
We invite civil society organisations from the Eastern Partnership countries (Armenia, Azerbaijan, Belarus, Georgia, Moldova and Ukraine) to participate in our first Webinar on "Social Enterprise & Green Growth" on Wednesday, October 19, 2022!  This is the first webinar in a series of 'Civil Society & the Green Deal' webinars organised in partnership with 'green' platform Caucasus Environment NGO Network (CENN).
Registration for the webinar is open!
 During the webinar our speaker will guide you through the following topics:
Understanding the concept of social and green entrepreneurship, its background and diverse practices in the world;
"From problem to enterprise" – sharing success stories of invited social/green entrepreneurs from different EECA countries.
The webinar will help you learn about social and green entrepreneurship and will show you practical cases how CSOs can use entrepreneurship for a sustainable and long term social/environmental impact.
Details:
What: Social Enterprise & Green Growth Webinar 
When: Wednesday, October 19, 2022 / 1:00 pm Brussels time
Where: Online in Zoom
Speaker: Natali Kenkadze
Natali is a social innovation enthusiast, holding BA in Business Administration and Masters in Non-profit Management. She has co-founded several successful NGOs and social enterprises in different countries, and during these years she has implemented 100+ international and local projects and trained 10 000+ people all over the world.
For last 15 years she has been doing a cross-sectoral and cross-cultural work in:
Social entrepreneurship & Start-ups
Non-profits & Community building
Organizational & Project management
Education & Trainings
Personal development & Conflict transformation.
She currently works as a social entrepreneurship expert at Caucasus Environment NGO Network (CENN).