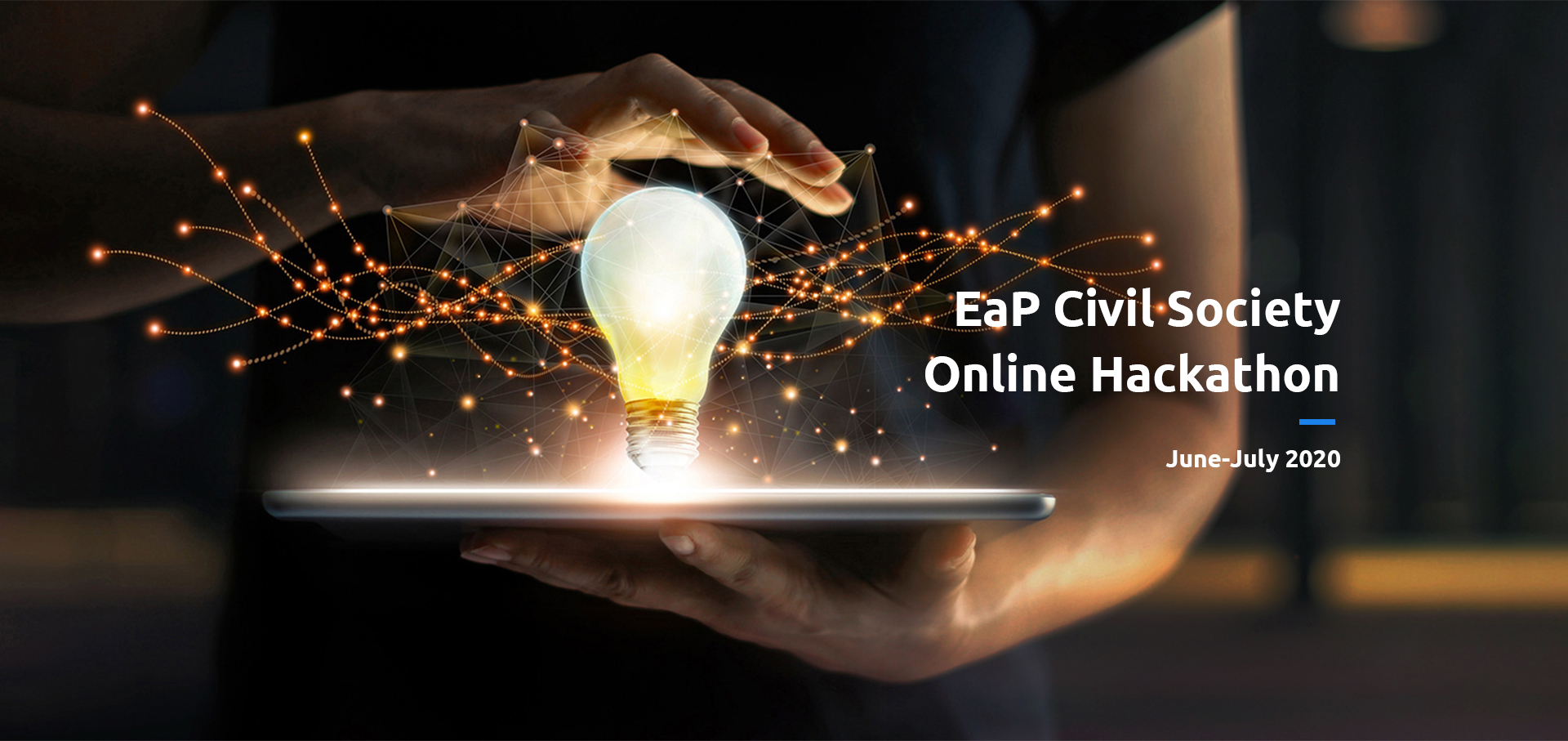 Waste management website and educational environmental game, services for using cashback for charity, online solutions to help stray animals, health trackers and apps for blood donors, platforms for work safety and budget transparency monitoring, apps for people with hearing limitations and people in need, and more – 16 project ideas from 6 EaP countries selected for 2020 EaP Civil Society Hackathon!
In 2020 we received 78 applications from civil society activists with ideas seeking to improve the life of communities and people in the EaP countries. 32 ideas were shortlisted and invited to the Online Regional Ideathon – an incubation meeting for civil society activists bringing them together with hackathon mentors to work on their projects.
For two weeks civil society activists worked online with the mentors to improve and further develop their ideas, and now 16 of them were selected for the next stage: Online EaP Civil Society Hackathon that will be held on July.
From the 9th of July on, 16 civil society activists from Armenia, Azerbaijan, Belarus, Georgia, Moldova and Ukraine will work with 32 IT professionals and designers. Applications from IT professionals and designers are accepted by the end of Monday, 29 June!
For three weeks, technical and subject-matter experts will work together on IT solutions that would enable civil society organisations and activists better serve the needs of their communities, and help citizens participate in decision making. Hackathon participants will get support and advice from a multidisciplinary team of guest speakers and mentors, with proven experience in civic tech initiatives, IT start-ups and consulting companies. One or several of these ideas will then be selected for the Eastern Partnership Civil Society Digitalisation Award, allowing for their full-fledged development and launch.
Please have a look at the list of ideas selected for participation in the Hackathon:
[su_table]
| | | | |
| --- | --- | --- | --- |
| Name /  CSO | Country | Digital Tool | Sector(s) |
| Ashot Mirzoyan, Centre for Consumers Support | Armenia | Clean City: multifunctional website (interactive map of Yerevan on waste collection) | C2C, e-Reports |
| Ilgar Taghiyev, MedNot and Spendonate start-ups | Azerbaijan | Spendonate 2.0: service for using cashback for donations / charity | Crowdfunding, C2C |
| Alena Dudkova, Young European Ambassadors | Belarus | EcoLarry:educational environmental online game | Gamification |
| Yuriy Kukhalskiy, SaveUs charity project | Belarus | SaveUs crowdfunding platform | Crowdfunding, C2C, UGC |
| Sergei Lavrinenko, Belarus Developers Community | Belarus | Baby Tracker: application for following health and development of a child | C2C |
| Alexandra Privado, activist | Belarus | Talkey: application for mental health (info +tracker) | C2C |
| Mariam Sulamanidze, Charity Humanitarian Center Abkhazet | Georgia | The Helper: application informing the user's contacts on the user being in a dangerous situation and his/her location | e-Reports, C2C |
| Natalia Panga, volunteer | Moldova | EatNow: application for re-distribution of food meant for utilisation | UGC, C2C |
| Roman Sandu, Healthy Future Information Centre of Tiraspol | Moldova | I am Donor! application for current and future blood donors and blood recipients | Information website, UGC, C2C, chat bot |
| Ekaterina Khomenko, SURDO School | Ukraine | Surdo INFO: mobile application for people with hearing limitations | C2C |
| Yuliia Korzeniuk, GoVote Initiatve | Ukraine | GoVote: electronic voting system for student self-government and university president elections | e-Services, C2C |
| Eugeniya Kubakh, Prirodni Prava CSO | Ukraine | Transparent Maternity Clinic: ratings of maternity clinics based on citizens' e-reports and feedback of services and costs | C2C, UGC, e-Transparency,  information website |
| Marianna Marshalenko, EaP Fellow, Kyiv Cyclists' Assocciation | Ukraine | No Bread Waste: platform connecting HoReCa companies, animal shelters and logistic companies / volunteers | C2C, B2B, UGC |
| Aleksey Seryh, student | Ukraine | Outside of Labour Protection: platform for rating enterprises in terms of work safety | e-Reports, C2C |
| Anatoliy Shalayev, Regional Initiatives Foundation | Ukraine | Local Authorities in the Crosshair: application visualising budget allocations per infrastructure object, and e-reports | e-Transparency, e-Reports |
| Ostap Yednak, Environment People Law, ANTS National Interests Advocacy Network | Ukraine | DeepForest: application that analyses where illegal trees cutting takes place using high res satellite images, AI/ML tools and official data, and notifies activists | open data, e-Reports, ML and AI |
[/su_table]