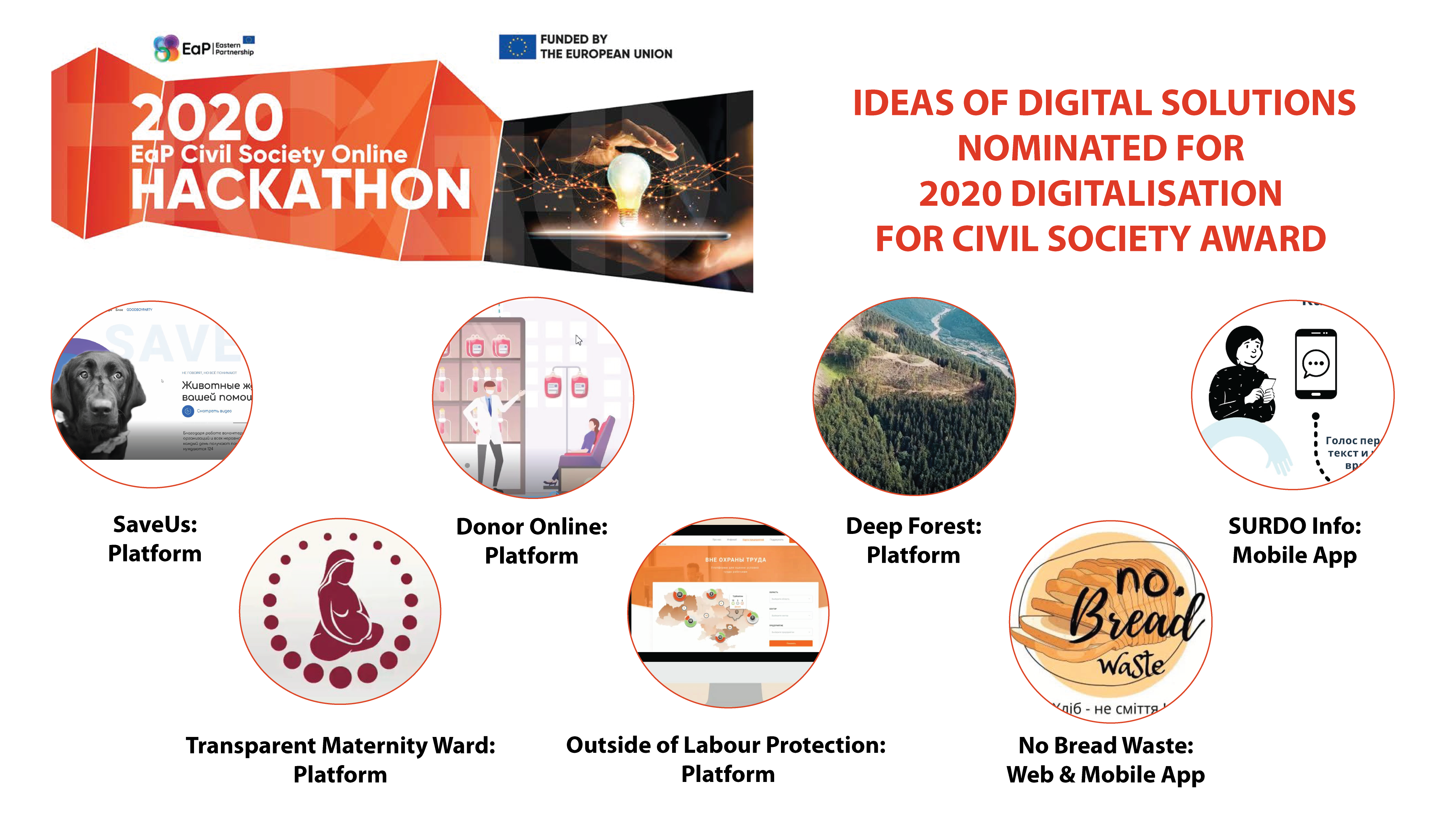 It may be summer and the weekend, but this Saturday is really busy for us. The 16 teams who participate in our 2020 EaP Civil Society Hackathon worked day and night for the last three weeks with designers, IT experts and mentors to develop the prototypes of mobile applications, online games and platforms to solve a wide range of problems in the Eastern Partnership countries.
Today the team had their final pitches and the project team, mentors and other participants voted to select ideas of digital solutions to be nominated for the Digitalisation for Civil Society Award. So, we are happy to share with you the 7 teams nominated for the Award (teams will still need to work hard to get it):
SURDO Info: mobile application for people with hearing limitations by Ekaterina KHOMENKO & Roman KHARCHUK from Ukraine (Design & IT: Alexey Kostrzhytskyi, Ukraine, and Mariam Komakhidze, Georgia).
Transparent Maternity Ward: feedback-based platform on maternity clinics by Yevgeniya KUBAKH from Ukraine (Design & IT: Javid Abbasov, Azerbaijan, and Soso Jalagonia, Georgia).
SaveUs: crowdfunding platform for volunteers helping stray animals by Yuriy KUKHALSKIY from Belarus (Design & IT: Palina Pliskouskaya, Belarus, Khatuna Shaveshova, Georgia, and Aliaksandr Yarmolenka, Belarus)
Outside Labour Protection: feedback-based platform for monitoring labour conditions in industrial enterprises by Aleksey SERYH from Ukraine (Design & IT: Olga Panco, Moldova, and Daria Aksionova, Ukraine)
No Bread Waste: web and mobile app connecting HoReCa, logistics companies, animal shelters and volunteers by Marianna MARSHALENKO from Ukraine (Design & IT: Nikolay Korolyov, Belarus, and Aleksandr Badoyan, Georgia)
Donor ONLINE: platform for current and future blood donors and blood recipients by Roman SANDU from Moldova (Design & IT: Daria Aksionova, Ukraine, and Tsimur Samoilau, Belarus)
DeepForest: platform for monitoring illegal tree cutting by Ostap YEDNAK from Ukraine (Design & IT: Igor Aleksiyuk, Ukraine, and Nastassia Zenovich, Belarus)
Nominees will have two weeks to develop their technical proposals and budgets and submit their applications for the Award. The best solution/-s will be selected for the EU funding for full development and launch.