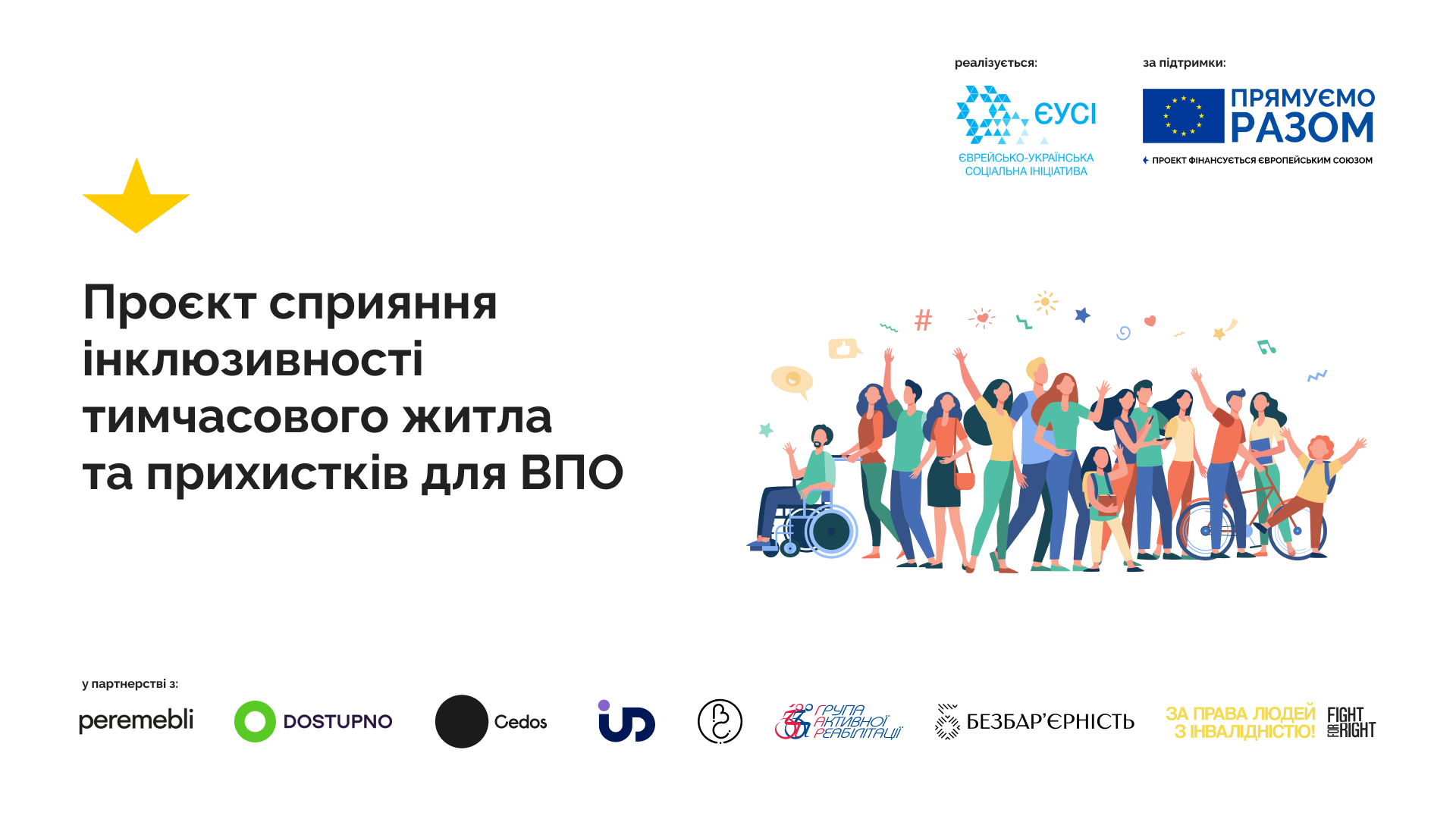 Новина українською мовою нижче:
With the support of the European Union Jewish-Ukrainian Social Initiative (JUSI) is launching its project to improve the inclusivity & accessibility of shelters and housing for IDPs focusing on providing proper living conditions in temporary shelters, ensuring barrier-free and universal design principles during the restoration and rebuilding of destroyed residential property.
What will be done by the project?
Educational online sessions to provide participants with knowledge of architectural accessibility, inclusive outfitting of temporary stay facilities and universal design of living space. The schedule of the educational online events is available on JUSI's FB page.
Practical offline workshops in selected cities that will enable participants to become immediately involved in designing and building temporary stay components, specifically at communal institutions, and to improve the inclusivity of public spaces. The workshops will take place in several towns of the Kyiv Oblast liberated from the invaders and also in communities in other regions hosting large numbers of IDPs.
Some of the best experts in matters of inclusivity, barrier-free development, housing policy and spatial planning representing professional CSOs and communities have joined the Project, among them: Доступно UA Cedos Fight For Right Безбар'єрність Pro.UD Універсальний дизайн / Pro.UD Universal Design Група Активної Реабілітації  Перемеблі Bike City consulting
The Project is implemented by the Jewish-Ukrainian Social Initiative with support from the European Union in the framework of #StandWithUkraine Call for CSOs by @Eastern Partnership Civil Society Facility.
Єврейсько-українська соціальна ініціатива JUSI  за підтримки Європейського Союзу розпочинає новий проєкт «Сприяння інклюзивності та доступності прихистків та житла для ВПО». Мета проєкту – сприяння створенню належних умов проживання у тимчасових прихистках для внутрішньо-переміщених осіб, врахуванню принципів безбар'єрності та універсального дизайну під час відновлення та відбудови зруйнованого житла з урахуванням принципів інклюзивності та безбар'єрності.
Яка діяльність передбачена у проєкті?
По-перше, це освітні онлайн-сесії, в ході яких учасники отримають фахові знання з питань архітектурної доступності, інклюзивного облаштування тимчасових помешкань та універсального дизайну просторів для життя. Анонс освітніх онлайн заходів вже опублікований на ФБ сторінці JUSI.
По-друге, це практичні майстерні офлайн в обраних містах, під час яких учасники зможуть безпосередньо долучитися до розробки та створення елементів облаштування тимчасових помешкань, зокрема у приміщеннях комунальних закладів, та удосконалення інклюзивності громадських просторів. Майстерні відбудуться у кількох звільнених від окупантів малих містах Київської області, а також у громадах в інших регіонах, які прийняли значну кількість вимушених переселенців.
До проєкту долучені експерти та експертки з питань інклюзії, безбар'єрності, житлової політики та просторового планування, які представляють фахові громадські організації й спільноти, а саме: Доступно UA Cedos Fight For Right Безбар'єрність Pro.UD Універсальний дизайн / Pro.UD Universal Design Група Активної Реабілітації Перемеблі Bike City consulting